How-To: Patterned Decal Dresser
Follow these steps from HGTV Magazine to update your plain dresser with decals, and best yet, it only takes a few hours!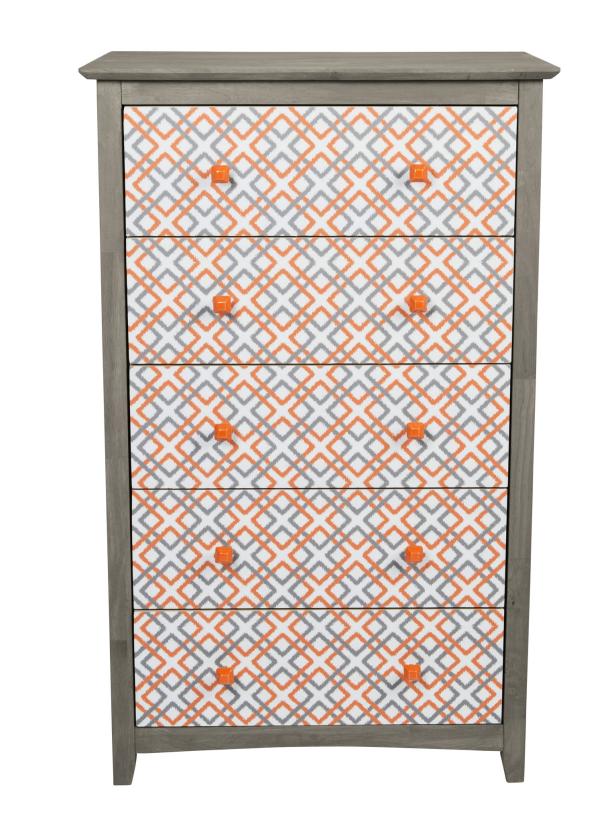 Give Your Dresser DIY Retro Swagger
Use a patterned decal sheet and colorful, vintage-inspired drawer pulls to create a retro-cool dresser like HGTV Magazine did here.
screwdriver
2" angled paintbrush
paper towels
tape measure
scissors
old credit card
small nail or pushpin
paint (such as Kendall Charcoal by Benjamin Moore)
decal sheet (such as Frida Barlow weave ikat, spoonflower.com)
knobs (such as Ceramic pegs in orange, anthropologie.com)
Remove the drawers and unscrew the knobs. Paint the dresser. We started with an unfinished wood dresser and gave it a dry-brush look. Dip just the tip of the brush into latex paint. Dab the bristles on a paper towel, then brush the paint onto the dresser with quick, light strokes so the wood grain shows through. Paint the entire frame, including the legs, using this method.
While the paint dries, measure the dimensions of your drawer fronts. Cut the decal sheets into pieces a little bigger than each drawer front and stick them on, smoothing out air bubbles with an old credit card. Wrap any excess around the edges — you'll still be able to close the drawers easily.
From inside the drawer, use a nail or pushpin to poke a hole through the decal sheet where each knob goes. Screw in new knobs, and slide the drawers back into the dresser.