How to Paint a Dresser With Stencils
Follow these steps from HGTV Magazine to create this fun DIY painting project.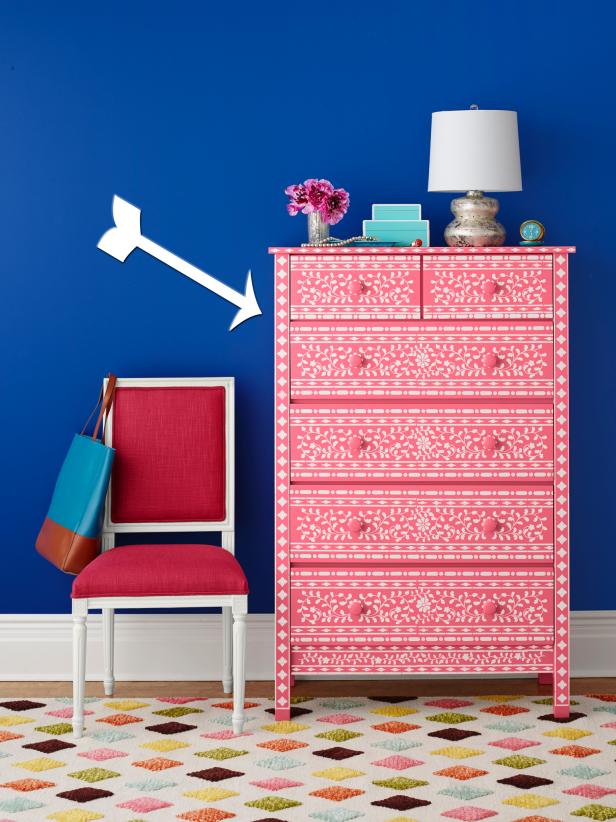 How to Paint a Dresser With Stencils
HGTV Magazine shares this how to exclusively online
David A. Land (Styled by Matthew Gleason)
small foam roller or pouncer
screwdriver
dresser paint
stencil paint
repositionable spray mount
paint brush
stencil strips
If your dresser has knobs, unscrew them and set aside. Remove the dresser's drawers.
Paint the drawer fronts, frame, and knobs the same color. Let dry.
Roughly plan out your design with stencil strips. We used a flower-and-leaf pattern at the center of each drawer and outlined it with a geometric border. Then we added a diamond pattern around the dresser's frame.
Adhere the flower-and-leaf stencil to the center of one of the drawer fronts with repositionable spray mount (for the longer drawers, you'll need to use the stencil twice). Use a small foam roller or pouncer to fill in the design with crafts paint. Remove the stencil while the paint is still wet, then repeat on each drawer front and along the frame edges. Let dry.