How-To: Multi-Striped Dresser
Follow these steps from HGTV Magazine to update your plain dresser with cheerful stripes, and best yet, this DIY can be done in just a day!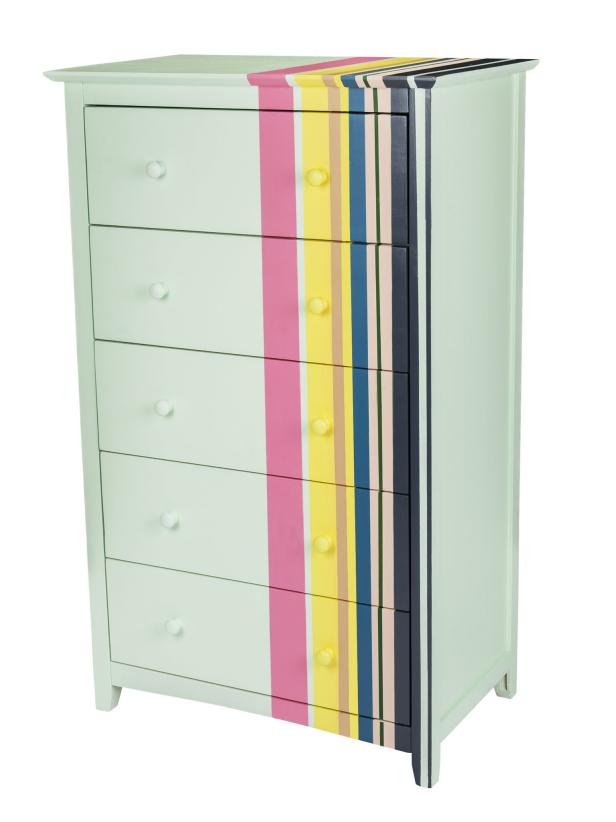 Dresser Painted With Cheerful Stripes
Update your plain dresser with cheerful stripes, as HGTV Magazine did here. Use up leftover paint from previous DIYs or buy affordable sample-sized containers.
screwdriver
4" foam roller
measuring tape
pencil
delicate-surface painter's tape
utility knife
1" paintbrush
paper cups
paint (base color and stripe colors used above can be found in steps 1 and 4)
Remove the drawers and unscrew the knobs. Use a small roller to paint the drawer fronts and the entire frame with one color of latex paint. Let dry, then slide the drawers back into the dresser. (Base color: Mantis Green by Benjamin Moore)
Tape off your first stripe: To make sure it's straight, use a measuring tape to make pencil marks every few inches, starting at the back of the dresser's top and working down the front. Apply delicate-surface painter's tape along those marks. Repeat with another piece of tape, running it parallel to the first piece. Use a utility knife to slice the tape between the drawers, pressing down the edges.
Paint the first stripe with a brush. Peel off the tape while the paint is still wet. While the stripe dries, tape off and paint another one a few inches away.
Repeat with as many stripes as you want, eyeballing the distance between each one. You can even paint thin stripes over wide ones — just make sure the first coat is dry before applying tape. (Stripe colors: Deep Carnation by Benjamin Moore, Buttered Sweet Corn by Glidden, Lunch Bag by Martha Stewart Living Paint, Blue Danube by Benjamin Moore, Nancy's Blushes by Farrow & Ball, Holly Leaf by Martha Stewart Living Paint, Hale Navy by Benjamin Moore)
Place paper cups upside down and poke the drawer knobs through the tops to hold them in place. Paint each knob the same color as the stripe it matches up with on the dresser. Let dry, then screw them back in.