How-To: Monogrammed Decoupage Dresser
Have some free time this weekend? Follow these steps from HGTV Magazine to update your plain dresser to a preppy look with florals and a monogram.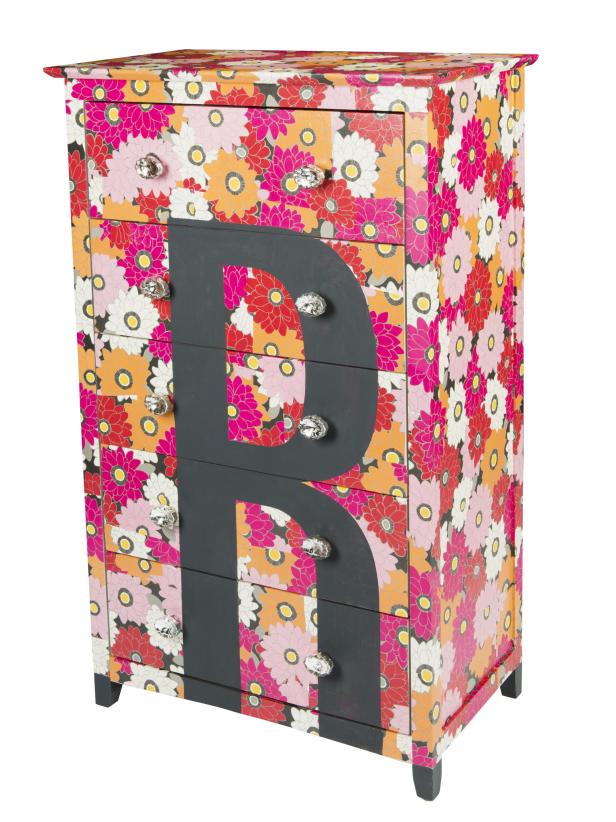 Floral Decoupage Dresser With Monogram
Wrapping paper isn't just for gifts. Here, HGTV Magazine uses a floral roll to transform this basic furniture piece. Adding a stenciled monogram sends it into the uber-preppy zone.
screwdriver
two 1 1/2" paintbrushes
scissors
4" foam roller or a large sponge brush
old credit card
delicate-surface painter's tape
small nail or pushpin
primer (such as Fresh Start by Benjamin Moore)
decoupage glue: (such as Matte Mod Podge, plaidonline.com)
paper (such Zinnia wrapping paper, paper-source.com)
stencil (such as Custom letter stencil, tpm.com)
paint (such as Graphite by Benjamin Moore)
knobs (such as Pastille silvered mirror knobs, anthropologie.com)
Remove the drawers and unscrew the knobs. If your dresser is unfinished, prime the frame and drawer fronts (otherwise the raw wood will soak up too much decoupage glue). Let dry.
Cut the paper — we used two rolls of wrapping paper — into various strips and squares.
Roll or brush Mod Podge matte finish onto the dresser frame and the back of the paper, working with one piece at a time. Stick the paper to the frame, overlapping the edges. Smooth out any air bubbles with an old credit card. You can also use the card to push the paper into any nooks and crannies in the wood. Roll or brush a coat of Mod Podge over the paper, and let dry.
Following the instructions in step 3, decoupage the drawer fronts. Let dry, then slide the drawers back into the dresser.
Attach loops of painter's tape to the back of the stencil, and press it on the dresser. Paint inside the stencil, immediately remove it and let dry. Paint the dresser's legs with latex paint that's the same color you'll use for the monogram.
From inside the drawer, use a nail or pushpin to poke a hole through the paper where each knob goes. Screw in new knobs.