How-To: Customize a Simple Dresser With Decals
HGTV Magazine shows you how to put your stamp on basic items with these easy makeover ideas.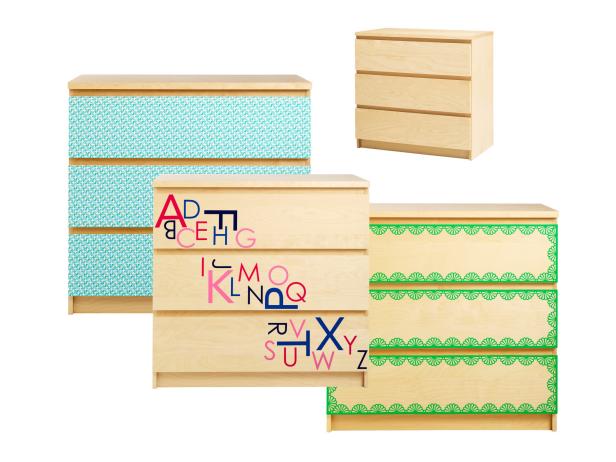 Customize Drawers With Easy-stick Contact Paper
HGTV Magazine has a perfect dresser dress-up for dorm dwellers or indecisive decorators: easy-stick contact paper. Cut out a pattern with a paper punch, or find a chic pattern to cover the whole drawer front. When you're ready for a change, these designs peel off without leaving gunky residue.
dresser (such as Malm three-drawer dresser in birch veneer, ikea.com)
contact paper (Cross Me shelf paper and drawer liner in sea glass, chicshelfpaper.com)
contact paper (Solid green paper, interiorplace.com)
old credit card
scissors
patterned paper punch (Martha Stewart Crafts deep edger punch in daisy fan, joann.com)
letter decals (Alphabet 5" decal in Avenir Roman, and Alphabet 3" decal in Century Gothic in navy blue, royal blue, electric pink, and ballet slippers, wallwritten.com)
Remove the drawers and stand them on their ends so you're looking down at the fronts. Line up the edge of a roll of printed contact paper with the edge of the drawer front. Unpeel the backing from the paper, then smooth it onto the drawer with an old credit card. Trim excess paper. Repeat for all drawers, then slide them back into the dresser.
Use a paper punch to cut half-circles out of solid-color contact paper. Apply the stickers next to one another along all four edges of each drawer, smoothing them out with an old credit card as you go.
Starting at the top left corner, apply letters one at a time to the drawer fronts. Smooth them with an old credit card. Work diagonally down the dresser, attaching letters.