How to Make Cookie-Cutter Christmas Ornaments
Looking for an easy way to trim the tree? Create beautiful handmade Christmas ornaments out of metal cookie cutters and pretty paper.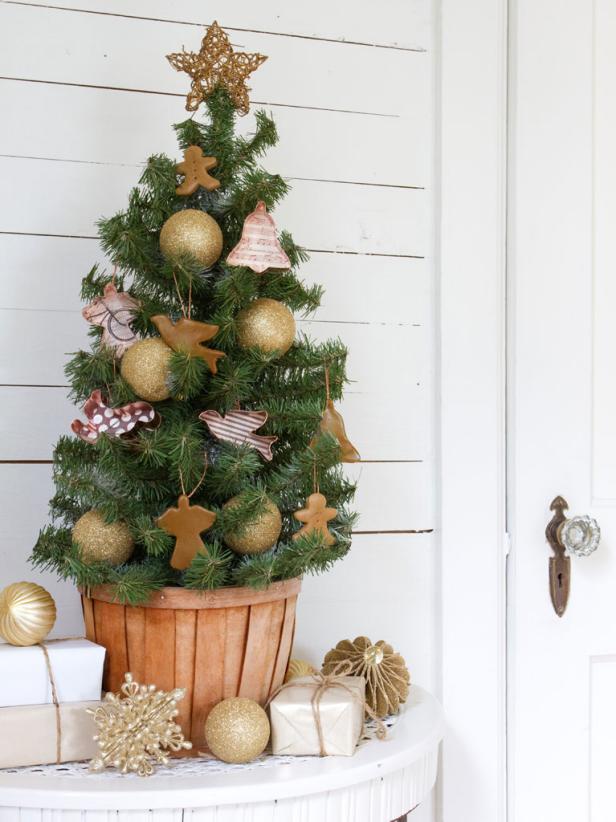 Rustic Tabletop Christmas Tree With Cookie Cutter Ornaments
This darling tiny tree fits perfectly on a tabletop display. Cookie cutters in dove, angel and bell shapes adorn the tree, while a small wood star is positioned at the top. A wood basket conceals the base of the tree and provides a sturdy base for easy decorating.
hot glue gun and glue sticks
metal cookie cutters
decorative scrapbook paper
embroidery thread, thin ribbon or twine
utility knife
scissors
Apply a few small dabs of hot glue around the edge of a metal cookie cutter.
Quickly press the glue-covered edge of the cookie cutter to the decorative side of a piece of scrapbook paper.
Use an X-Acto knife to cut around the outside edge of the cookie cutter.
Make a small loop out of a short piece of thread, ribbon or twine.
Hang the ornaments on the tree, and step back to admire your work.