How to Make Sheet Music Christmas Trees
Bring the unexpected to your table with miniature Christmas trees made out of cut and curled sheet music. These fluffy trees will add texture and whimsy to any holiday arrangement.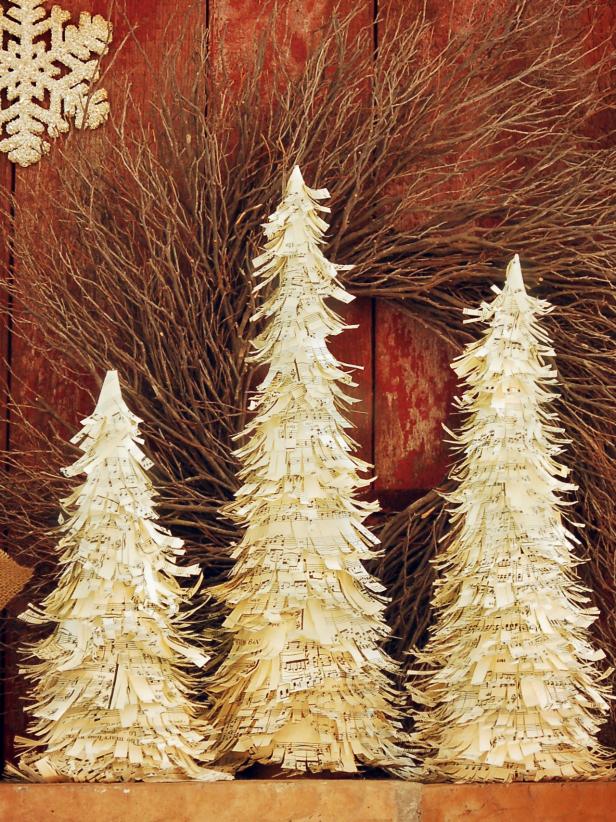 Sheet Music Christmas Trees With Wreath
This display of three sheet music Christmas trees includes a wood wreath.
papier-mache or Styrofoam cones in varying sizes
sheet music, approximately 3-4 sheets per cone
paper cutter
scissors
hot glue gun
hot glue sticks
Use scissors or a paper cutter to cut sheet music into approximately 1-1/2-inch-wide strips (Image 1). Cut "fringe" that is approximately 1 inch long and 1/4 inch wide along one side of each sheet music strip (Image 2). Be careful not to cut all the way through the sheet music.
Roll each fringed sheet music strip into a tight cylinder (Image 1). Unroll and gently use your fingers to separate the fringe (Image 2).
Using a preheated hot glue gun, apply glue to the base of the tree form (Image 1). Immediately press top edge of a sheet music strip onto hot glue. Hold for a few seconds until glue hardens and cools (Image 2). Tip: Hot glue can burn skin, so wear thin work gloves to protect your skin, if desired.
Continue to apply glue and sheet music in rows around and up tree (Images 1 and 2). Use smaller strips of sheet music when working toward top of tree (Image 3). Overlap each row slightly to achieve a fuller look. For a pleasing arrangement, use three trees of varying heights. Tip: Why stop at sheet music? Use scrapbook papers, newsprint, tissue paper or wrapping paper.
Group the trees on an entry table or a mantel for a charming holiday display (Images 1 and 2).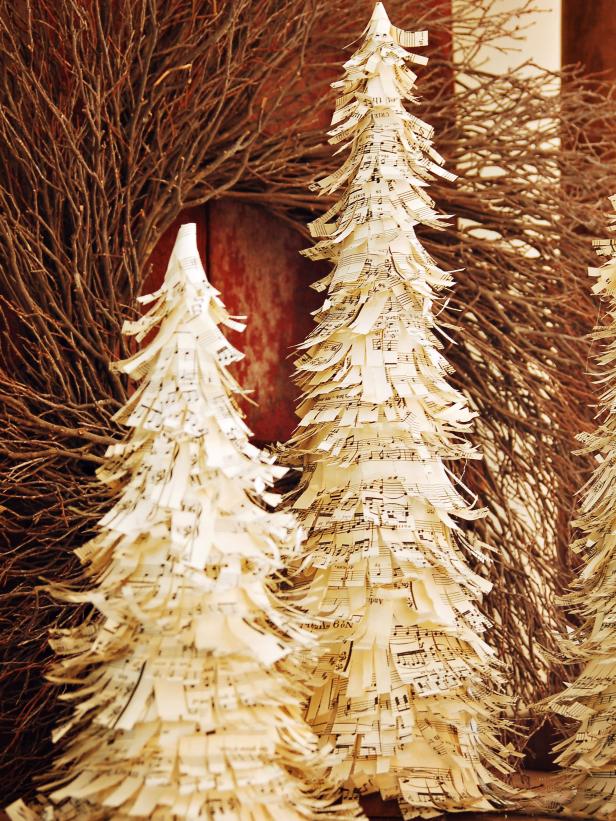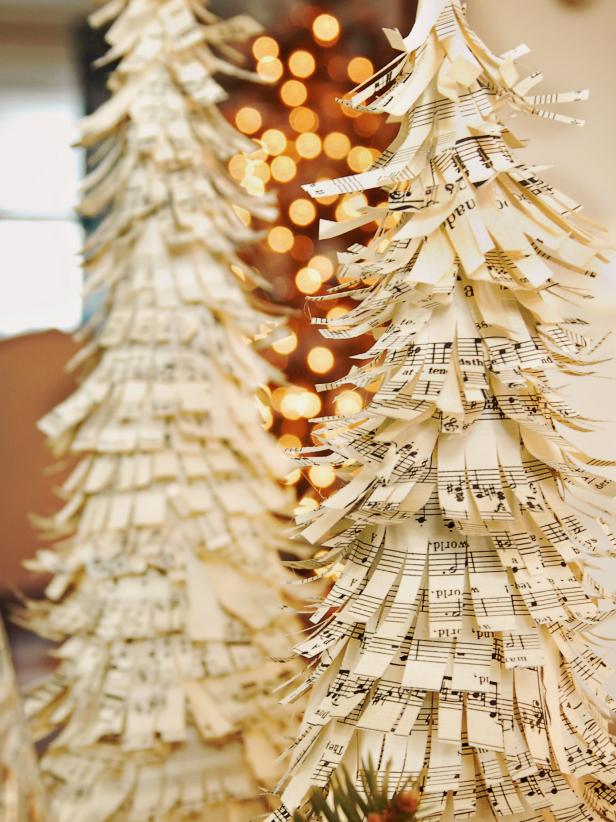 Sheet Music Christmas Trees
This sheet music Christmas tree display stands out against a delicate tree branch wreath backdrop.