Make a Paper Snowflake Star Christmas Ornament
Don't let the swirls fool you! This paper snowflake star Christmas ornament is easy, quick to make and sure to wow your guests instantly.
For best results and to make it even simpler for guests to follow, use a spiral ornament template tool. Thin, wrapping paper, old book pages, and colored printer paper work best for this craft. Print template (provided) on each sheet. For this ornament you will need six square templates.
paper
spiral ornament template tool (optional)
glitter jingle bells
gold glitter tape
string or ribbon
scissors
utility knife
Gather all materials needed. (Image 1) Using the X-Acto knife, cut paper so you have six equal squares. For each square, cut along the inner lines of the template but make sure to not cut all the way to the ends. (Image 2) If using the template tool, fold paper diagonally, and place into tool. Run cutting knife along groves. (Image 3)
Bend the inner-most flaps towards each other and curl slightly using a pencil for shape.
Next, flip the square and bend the next set of flaps in the opposite direction from first set of flaps. Overlap the ends and secure with glitter tape. (Image 1) Repeat with remaining flaps alternating direction and tape ends together. (Image 2) Continue to do the same with the other five squares. (Image 3)
Attach adjoining sides of each piece using tape. (Image 1) Tape all six tips in the center. (Image 2)
String a few glitter bells and secure with tape at the center. Tie the ends of another piece of string and tape to tip of snowflake to hang ornament.
Hang ornament on a tree or wall and admire your work.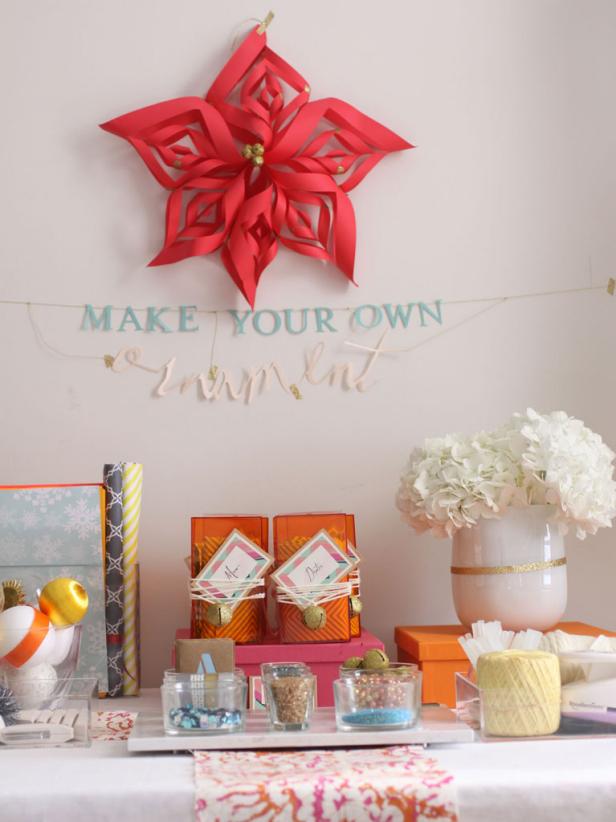 Make-Your-Own-Ornament Station at Holiday Party
Set up two tables for this party: a crafting station and another table for bites and sips. With the focus of this party on crafting, dedicate a large surface for guests to make their ornaments. Transform your dining table into a visually-appealing craft station and arrange chairs around it so guests are comfortable while working on their handmade ornaments. Dress with a simple white tablecloth, then layer with a fabric runner in coordinating colors for visual punch.