How to Keep Cats Out of Christmas Trees
These handy tips and tricks are sure to keep your furry feline friend out of harm's way this holiday season.
It goes without saying that pets, especially cats, are extremely sensitive to new objects in their home environment and are very curious of those new additions. So, when the holidays roll around and it's time to deck the halls, your furry friend is sure to take note of all the seasonal sights and smells, especially big sparkling sights with strong smells and lots of hanging accessories to swat at — aka, the Christmas tree. These festive additions may seem all merry and bright to you but they can be a danger to pets when not properly set up. Once your curious kitty decides to take a closer look at (or in) the Christmas tree, you'll be thanking yourself for taking a few extra precautions to save yourself a world of trouble. Here are a few helpful tips for cat-proofing your Christmas tree.
Before you begin decorating the tree, be sure to properly anchor it. If your cat is a jumper, this tip should become your go-to when setting up the tree. Place a few hooks on the wall behind your Christmas tree. These don't have to be huge, just big enough to keep the tree from tilting. Attach the tree to the hooks with strong, clear fishing line. If done correctly, this should keep your tree upright even when your cat comes soaring in, claws blazing. This tip is also great for homes with small children.
To prevent your cherished family ornaments from catastrophe (pun intended), place them them as far out of kitty's reach as possible. It's a good idea to place the cheaper, less sentimental decorations toward the tree's bottom. If your cat is incurably curious, maybe even consider plastic ornaments instead. However, for those that can't imagine Christmas without those beloved ornaments, we have a clever hack. HGTV editor Keri Sanders, whose cat is less of a climber and more of a messer, says, "Consider wiring ornament hangers around the branch rather than simply hooking them over. It may take a little more time, but you'll certainly think it's worth it when Whiskers decides to check out those pretty glowing baubles."
Cats hate citrus, so an easy way to keep them away from the Christmas tree is by scattering a few peels around the base of the tree. The strong scent put off from the peels is enough to deter even the most curious cat.
Many people recommend mixing in additives with your Christmas tree's water to help keep it fresh. The jury is out on whether adding bleach, aspirin or even pennies makes the biggest difference (we think water works just fine), but most of the suggested additives can be very harmful to pets if ingested. When your kitty decides to take a drink out of the new water bowl in the living room, do your best to circumvent the trip to the animal hospital by ensuring the tree stand is filled with 100% water. That said, even the oils that seep out of the tree, as well as the pine needles, can be dangerous to pets if ingested, so it's best to keep your pet away from the stand altogether with a tree skirt, collar or other barriers.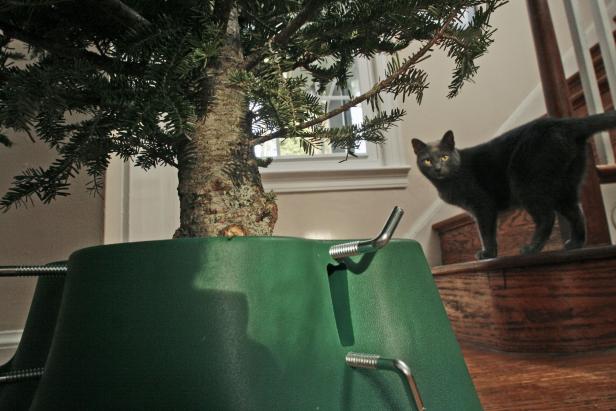 104572873
SLUG: HO-TREESTAND DATE: 11/26/2006 CREDIT: Bill O'Leary Reporter John Deiner, and his wife Janet, using a variety of Christmas tree stands in their house. Pictured, the family cat, Earl Gray, eyes the newly erected tree with interest, possible planning his first assault. (Photo by Bill O'Leary/The The Washington Post via Getty Images)
Getty Images/The Washington Post
Anything you can do to make your tree less appealing to a cat will help. An abundance of scented products can help deter a cat from getting too close. Citronella-coated cord wraps will help ensure your furball doesn't chew through Christmas lights and power cords, while no-chew sprays will keep them away from larger items. Just remember to introduce scented items conservatively at first, so it's not you they're keeping at a distance as well.
Keep a Squirt Bottle Nearby
One of the most effective ways to prevent a cat from misbehaving is to keep a squirt bottle nearby. If all else fails, this tried-and-true method is sure to come in handy in the holiday season. If you see your cat messing with the tree, a little squirt of water ought to do the trick.
Trim your tree with our unique DIY projects and design tips from holiday decorating pros.