5 Ways to Prep Your Porch for Winter Enjoyment
Cold weather doesn't mean you have to abandon your favorite outdoor spaces. With our tips you can turn your front porch into the ultimate holiday hangout with items you likely already have at home.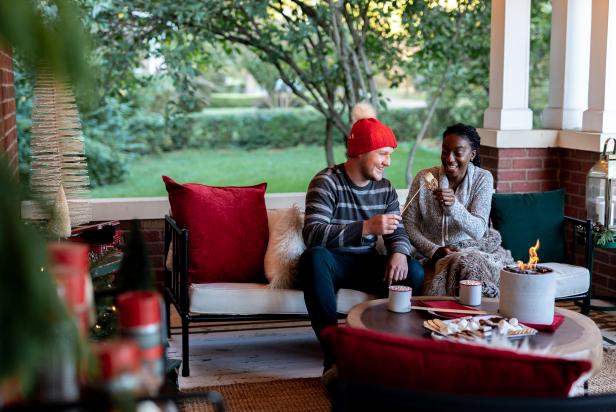 Turning a Porch Into a Winter Hangout
This front porch has been transformed into the ultimate hangout spot for the winter holiday season. Warm faux fur throws, cozy pillows and an assortment of hats and mittens are readily available to keep things cozy. A DIY tabletop fire pit is used to make s'mores.
If you want to take gatherings outdoors this holiday season, look no further than your front porch. Simple seasonal additions and easy decorating tips can create a holiday hangout that'll have you and your guests sitting cozily and comfortably no matter what the season brings. It takes only some lights, cozy accessories and a few tasty treats to achieve holiday porch goals.
The first step in making your porch a place you can gather throughout the holiday season is to add some lights. And don't just stop at string lights — the goal here is to turn off your porch lights and still have an ambient glow all around. Add mini lights to greenery and evergreens for a charming seasonal vibe, then layer in some lanterns and luminaries to light up a path.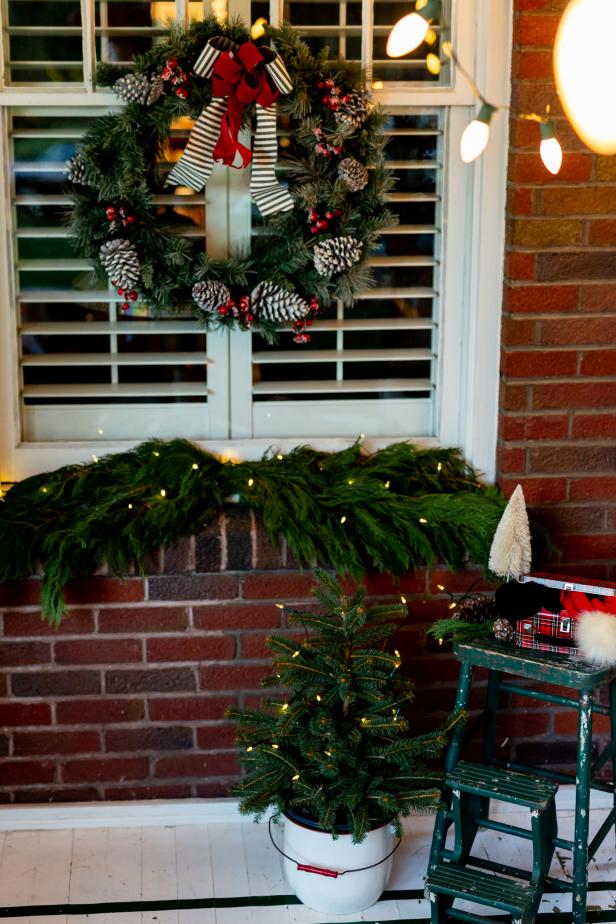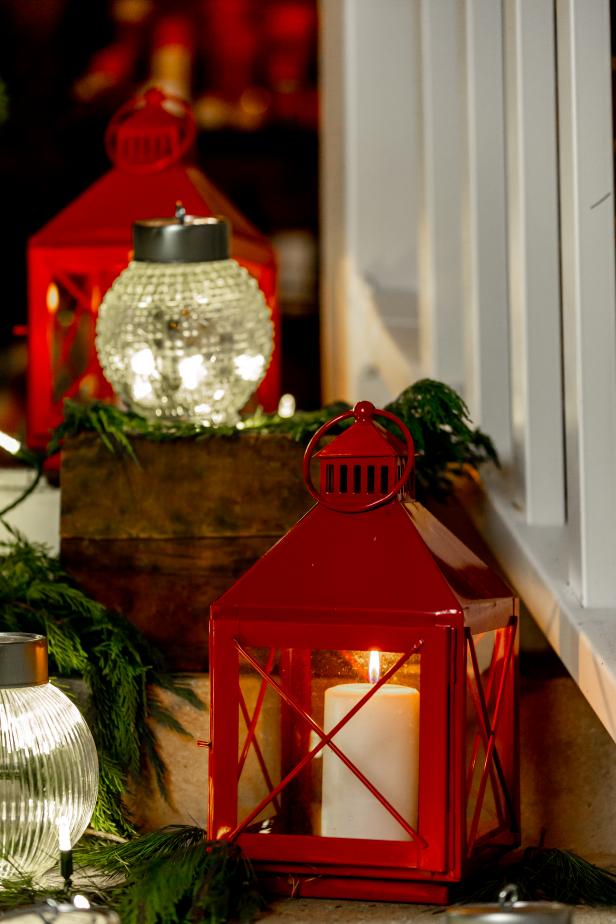 Decorating a Front Porch With a Mini Tree and Greenery
The front porch of this home has been decorated using a mini potted Christmas tree, a wreath with pine cones and ribbon and boughs of greenery. The decorations are lit up using mini string lights and the glowing ambience added is beautiful against the brick home.
Lighting a Stairway With a Red Lantern and Candle
This red lantern has been filled with a candle and lit up to line a stairway leading to a front porch. Greenery is strewn along the steps surrounding the lantern and intertwining around homemade Christmas ornaments. The ornaments are made from vintage light globes.
To create the ultimate cozy environment on your porch, start by stashing a few hats and mittens close by in a cute container (Image 1). A basket, Christmas-themed lunchbox or any other container that matches your porch's aesthetic will do. Next, go all in with fuzzy pillows (Image 2). Not only are they the ultimate comfy, cozy accessory for your sofa or swing, but they also offer a visual that will make the season bright. To top off the cozy additions, don't forget some faux fur throws to help you and your guests stay warm on chilly nights (Image 3).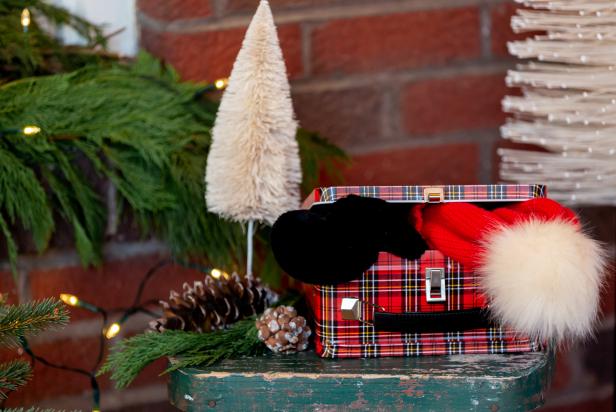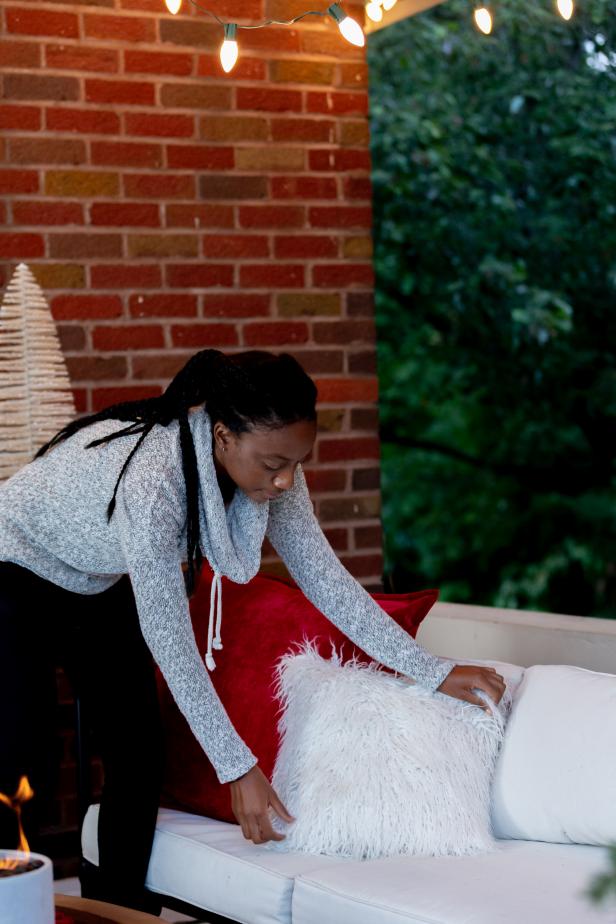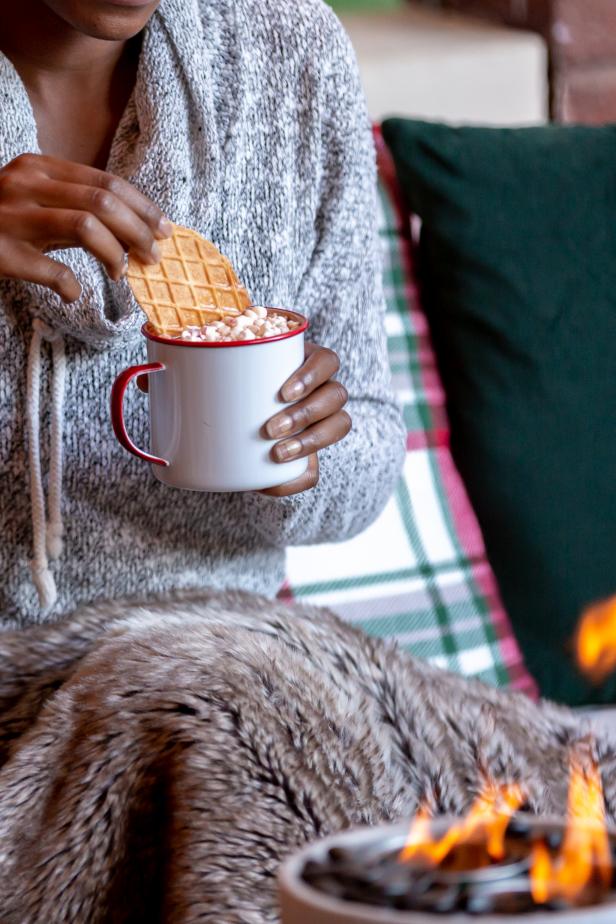 Storing Cozy Winter Hats in a Vintage Festive Lunchbox
This vintage lunchbox makes for the perfect festive container to hold cozy winter hats and mittens. The lunchbox is placed on a front porch for easy access when it gets cold. Decorations are placed around the festive box, making it look like part of the porch's decor.
Enjoying Hot Chocolate on a Cozy Front Porch
This front porch has been decorated for Christmas and is the perfect spot for enjoying hot chocolate and other seasonal treats. A DIY tabletop fireplace made from a cement planter and a faux fur throw add the seasonal ambiance while serving a functional purpose of staying warm.
One thing many porches are missing is a fiery focal point. This can easily be remedied by partially filling a large cement planter with lava rocks, placing some canisters of fireplace gel fuel on top, then filling in the gaps with more lava rocks. Place the DIY fire bowl on a fireproof surface that's out of reach of kids and pets, like a tabletop, and bask in the warmth and ambiance. Note: Never leave a burning fire unattended.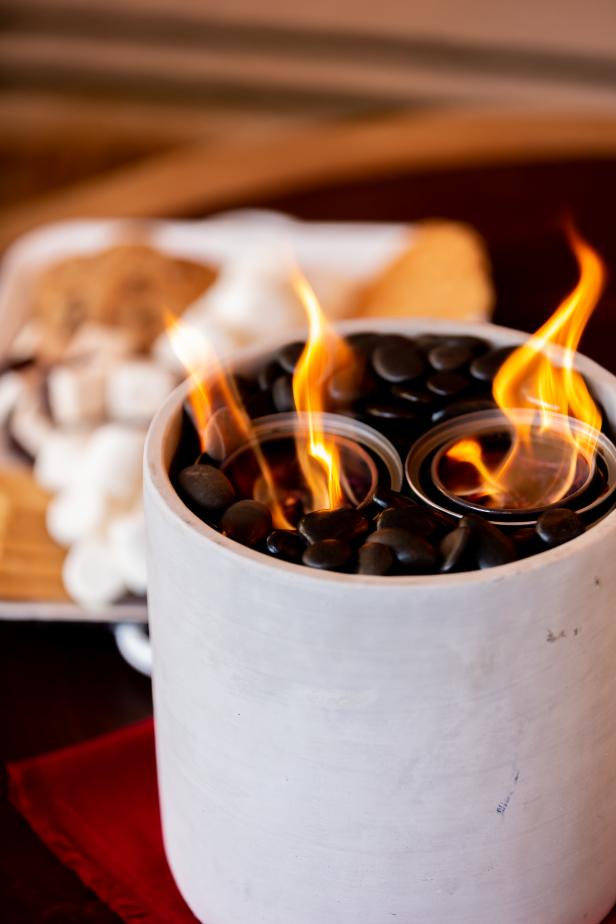 Turning a Concrete Planter Into a Tabletop Fireplace
This tabletop fireplace is made by filling a concrete planter with lava rocks and placing fire gel containers on top. The gel containers put off a tremendous amount of heat and keep the area warm while providing a nice ambient glow to fill the surrounding space.
One surefire way to double down on the cozy this Christmas is to heat up some warm beverages and serve them on an outdoor bar cart. Coffee, apple cider and hot chocolate taste even better when served from vintage thermoses and are sure to stay hot for the entirety of the evening. To make things even more merry and bright, stock your bar cart with all the necessary holiday drink garnishes.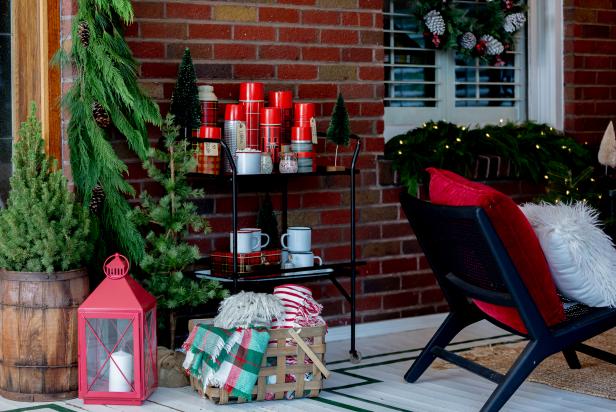 Bar Cart On Front Porch For Christmas
This bar cart has been put to use on a front porch for Christmas. Warm, seasonal beverages in vintage thermoses add to the Christmas theme and make the bar cart seem like an extension of the porch's existing Christmas decorations, including greenery and Christmas lights.
What's a fire without s'mores? Give this classic indulgence a seasonal shakeup with the addition of crispy wafer cookies, peppermint bark, chocolate chip cookies, dark chocolate and chocolate-covered marshmallows (Image 1). Create easy mini marshmallow-roasting sticks with wooden skewers and see who can make the most delicious Christmas combo (Image 2).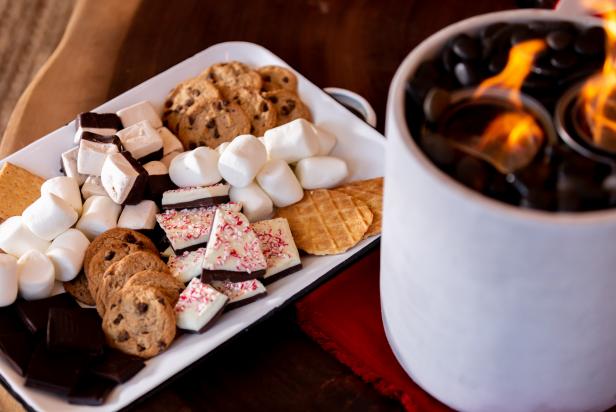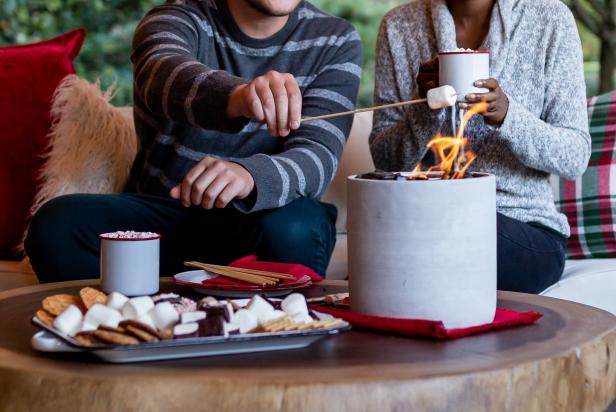 Out-Of-The-Box Ingredients for Christmas S'mores
This white platter is overflowing with creative, out-of-the-box ingredients for s'mores. The DIY tabletop fireplace is the perfect spot for roasting marshmallows to combine with delicious peppermint bark, dark chocolate, chocolate chip cookies and waffle cone wafers.
DIY Tabletop Fireplace Made From a Cement Planter
This DIY tabletop fireplace is made out of a cement planter that has been filled with lava rocks. The fire is fueled by fire gel containers that put off a surprising amount of heat. The DIY is a great way to make your porch more fun and gives you the options to roast marshmallows anytime.
If you follow these simple tips, your porch is sure to become the go-to cozy spot to spend the chilly winter season!
We're sorry, there seems to be an issue playing this video. Please refresh the page or try again in a moment. If you continue to have issues, please contact us here.