How to Make a Holiday Window Box
Bring colorful touches of Christmas to your windows with clever window box planter upgrades.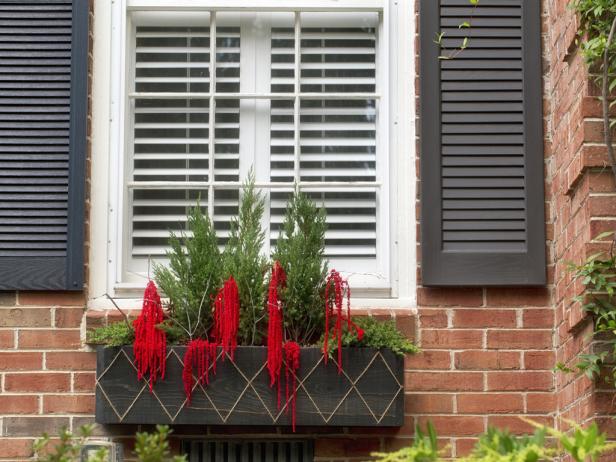 Holiday Window Box
Dress up your home's windows for the holidays with a handmade window box like this example.
pressure-treated pine window box planter
twine
back tacks
scissors
hammer
potted evergreens
Amaranthus caudatus
ebony wood stain
cloth
paint brush
tape measure
carpenter's pencil
Add texture to the planter box by banging it with the back side of a hammer. Tip: Hit random areas in no specific order to ensure an authentically aged look.
In order to add graphic impact, it's best to stain the pine window box planter black so that the lighter tones of the accent materials stand out. Use a paint brush to add an even coat of ebony-toned stain. Tip: For the best finish, be sure to brush with the grain rather than against it.
In order to see the wood grain through the ebony stain, use cloth to wipe off excess, creating a distressed look. Be sure to press firmly until the wood grain is visible through the black stain.
Measure and Mark for Tacks
Use the tape measure to decide on the proper placement for tacks. Once proper dimensions are decided on, mark the pine planter box with a carpenter's pencil.
Use the hammer to add tacks into pencil marks.
Unfurl spool of twine, wrapping it around the top and side tacks.
Using all tacks as your guide, add a diamond pattern by stringing twine from tack to tack. Once you reach the last tack, cut twine with scissors.
Once the diamond pattern has been completed, sink the tacks in with a few extra taps of the hammer. Tip: This will keep the twine nearly flush with the pine, ensuring it doesn't come loose.
Add potted evergreens inside planter box with the branches just slightly peeking over the top.
For a pop of bold holiday color, place Amaranthus caudatus inside of window box planter so that it cascades over the front.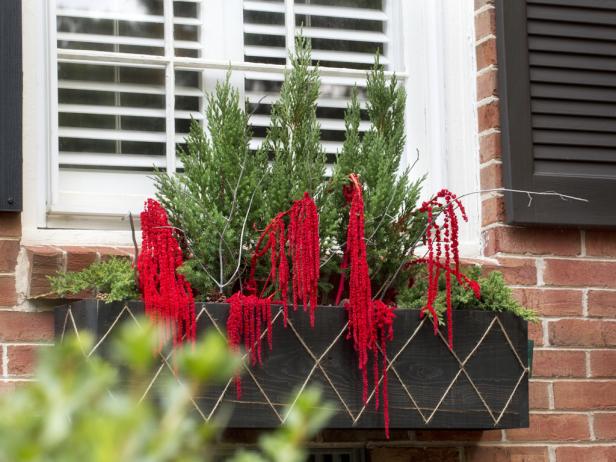 Holiday Window Box
A window box, like this handmade example, is a simple way to dress up your exterior for the season.