Make a Cool Cottage-Style Window Box Out of PVC Pipe
Pep up a plain window with this clever, easy DIY window box project.
We're sorry, there seems to be an issue playing this video. Please refresh the page or try again in a moment. If you continue to have issues, please contact us here.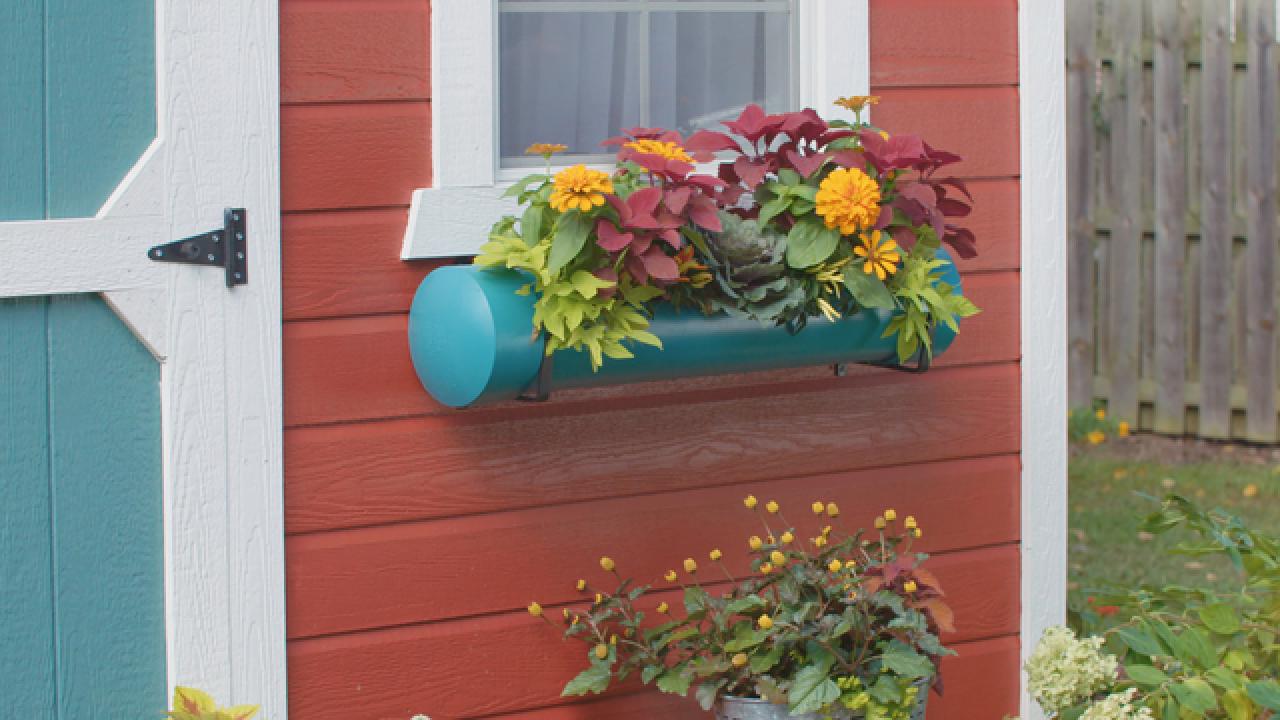 (1) 6"x10' piece of PVC, cut down to 33" pieces (keep extra for other projects)
Chop saw (optional)
(4) 6" PVC cap fittings
(1) can of PVC clear cleaner
(1) can of PVC heavy duty clear cement
drill with 3/8" all-purpose bit
jigsaw with PVC cutting blade
2" decking or wood screws (optional, as the brackets we used came with screws)
(1) can exterior spray paint of your choice – We used Krylon FUSION in Satin Rolling Surf color
(1) sanding block 180 grit
Step 1: Mark Rectangle on PVC
Measure and trace out rectangle on PVC pipe that is 5" tall by 24" wide. The rectangle should start 4.5" from edge of PVC.
Step 2: Drill Pilot Holes
Using the 3/8" bit, drill a hole at each corner of the rectangle. This will make turning your corners easier when cutting.
Step 3: Cut Out Rectangle
Using a jigsaw with a PVC blade, begin cutting in corner pilot hole. Follow the lines you traced until entire rectangle is cut out.
Step 4: Drill Drainage Holes
Flip PVC over and drill drainage holes. This will allow water to easily escape your planter.
Use sanding block to smooth out all edges you just cut or drilled.
Clean pipe with PVC cleaner. Tip: you could also use finger nail polish remover and a cotton ball.
Immediately after cleaning, use PVC cement to attach caps on each end of pipe. PVC cement comes with an applicator swab attached to the lid. Liberally rub the tips of the pipe and inside the caps before securing together.
Spray paint entire window box.
Fill window box with dirt and add your flowers. Tip: adding vines towards the front of your window box will add cascading drama as they grow.
Attach window box brackets to the siding just below window.
Place pipe into bracket. It will fit snug. Watch it grow!