Plant a Winter Window Box
A window box planted with hardy flowers and foliage offers a garden view when it's too cold to stay outside.
Winter doesn't have to shut your garden down, even if you're in a cold climate. A window box filled with hardy plants can brighten the dreary view until spring.

For best results, plant your window box before the coldest weather arrives so your plants have time to get established; avoid choosing anything tall or wide enough to block your view.

When you visit your garden center or nursery, read the tags on your plants before you buy to make sure they're hardy enough to survive until spring. Since plants in window boxes are more exposed than plants growing in the ground, look for plants rated 1 to 2 hardiness zones colder than the zone you live in.

Choose your window box carefully, too. Gardeners in cold climes will need something that's frost-proof. If you repurpose a wooden box, seal or paint it to make it weather-resistant or expect to discard it after one season.

Use a window box with drainage holes or drill some in the bottom. Remember that window box plants tend to dry out faster than those in the ground, so check occasionally to see if it needs watering. Just don't let your plants stand in water that can't escape, which can cause the roots to rot.

Next, find a spot that can accommodate the weight of your box when it's filled with plants, dirt and water. If your box doesn't come with brackets, bolt or otherwise secure it in place.

Make sure there's some air circulation around the box and that it doesn't rest directly against your house, where repeated waterings might cause damage. If it's going to sit on a ledge, put a couple of bricks under it to raise it slightly. You may want to install your box before filling it. Otherwise, it may be too heavy to lift into place.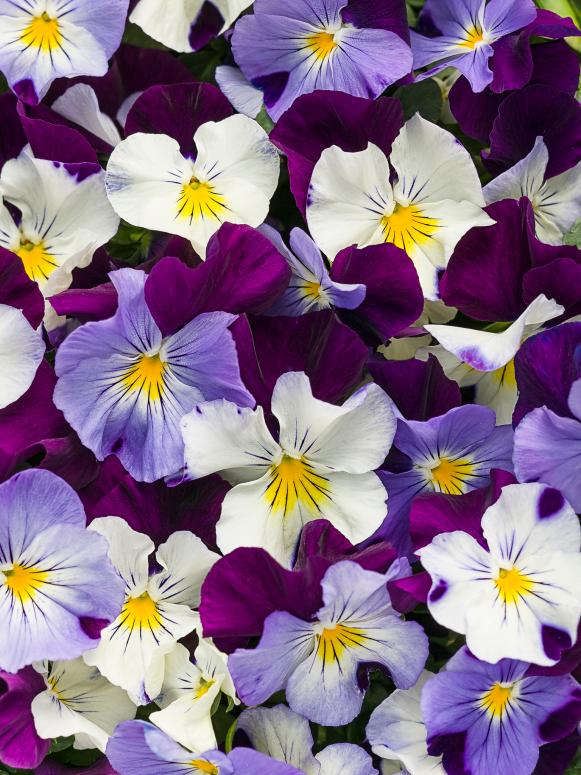 Anytime® Viola 'Sugarplum'
Violas make nice filler plants in window boxes and other containers.
Proven Winners
Violas make nice filler plants in window boxes and other containers.
Now you're ready to plant. Fill the box about two-thirds full of a good quality potting mix that drains easily.

Be creative when it comes to choosing plants that will overwinter in your region. Dwarf evergreens are great for containers or you can use small plants and move them into your garden in the spring. Try junipers, arborvitae, False cypress, Japanese yew, spruces, flowering heaths and heathers and boxwoods.

Add flowers and pretty foliage for color. Pansies are generally hardy to zone 4 and rebloom in winter in zones 7 and higher, while violas are hardy in zones 3 to 9.

Flowering cabbage and kale add purple, white, cream and pink to winter window boxes; their colors become more intense in the cold.

Snapdragons can survive a dip into the 20s, although they need at least 10 hours of sun a day to keep blooming. Newer varieties of China pinks (Dianthus chinensis) can tolerate the cold and produce spicy-scented flowers in pink, white, red or bicolors.

It's also nice to tuck in some flowering bulbs. Winter snowdrops will often push up their bell-shaped blooms through the snow. Paperwhites and grape muscari will help your box transition into spring. Hardy cyclamen, hardy in zones 5 to 9, have pretty heart-shaped leaves and bloom in early spring. Hellebores, or Lenten roses, overwinter in zones 6 to 9 and may flower in the snow.

Ornamental grasses can add height and texture to winter window boxes. Consider purple fountain grass, blue fescue, blue oat grass or dwarf Japanese sedge. Liriope, or monkey grass, is another choice.

Remember the rule of thumb for designing containers, which works equally well for window boxes: grow a thriller, a spiller and a filler.

A thriller can be any plant that serves as the "centerpiece" of your box and is usually the tallest plant.

Fillers are smaller plants, like winter-hardy herbs or violas, that you tuck in around the others. They help your composition look full and balanced.

Spillers are trailing plants that tumble over the sides of the window box. These include ivies, Virginia creeper vine (for zones 4 to 9) or variegated common periwinkle (Vinca minor 'Variegata,' also hardy in zones 4 to 9).

When you've selected your plants, ease them out of their pots and gently loosen any tangled roots. Place them no deeper than they were growing and cover the roots with soil. Water thoroughly.

If desired, dress up your window box with "accessories." Drape the plants with a string of miniature outdoor lights, or stick in some interesting twigs, berry branches or attractive seedpods. Take a walk through the woods and your garden to look for slender branches of yellow- or red-twig dogwoods, dried hydrangea blossoms and cuttings from pines, firs, spruces and hemlocks. Remove or change these materials when they dry out.