Hanging Around: DIY Catch-All Mirror Cabinet
Make the most of vertical space with this dollar store mirror turned stylish storage solution.
We're sorry, there seems to be an issue playing this video. Please refresh the page or try again in a moment. If you continue to have issues, please contact us here.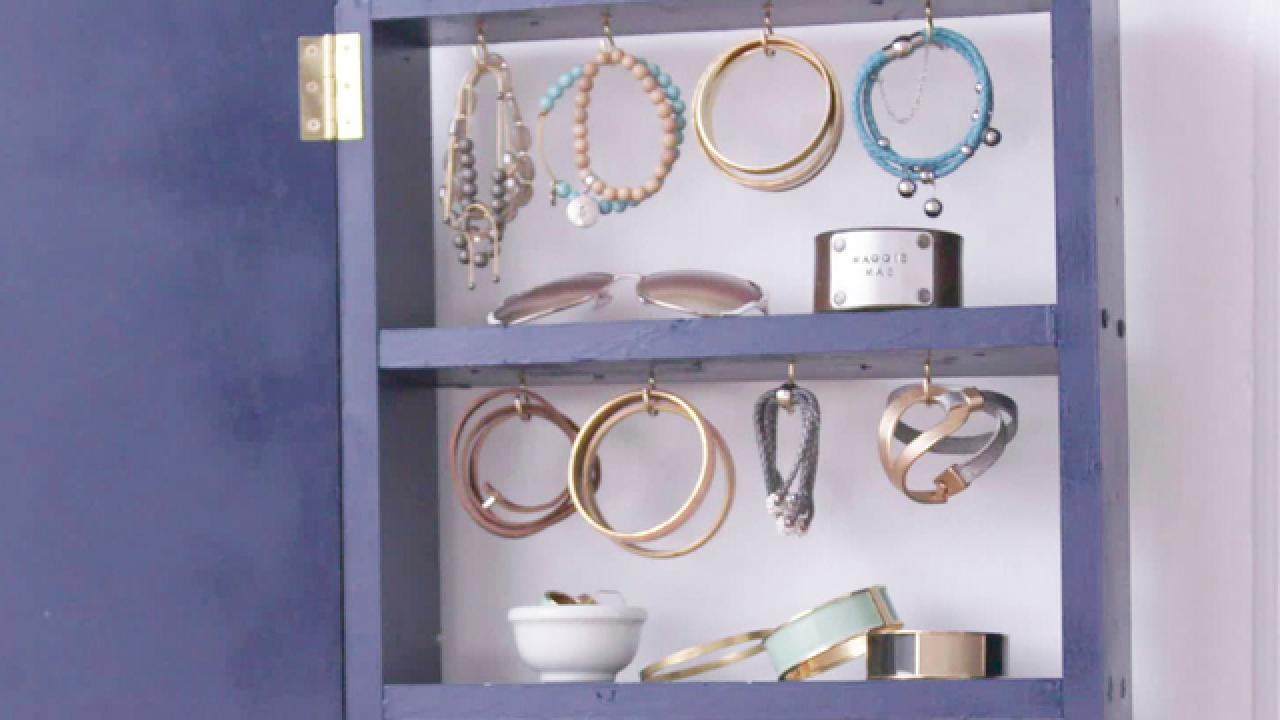 Dress up a dorm room, a bathroom or even a bedroom door with this space-saving mirror cabinet. Instead of spending $50-$100 on similar cabinets, make one yourself with a dollar store mirror, a few pieces of wood and easy-to-find hardware.
(2) 1x4 x 50-3/4" boards
(4) 1x4 x 13-1/4" boards
(16) 1-3/4" wood screws + matching bit
drill
14-3/4" x 50-3/4" 1" board
construction adhesive
dollar store mirror
painter's tape
spray paint
cup hooks
(2) 2" wood screws
13-1/4" metal pipe
(3) small hinges + screws
decorative metal sheet
handle + corresponding screws
magnetic door latch
(2) rubber bumpers
screwdriver
Start by laying out two 50-3/4-inch long 1x4 boards. Drill parallel holes at 1/2 inch from the top, 7 inches, 14 inches and 1/2 inch from the bottom on each board. Once the holes have been drilled, attach the cross pieces. Position the four 13-1/4-inch boards at each of the pre-drilled points, and attach with 1-3/4-inch wood screws. These measurements will fit a mirror approximately 48-50 inches long and 12-14 inches wide. Adjust the measurements to suit a different size mirror.
Attach the Mirror and Paint
Attach the mirror to a 50-3/4x14-3/4-inch board using construction adhesive. Once dry, tape off the glass surface of the mirror, and spray paint the frame and door.
At the top of the cabinet frame, add four cup hooks to the bottom of the first two boards. Drill two holes 3 inches below the third shelf on each side of the cabinet. Using 2-inch wood screws, secure a 13-1/4-inch metal pipe. On the back of the door, mount a piece of decorative aluminum sheeting using square wooden dowels and construction adhesive.
Complete the cabinet by adding a cabinet pull centered on the edge, along with three small hinges. On the inside of the handle, place a magnetic door latch to hold the door closed, and place two small rubber bumpers at the top and the bottom for soft closing.
Hang bracelets, necklaces and rings from the hooks, drape flowy scarves from the pipe, and hang earrings on the aluminum sheet for the ultimate organized space saver.