Difference Between Laminate and Vinyl Flooring
Vinyl and laminate flooring options offer affordability and durability for homeowners, but each of these popular options comes with certain strengths and weaknesses. Consider the pros and cons and feel confident in your product choice.
Manufactured flooring options, like vinyl and laminate, have transformed the landscape of interior design. Updating the floors in your home used to be a complex and expensive improvement riddled with inconveniences, but modern products aim to make home updates affordable, more stylish and easier than ever before.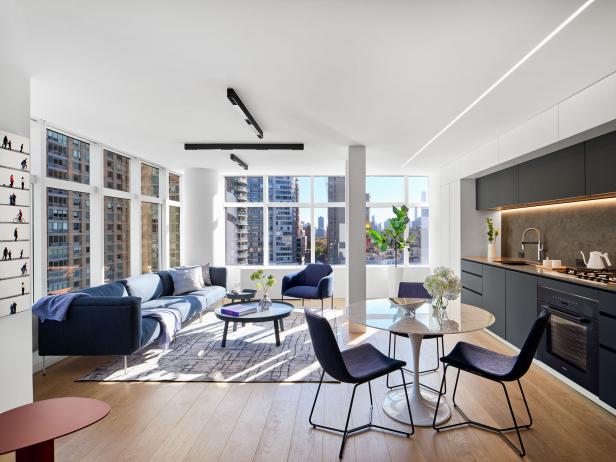 White Contemporary Open Plan Apartment With Grey Kitchenette, Marble Tulip Table and Navy Sofa
This 570-square-foot area functions as a kitchen, living room, dining room, library and work space. When a space plays so many roles, every surface functions as an art installation; consider, for instance, the sculptural pieces now installed overhead. "The look of the ceiling is really important in our design," designer Mary Maydan says. "I selected a dark fixture intentionally because the apartment is washed with light and the walls are white. I wanted to add something distinct that will be powerful and interesting."
Both vinyl and laminate floor options are much easier to install than wood flooring and have properties that promote durability — that's especially important for high-traffic areas and pet-friendly homes. The materials are priced similarly and offer a range of finishes and options, but there are many critical differences, too. One difference: Vinyl is a plastic that holds up much better to moisture in a basement or bathroom, while laminate's core is more easily affected by moisture damage. This affects where the flooring is installed and how it is cleaned.
Before you make your pick, take a moment to learn more about these two products.
Constructed from a fiberboard core and topped with a layer of resin, laminate flooring is an affordable way to add a stylish upgrade to your home. It is a durable product that performs well in rooms that are dry and not prone to excessive moisture, such as in the living room or bedrooms. Many homeowners gravitate to the quality of a laminate finish, which often looks "just like" stone, marble or hardwood flooring.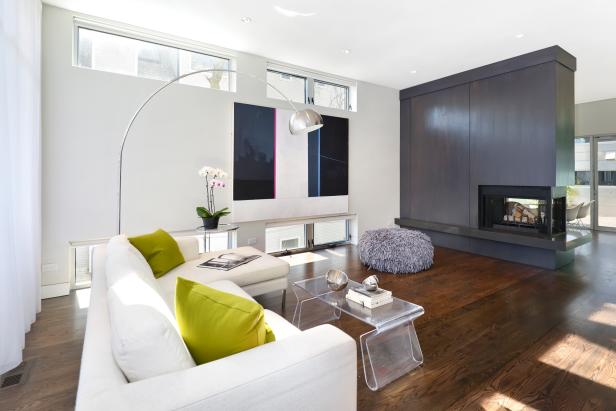 Linc-Thelen-Design_Bucktown-Modern_Living-Room
Linc designed the whole front of the house and reconfigured the center fireplace with a custom façade and hidden cabinetry for the dining area. The design is simple clean lined furnishings with a acrylic coffee table and small splashes of color. Sculptural gestures are incorporated into the design with the fireplace millwork and statement floor lamp. Sheer window treatments keep the space light and bright.
Pricing for Laminate Flooring
Laminate flooring is often priced between $1 and $4 per square foot. Planks and tiles that tightly lock are often categorized as water-resistant and may result in higher price points; thicker laminate products can also drive up the cost per square foot.
What are the Advantages of Laminate Flooring?
Very durable.
Patterns and textures can emulate marble, tile or detailed rustic barnwood, resulting in a more stylish and high-end appearance.
Available in a variety of finishes, from matte to high-gloss and textured to metallic.
Foam underlayment can add warmth to the floor and help suppress hollow sounds underfoot.
What are the Disadvantages of Laminate Flooring?
Easily affected by excess moisture. Even products like steam mops can damage the adhesive used in laminate flooring.
Subject to wax buildup and streaks from oily floor cleaners.
Resin subject to surface damage. Abrasive scrubbers, sponges and even baking soda can cause scratches on the surface.
Cheaper products may fade more easily in sunlight.
How do You Clean Laminate Flooring?
Dry mopping and vacuuming are the best ways to clean a laminate floor. It's always best to use a microfiber mop or cloth to prevent surface scratches in the material. Dust and dirt that gathers over time can act like sandpaper underfoot, so prioritizing your floor cleaning routine is important.
Spot cleaning with moisture is possible in small volumes. Mix 1 part rubbing alcohol + 3 parts water + a squirt of dish soap, then use a lightly dampened cloth to clean the area. Immediately dry the surface with a paper towel.
How to Install Laminate Floors
Whether you select planks or tiles, laminate flooring is a tongue-and-groove product making installation a snap for any homeowner (pun intended).
Acclimate the laminate to indoor temperature.
Remove baseboards in the room and prep for installation. You can float laminate over an existing floor, but be mindful of how much floor height will be added at thresholds.
Lay underlayment throughout the entire room.
Determine the layout of your planks or tiles and mark the placement for your first row. Laminate needs a little room for expansion so be sure to leave a small gap around the perimeter of the room. The gap should be no bigger than the width of your baseboard.
Install laminate piece-by-piece, being mindful to randomly stagger the rows so they look like natural boards.
Reinstall baseboard.
Unlike laminate, vinyl is a synthetic plastic. PVC vinyl, fiberglass and other substances that increase the flexibility and plasticity of the finishing layers are commonly used in construction. Vinyl is highly revered for its durability, its handling of moisture and its ease of install. Many products even feature a peel-and-stick backing that simplifies installation for the everyday DIYer.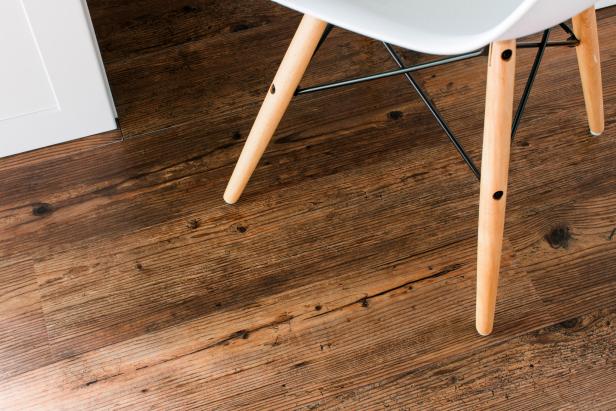 Vinyl Plank Flooring Creates Look of Wood Floors for Less Money
Sick of your old, dated carpet or linoleum? Get the look of wood floors, but with even more durability and less maintenance, with vinyl plank flooring. This is an excellent option for homeowners with basic DIY skills since all you'll need to install the flooring is a utility knife.
Photo By: Flynnside Out Productions
Pricing for Vinyl Flooring
Vinyl plank flooring is often priced between $2 and $5 per square foot. Sheet vinyl is priced even lower (often less than $1 per square foot) but it is thinner, less rigid and less likely to last as long as thicker planks.
What are the Advantages of Vinyl Flooring?
Homeowners who install vinyl flooring often choose the product for many reasons:
Extremely durable and long-lasting.
Available in high-end finishes.
Scratch and stain resistant.
Holds up well in areas with heavy foot traffic.
Peel-and-stick vinyl tiles are easy to install and can be grouted for a natural stone finish.
All vinyl has water-resistant properties. Waterproof Vinyl Plank Flooring (WPC) is fully waterproof, making it ideal for rooms that are prone to moisture such as kitchens, basements and bathrooms.
Resists fading in natural daylight better than other flooring products.
What are the Disadvantages of Vinyl Flooring?
Vinyl emits volatile organic compounds (VOCs) over time.
Adhesives and glues used in installation can make it hard to remove.
Vinyl can't be patched or repaired.
Grouted vinyl tiles are not installed on rigid cement boards. Meaning, flexibility in the underlayment can cause grout to crack more easily than in a traditional tiled floor.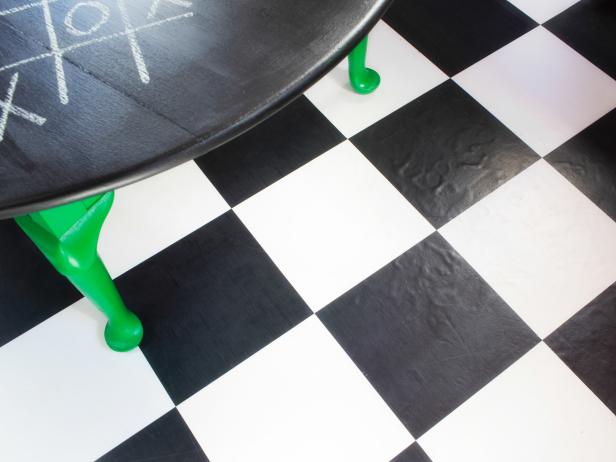 BPF_original_playhouse-interior_vinyl-sheet-flooring_h
VINYL SHEET FLOORINGSince play houses are meant for playing, it's wise not to splurge on fancy flooring. Instead, get playful with the basics by installing vinyl sheet flooring. Once proper measurements are taken for the interior flooring surface, pick up vinyl sheeting in a graphic pattern such as checkerboard or stripe from the local home improvement store. Referring to measurements, unfurl the sheet, cut to size with a utility knife, then install using vinyl adhesive.
How to Clean Vinyl Flooring?
Maintaining your vinyl floors begins with ongoing maintenance. Follow these steps and make it part of your weekly cleaning routine:
Vacuum or sweep the floor to remove dirt and dust.
Mix one cup of apple cider vinegar with a gallon of hot water to create a simple mopping solution. Need a powerful solution? Add a few drops of liquid dish soap to the mixture.
Mop across the vinyl floor, rinsing the mop often with clean water from another bucket.
If you used soap in the first bucket, you'll need to do one more pass with the mop to remove the soap. Prepare a fresh bucket with one cup of apple cider vinegar and a gallon of hot water. Mop the floor a second time.
Allow it to air dry.
Make your clean-up routine easier by drying spills as soon as possible to prevent staining.
Did your shoes make scuff marks on the floor? Spray a little WD-40 cleaner on a towel and rub the area. Then, apply a 1:1 solution of white vinegar and water to clean the WD-40 off the floor.
How to Install Vinyl Flooring
With proper planning and a few tools, any homeowner can learn how to install vinyl flooring. The installation process can vary depending on the type of tile, your home's subfloor and the underlayment.
Acclimate the vinyl planks to indoor temperature.
Remove baseboards and clean the floor surface.
Install underlayment if necessary for an interlocking product or prep the floor for adhesive.
Determine the layout and mark the placement for your first row of planks.
If you're using adhesive or peel-and-stick tiles, wipe the area with a rag dampened with denatured alcohol to eliminate dust.
Install planks one at a time, mindful to randomly stagger the rows.
Reinstall baseboard.
Selecting between vinyl or laminate starts with knowing the space in your home. If you are planning to replace the floors in your bathroom, kitchen or mudroom, be cognizant of the possibility of moisture damage and opt for vinyl. High-traffic area? Vinyl! If you're looking for a high-end luxury solution for your living room and dining area, don't hesitate to look at laminate solutions. There are countless options on the market that make it easy for homeowners to get the desired look when upgrading their spaces.