The Wait Is (Almost) Over! 'Fixer Upper' Season 4 Is Here
Fixer Upper's fourth season makes its debut November 29 (9p/8c) on HGTV. It's the biggest and best season yet, and we've got some pictures to show you. Not to mention a special video preview.
As reported in an earlier post, you can expect some new and different things in the coming episodes of Fixer Upper, as well fresh takes on familiar themes. Not to give too much away (you wouldn't want us to spoil those trademark reveals, would you?), but we've put together a gallery of 50+ photos to whet your appetite for what you might expect in the new season — with detail photos highlighting some of Joanna's latest decorative stylings and staging motifs, exclusive behind-the-scenes pics with Chip and Jo, something tasty from Magnolia Bakery and (if you look very closely) something we've alluded to before – "skinnylap".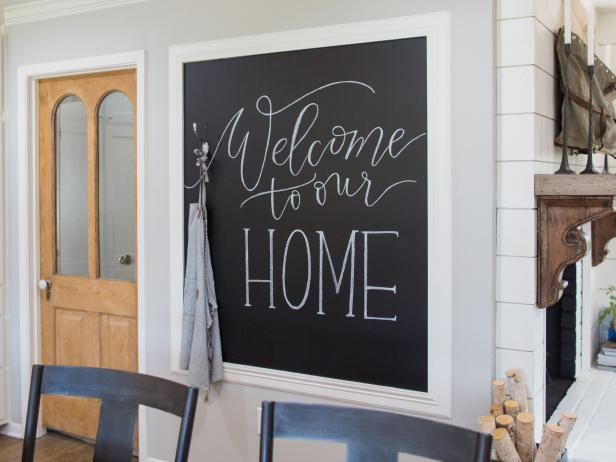 The kitchen in the Severns home has been opened up and expanded. Where there was a breakfast nook, there is now another set of french doors, creating a third entrance to the home. A wall between the kitchen and living space has come down. A new island was built and there are new light fixtures, appliances, countertops and cabinetry. There is an antique door leading to the laundry room and a large chalk board, as seen on Fixer Upper.
As Joanna reported in the Magnolia Market blog, this season will have plenty of the classic-meets-contemporary design aesthetic that Fixer Upper fans have come to know and crave, but with some new points of focus. To wit, an emphasis on some of special and tucked-away spaces we've not seen as much of before. Think outside the box — beyond the kitchen, living-dining room and master suite. Think mudrooms, craft rooms, home offices and the like.
"In seasons past we've renovated whole homes, but only been able to show the exterior and a few rooms," writes Joanna. "This year we'll be branching out and showing off unique sitting nooks, fun playrooms and even a space that was specially designed for a client's sweet furry friends." A doggy spa, perhaps? You'll just have to wait and see.
Among those special spaces are a variety of rooms custom designed for clients' kids — a girls' bedroom in delicate pink with tasteful and feminine touches, a boys' bedroom with custom loft bed and study nook, a girl's playroom with an emphasis on children's books — those are just for starters.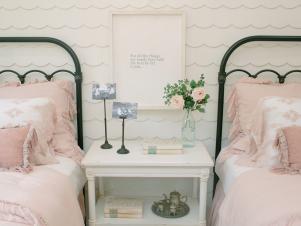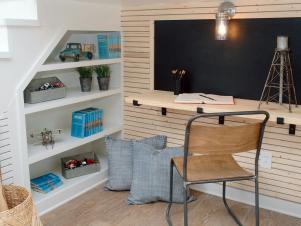 Girl's Bedroom Nightstand Details Featuring Shingle Accent Wall, Text Art and Feminine Decorations
The dainty white nightstand is a perfect fit for this girl's bedroom. A white shingle accent wall brings texture behind the matching twin beds topped with pale, rosy bed linens and ruffled pillows. Simple and sweet nightstand decor compliments the room's style and adds a personal touch.
And premiering this Valentine's Day, the Fixer Upper Bakery special gives viewers a look inside the new Magnolia Bakery at the recently opened Silos headquarters. Let's just say Joanna gives cupcake creation an attention to detail that's on par with that she gives to decorating homes.
Video Preview: Season-Four Sizzle!
And if you haven't seen it already, here's a killer extended-cut version of the season four preview video. On-camera outtakes, demo-day, Chip's "hammer trick" and more. Web-exclusive and available right here. Heads-up! Chip's in rare form. Something's liable to get broken.
Who's Ready to Break Stuff?
03:56
Chip and Joanna return for a new season with more hijinks and demolitions.
New episodes of Fixer Upper air Tuesdays at 9pm/8c.