10 Clever Container Gardens We Love From Joanna Gaines
Let Joanna help you channel your inner gardener.
In addition to her formidable design skills, Joanna Gaines also has another not-so-hidden talent: An incredibly green thumb. She squeezes flowers and plant life into even the smallest of spaces.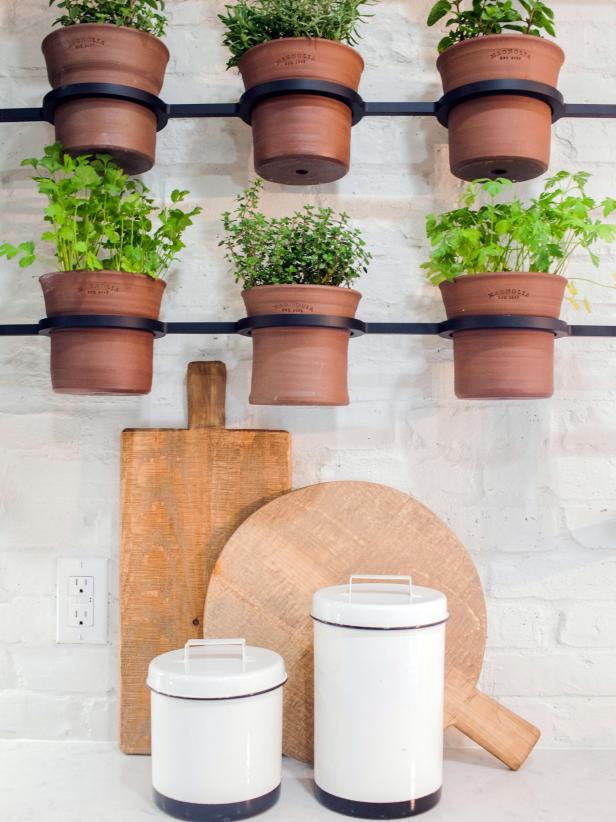 Black Metal Mounts and Ceramic Pots for Indoor Herb Garden in Bright, White Kitchen
This kitchen features an indoor herb garden designed by Reckless Iron Works, as seen on HGTV Fixer Upper. A white brick wall and white granite countertop creates a bright backdrop allowing the pot color and greenery to pop. Wood cutting boards and ceramic cookie jars are functional and decorative.
If you caught the latest episode of Fixer Upper, you know what I'm talking about: This week's kitchen makeover included this rad, wall-mounted herb garden outfitted with custom pots from John Martin of Black Oak Art and an industrial-style metal framework created by Cody Benton of Reckless Iron Works.
Flip through this renovated home full of fun details.
But this is far from Joanna's first creative container garden. Check out some of her most ingenious planter ideas and steal a couple for your own home. (Coming soon to my kitchen: An iron-and-clay herb station.)
Instead of a light fixture, Joanna suspended a platform filled with vintage books and potted herbs in this breakfast nook. It provides a focal point and keeps the table clear for coffee and cereal.
Succulents in rustic, carved-wood planters fill an empty corner with plant life.
In one of Chip and Jo's first Fixer Upper renovations, they transformed a run-down atrium into a plant-filled greenhouse brimming with herbs.
Cedar planters line the walls, while chalkboard labels help keep these rows recipe-ready.
When In Doubt? Go Vintage
Joanna is a master of repurposing thrift-store finds as clever wall decor. Here, she uses vintage baking sheets to frame bud vases, but you could easily sub in pint-sized succulent pots. Vintage crates, chicken feeders, letter holders and tool boxes? Yep, she's done it all, with adorable results.
Match the planter to your surroundings. Here, Joanna was outfitting a midcentury modern home, so she went for a low, organic wooden planter filled with succulents and accented with smooth stones. Going for a nautical look? Search the bait and tackle shop for inspiration.
Tour Joanna's favorite house of all time.