'Fixer Upper' Does Some California Dreamin' in the Texas Suburbs
Chip and Jo help a California couple, looking to settle in Waco, create a distinctive home with a creative cottage vibe.
How do you take a run-of-the mill, '80s-era home in the Waco suburbs and turn it into something that will fulfill the needs of a pair of southern Californians with two soon-to-be-teenage kids? That's the challenge facing Chip and Jo in a Fixer Upper episode titled "Space in the Suburbs." The outside gets an impressive makeover, but it's the interior spaces and layout modifications that offer the big challenges.
Mary and Dustyn Severn are looking for a home with four bedrooms, lots of open space, a large kitchen and plenty of backyard for the kids. The house they chose offered lots of room, but the layout wasn't ideal for an active family or for entertaining guests. Chip and Joanna had some ideas.
It will come as no surprise to Fixer Upper-philes that job one was removing some walls to create a more open flow between a newly renovated (and much enlarged) kitchen and adjacent living spaces. But it was little surprise touches that help define this particular makeover. The starting point is a sizable house with a bland exterior, and with one particular structural feature that puts Chip and Jo in a quandary. But only temporarily.
I don't feel like I'm gonna get any sleep on this [project], you know? But it doesn't matter. I don't sleep anymore anyway — ever since I started havin' those nightmares about shiplap.
Chip
Those are not nightmares.
Joanna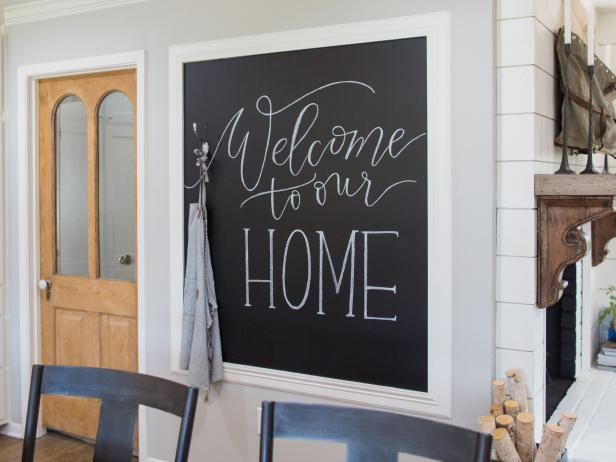 The kitchen in the Severns home has been opened up and expanded. Where there was a breakfast nook, there is now another set of french doors, creating a third entrance to the home. A wall between the kitchen and living space has come down. A new island was built and there are new light fixtures, appliances, countertops and cabinetry. There is an antique door leading to the laundry room and a large chalk board, as seen on Fixer Upper.
Watch for what Joanna does to add depth and character to the bare-bones living room, creating a new and intentional space that's certain to appeal to the kids and adults alike.
Creating an Intentional Space
01:08
Joanna reveals how she added extra space to a cramped living room.
And check out the custom built-ins to accommodate Mary's sizable collection of classic books. And wait until you see what material they use for the kitchen-island countertop. Even furniture designer Clint Harp gets caught off-guard.
Fixer Upper episode "Space in the Suburbs" premieres on February 21 at 9|8c. Be sure to check back here to see the full photo gallery with lots of befores, afters and more web-exclusive "Design on Her Mind" videos.