11 Things to Know About Dave and Kortney Wilson
Get to know these master flippers.
As we've seen on HGTV's Masters of Flip, Dave and Kortney Wilson make for a serious power couple, both on a project and off. The Nashville transplants have been married for 14 years, together for 18, and somehow manage to juggle house flips, three kids, homeschooling and filming without a hitch.
But did you know … the Wilsons both moved to Nashville from Canada, independent of one another, to pursue music? Here are 12 more things you should know about HGTV's new flipping spouses.
She's estimated her shoe count at about 100. (Dave thinks it might be closer to 200.) Kortney even recently renovated their master bedroom into a walk-in closet to store all of them.
And he estimates his hat collection at 100! It's a rare day when Dave isn't rocking a sweet or well-worn hat. "I have a cheap, old, gray hat that fits me like a glove," he says. "Its days are numbered, but I'll wear it 'til the end."
Dave and Kortney were born and raised in different small towns in Ontario. Kortney moved to Nashville when she was 18 to pursue a record deal, and Dave lived in London before vacationing in Nashville (which turned into a permanent vacation after he met Kortney). "We especially miss the summers," Kortney says. "We love where we are, but there is something about a Canadian summer that just gets you."
Donnie, their pug, was a Mother's Day surprise.
Dave and the kids sent Kortney to a spa in Asheville, N.C., for Mother's Day and surprised her with an 8-year-old pug they adopted from a shelter. Donnie would also only answer to his given name — "Turd McCurd" — when out in public before the Wilsons renamed him.
Adoption was always a dream for them.
The Wilsons adopted their youngest child, Lennox, at birth. "When we met Lennox, we just knew that she was supposed to be a part of our family," Kortney says.
Kortney homeschools their sons.
The Wilsons' two oldest sons, Sully and Jett, started homeschooling with Kortney two years ago. "I've watched them become closer as brothers and learn the art of lifting each other up," Kortney says. "I can honestly say that it's one of my favorite things, and it's been an amazing experience."
They both had record deals.
Kortney, who went by Kortney Kayle, released two singles, "Don't Let Me Down" and "Unbroken by You," and Dave also recorded with the same record company. They eventually teamed up to perform as a duo, The Wilsons, and released a self-titled album together.
Dave lived in London with his band before making Nashville home.
He and his four-piece band lived together in a one-room basement apartment they they "also shared with roaches and the pigeons that lived in the stairwell outside our window." They wrote songs together all day and played all night. "Some of my best stories start with, 'When I was in London…,'" he says. "We were all dedicated to making people have fun and, at the same time, having the time of our lives."
TV is anything but new to them.
Before Masters of Flip, Dave and Kortney hosted their own daytime talk show and also starred in their own Canadian reality series, documenting their musical and real estate pursuits. "I think the coolest thing about Meet The Wilsons is that we adopted our daughter, Lennox, during the first season," Kortney says. "Looking back, the season feels more like glorified home movies to us that captured moments in time that are special to our family."
Their own home reno was the start of it all.
While renovating their own home, Dave and Kortney realized they could supplement their income by flipping houses as they went in and out of record deals. What started as a way to fill in the gaps eventually became their full-time gig. "It was a great experience flipping our first place together," Kortney says. "We really didn't know what we were doing, but by some stretch of luck, we completed it and made some money along the way."
Kortney once shrugged off a pretty nasty injury from a demo.
While filming the first season, Kortney caught her leg on a rusty nail when leaving a room. Dave noticed she was bleeding, but she shrugged it off and continued with the scene. "When I left, my pants were soaked with blood, and the cut really was deeper than I thought," she says. "Unfortunately, I still have a scar there, but the house turned out great!"
We're sorry, there seems to be an issue playing this video. Please refresh the page or try again in a moment. If you continue to have issues, please contact us here.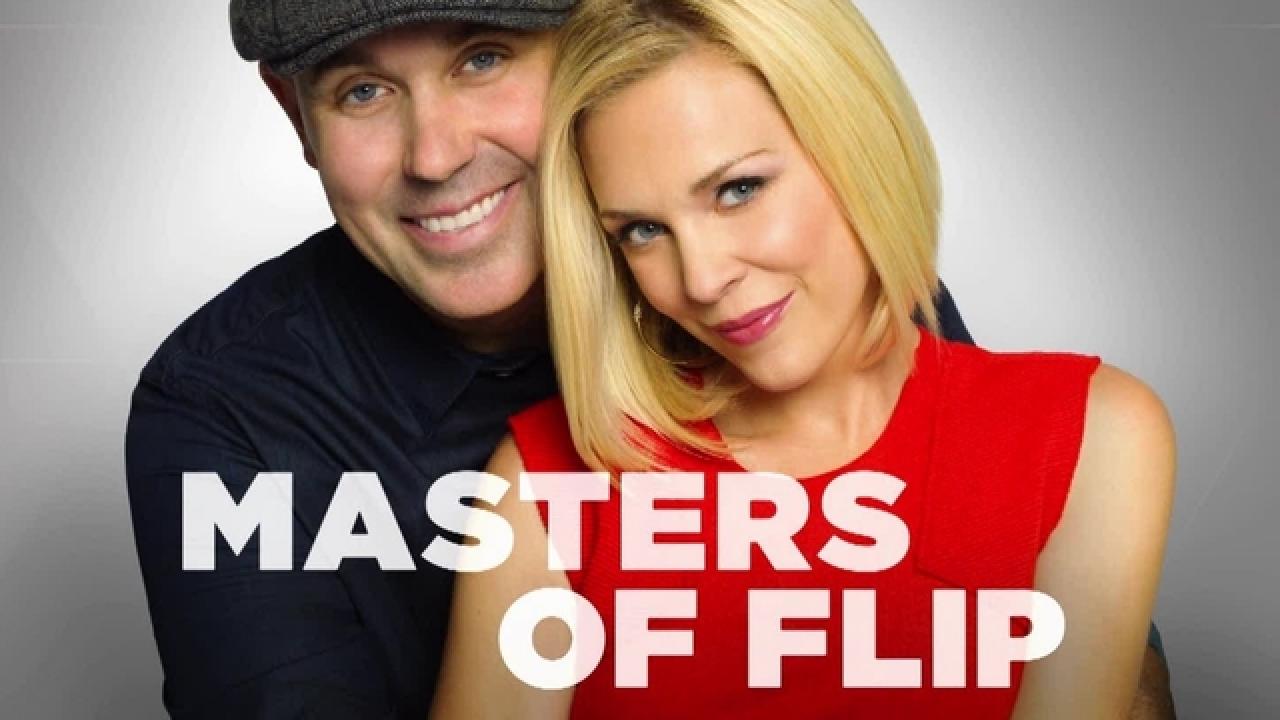 Want more Dave and Kortney? Don't miss all-new episodes of Masters of Flip on HGTV, Mondays at 9p|8c!