10 Things You Didn't Know About Egypt Sherrod
The Property Virgins real estate genius is back and armed with a tool belt for a new season of Flipping Virgins.
When starry-eyed, first-time home buyers on Property Virgins need a dose of reality, host Egypt Sherrod is their voice of reason from first showing to final offer. Now Egypt is teaching first-time flippers in Atlanta the tricks of the trade in the new season of Flipping Virgins.
"It moves fast; it's jam-packed full of useful information," Egypt said. "Whether you're an investor or not, you learn about homes and how the process works. You get to see more of the nitty gritty, and you feel the high stakes."
On Flipping Virgins, Egypt also gets to show a more laid-back side.
"When I'm working in my realtor shoes on Property Virgins, I'm in professional attire dealing with customers. Now on Flipping Virgins, you see me as your average girl next door, relaxed in my real attire working with clients who become friends."
Here are 10 more things to know about Egypt, on the air and off.
She's learned the hard way what not to DIY.
Want to save money? Sweat equity can be worth the effort. But some jobs are best left to the professionals, as Egypt learned on one of her first flips.
"My budget was running short, and I had an issue with the roof," she said. "So I did a little research on what I needed to do to re-tar the back of the roof. I stepped in the wrong spot and one foot went through the roof! I was screaming for 20 minutes, 'Somebody help get me down!'"
She's set a mousetrap or two in her time.
Egypt's first place wasn't what you would call glamorous.
"It was my senior year in college [at Temple University in Philadelphia], and I got an apartment. It was all I could afford," she said. "It was directly next to a train stop, and several times a day and at night I would hear the train rambling by. I definitely had vermin, and I had traps set out to catch them. But it was fun – it was mine!"
She turned a receptionist gig into a career in radio.
Egypt spent two decades working as a radio host, and her foot in the door was a work-study job as a receptionist for Temple University Public Radio.
"So back then, if someone had a call, you had to go over the intercom and say, 'You have a call parked on 101.' I would just sort of have fun with that, and everyone at the station would laugh," Egypt said. "So the production director of the radio station, I guess he saw something in me. He said, 'I think you're ready to audition for a radio slot.' His little investment of time [shows how] planting a little seed can change someone's life. My radio career took me to Baltimore, Philadelphia, New York City … and then to Atlanta."
The surprise encounter happened while Egypt was interviewing the cast of the movie Precious during a press junket, which Oprah was not scheduled to be at.
"In she walks, and I'm thinking, 'This is the interview of a lifetime! Don't fumble the ball!' She sits down, we start talking and she says, "Oh my god, I love your shoes. Who makes those?' And I said, 'Well, Aldo.' She looks at her assistant and says, 'Find out who this Aldo designer is.' I said, 'You, too, can have these for $60!'"
Just a year-and-a-half after the memorable sartorial exchange, Oprah invited Egypt to host the New Jersey leg of her "The Life You Want" tour.
"It was just a wonderful holistic experience, everything you could expect from Oprah," Egypt said. "She was everything off-screen as she was on-screen."
Her daughter is already following in her footsteps.
Egypt has a five-year-old daughter, Kendall, and a 15-year-old stepdaughter, Simone, who seem to have taken on Egypt's talents in handiness.
"My five-year-old does have a dollhouse, and she's already ready for a new one," she said. "I'm like, 'I just built that one last year!' She's flipping houses already."
Real estate is in her blood.
Inspired by her uncle, a residential broker, and her stepfather, a commercial realtor, Egypt learned early on to invest her earnings from her NYC radio gig into the housing market.
"I used to hear [from them] that real estate was the foundation of wealth," she said. "I bought some dilapidated homes in the tri-state area, and after I fixed up my first house, I got bit by the real estate bug. I was making more money flipping houses than I was in my day job. I thought, let me take the middle man out [and become a realtor], then I can sell my own properties and keep the commissions."
Her financial success inspired her to help others, and in 2008, she started her own nonprofit, the Egypt Cares Family Foundation, which produces financial literacy workshops, empowerment boot camps and other community outreach programs in Atlanta.
Rock climbing and skydiving are regular activities for Egypt and her husband. She even got some rather big news after one of her plane jumps.
"I actually found out I was pregnant [with Kendall] on the same day I landed from skydiving," Egypt said. "It was crazy, because when I jumped out of the plane I started feeling queasy and I thought it was the air pressure, but it was the start of morning sickness."
She once sang on stage with Prince.
Egypt has interviewed some big-name celebs over the years—Jamie Foxx, Beyonce, Leonardo DiCaprio—but her most memorable was an impromptu, on-air chat with Prince, who didn't give many radio or TV interviews throughout his career, for 107.5 WBLS in New York City.
"I was playing Prince songs [on the radio] because he was preparing for a long run of concerts in New York City at the time. I was talking [on the air] about how much I loved him and laughing about how I used to have his posters on my bedroom wall," she said. "He was listening at the time, and without an appointment—not that he needed one—without provocation, he just showed up at the radio station. He said he was listening and wanted to meet me. Later, as we were talking, he dared me to sing on stage with him at Madison Square Garden."
Egypt was sure he'd renege on the offer, but Prince's manager later reached out with an offer to watch his concert stage-side. Prince kept his promise and brought her up on stage, just before revealing surprise guest Cyndi Lauper, who joined them to sing a mashup of "When Doves Cry" and "Let's Go Crazy."
Her next project may be a lake house.
Egypt loved fishing as a child and plans to one day buy and renovate her own lake house to pass down to future generations.
"It's something that gives me peace; it's my catharsis when I need to think and be zen," she said. "In my head, it's not a massive house on the lake. I want a cottage, maybe a three-bed, two-bath. I'll get to fish more; we can hike more and spend more family time with the girls."
Jonathan Scott better watch out.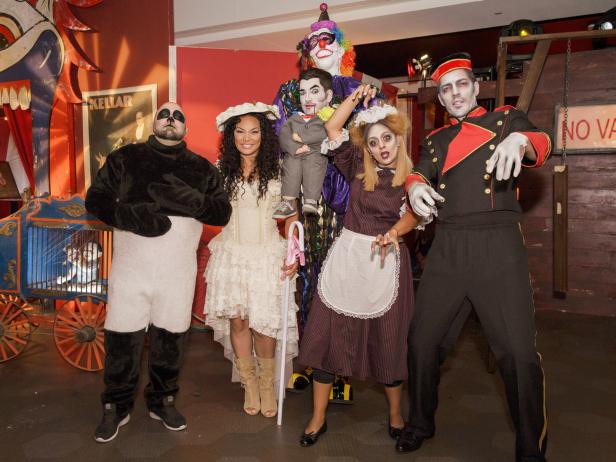 Food Network's Duff Goldman (L), HGTV's Jonathan Scott (C), Food Network's Tia Mowry (RC), HGTV's Egypt Sherrod (LC) and HGTV's Drew Scott (R) pose in front of their old school funhouse in their costumes in the Bloq at the Linq Hotel and Casino, as seen during the 2016 All Star Halloween Spectacular. (portrait)
Andrew Parker/Radiant Inc.
Egypt loves guest hosting, especially when it gives her the opportunity to interact with fellow HGTV hosts, like Drew and Jonathan Scott on the All-Star Gingerbread Build and All-Star Halloween Spectacular.
"We don't get to see each other on a daily or monthly basis because we're all traveling and working on our own shows," Egypt said. "[The Halloween Spectacular] was just a blast. Although I owe one to Jonathan after he scared the bejeezus out of me with some spiders. I'm going to get him back; I haven't figured out how yet."
Catch a sneak peek of the new season of Flipping Virgins on February 18 at 11a|10c.
Flip Tips
Should you buy the "best house in a bad neighborhood"? Egypt Sherrod lists her top dos and don'ts for first-time flippers.