Fixer Upper's Dreamiest Breakfast Nooks
Casual dining never looked so elegant and inviting.
Let's be honest — Joanna Gaines' design concepts, no matter what the space is, make us drool with design envy. I wish I had the eye she has for interior design. And combined with Chip's knack for real estate and construction, they're an unstoppable team.
From incredible kitchen makeovers to beautiful and timeless living areas, Chip and Joanna know exactly how to create that homey feel in each of their renovations. Breakfast nooks are no exception.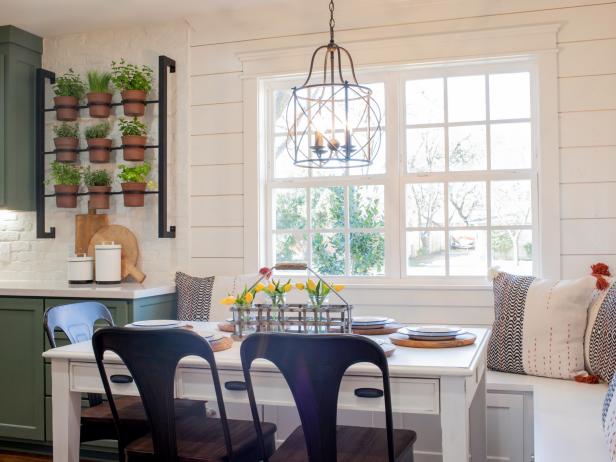 Country Breakfast Nook With Bench Seating, Natural Lighting and Simple Country Table Setting
This breakfast nook features bench seating that also has storage. A country chandelier illuminates the table while shiplap walls brighten the space, as seen on HGTV Fixer Upper. Dark wood chairs are seated at the open sides of the table. A metal basket with fresh yellow tulips creates a simple and stylish centerpiece for the space.
Part of what I envision for my future home includes a cozy breakfast nook to enjoy coffee and early morning conversations with my family. Until then, I'm content to browse through my favorite breakfast nooks from Fixer Upper for inspiration.
So, sip on some coffee, put your feet up and join me as I take you through these stunning breakfast nooks designed by the one and only Joanna Gaines: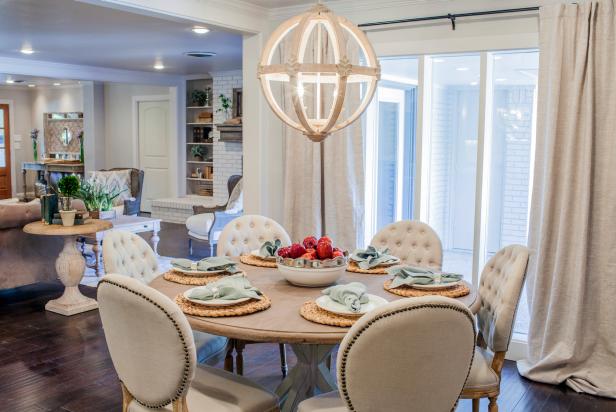 Fixer Upper: Breakfast Nook Opens Up Living Space
As seen on Fixer Upper, the breakfast nook helps to create an open environment throughout the Reed's newly remodeled home.
Tufted, neutral chairs round the table with a light wood chandelier illuminating the space from above. The pops of color found in the table settings and centerpiece break up the all-neutral palette and liven up the French country-style space.
Holiday-Themed Breakfast Table
This breakfast nook from the renovated Magnolia House Bed and Breakfast is great inspiration for the holidays. Add some greenery and a dash of red for a timeless look that will last the whole season. The signature shiplap walls, hardwood flooring and classic wood dining set really bring in that gorgeous farmhouse vibe.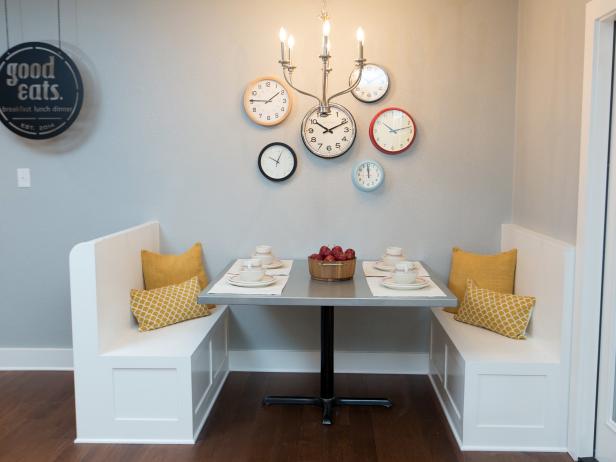 Dining Area With Built-In Breakfast Nook
Joanna Gaines delineated the space with this built-in booth reminiscent of a classic diner.
You get the feel of eating at a diner in this breakfast room. Yellow throw pillows bring cheerful color and comfort to the banquette seating. A collage of clocks and custom metal art dress the gray walls with an updated chandelier to brighten up the room.
Gorgeous in Gray and White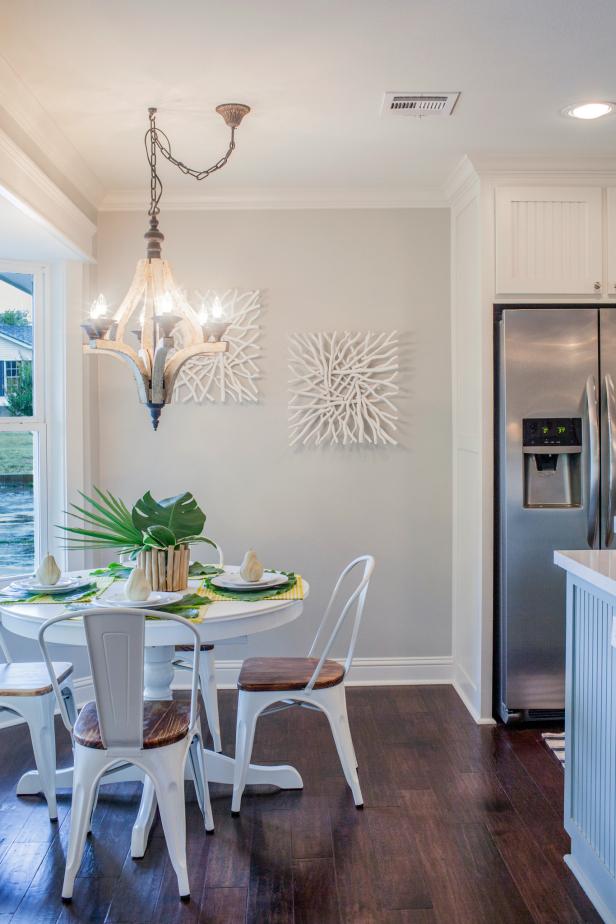 Breakfast Nook with Rustic Wood Chandelier
This breakfast nook has been completely features grey and white tones and a new rustic wooden chandelier that helps to compliment the beach theme that runs throughout the renovated home, as seen on Fixer Upper.
Green and yellow table settings bring in a splash of fresh, coastal design to this contemporary gray dining nook. The dark hardwood floor and wooden chair seats contrast beautifully with the light tones. What a fresh and timeless look!
A cozy nook for two might be just what you envisioned. Coffee mugs are easily accessible, and the vertical bakery sign simply completes the coffee shop-esque design. All that's missing is a plate of pastries and pot of coffee.
Want More Fixer Upper? See These Gorgeous Kitchen Makeovers
See All Photos