HGTV Has Some Really Great Things Queued Up for 2020
Anchoring HGTV's new season is the much-anticipated reboot of one of the most popular and beloved home shows ever, 'Extreme Makeover: Home Edition'. And that's just for starters.
Extreme Makeover: Home Edition host Jessie Tyler Ferguson with the Reeder family and designers Carrie Locklyn, Darren Keefe and Breegan Jane from an upcoming episode of the newly revived series.
Fasten your seatbelts, HGTV aficionados. It's shaping up to be a banner year for America's favorite home network. The people who bring you Property Brothers, Fixer Upper, Good Bones, Home Town, Hidden Potential, Restored by the Fords and A Very Brady Renovation (to name just a few) are keeping the momentum amped up this year. The network's latest lineup promises to continue to deliver the best in feel-good TV to its legion of fans — with an eye toward "keeping it real" while always drawing on the touchstone themes of transformation and inspiration.
"We've planned more than 700 hours of incredible new content this year," says HGTV president Jane Latman. "Our upcoming series will attract more viewers and be more evocative and emotional, with an emphasis on the ups and downs of real life. Things might go wrong, or they might go right when you're trying to create the perfect home, but either way, HGTV will be there."
So, what's new, exactly? Let's start with this: Sunday, February 16 at 9|8c, the world's biggest, most inspirational and aspirational home show ever — Extreme Makeover: Home Edition — will make its auspicious return to television with 10 new episodes airing Sunday nights on HGTV. This new take on the classic home series is hosted by Jesse Tyler Ferguson, known to TV viewers for his role as Mitch on the groundbreaking, multi-Emmy-award-winning ensemble comedy, Modern Family.
This new update of the classic renovation series promises to be even bigger, bolder and grander in scale than the original. In addition to the new host, it will feature three talented designers who are new to HGTV — Breegan Jane, Carrie Locklyn and Darren Keefe. The monumental production will follow the team and thousands of volunteers as they complete stunning home overhauls for ten deserving families. The stunning whole-home overhauls will include interior, exterior and landscaping — all completed in record time while the family is away.
Featured guests in the series' first season include (among others) two-time Grammy winner LeAnn Rimes; Food Network's Tyler Florence; Ty Pennington of the original ABC version of Extreme Makeover: Home Edition and HGTV renovation pros David Bromstad, Jasmine Roth, Tamara Day and Tarek El Moussa.
This special event-series will kick off a year of HGTV programming that will include both new and returning shows from familiar talent — as well as brand new series featuring new experts with innovative approaches to buying, selling and renovating homes. Expect some celebrity surprises along with the kind of original, compelling and relatable stories that HGTV fans love.
Glad you asked. (We just love "Coming Attractions.") Here's the 411 on some other new series headed your way on HGTV in 2020:
Unsellable Houses (Premieres Tuesday, Feb. 4, at 9p|8c)
Sisters Lyndsay Lamb and Leslie Davis — who are among the top-selling real estate agents in the Pacific Northwest — help struggling homeowners sell their seemingly unsellable homes in record time. Lyndsay, an expert in home renovation, design and staging, and Leslie, an expert in budget and negotiations, are so confident they can sell any home that they're willing to invest their own money to make the sale.
100 Day Dream Home (Premieres Sunday, Feb. 16, at 10p|9c)
Imagine designing and building a completely custom home from the ground up in 100 days or less. Brian and Mika Kleinschmidt are a husband-wife team in Tampa, Florida, who help clients create their perfect home by taking them on tours of various properties to select their dream exteriors, interiors, furnishings and finishes. In the end, the Kleinschmidts curate a completely personalized home that is move-in ready for the new homeowners before they can count to one hundred.
Flipping 101 w/Tarek El Moussa (Premieres Thursday, March 5, at 9|8c)
Real estate and house-flipping expert Tarek El Moussa, best known from HGTV's hit series Flip or Flop, will pay it forward in Flipping 101 w/ Tarek El Moussa. The series will feature Tarek as he mentors real estate novices to help them learn the secrets of a successful flip and how to avoid costly mistakes. With more than a hundred profitable sales under his belt, Tarek is ready to lend his invaluable expertise to those who want to win big in the competitive real estate game.
Frozen in Time (Spring 2020)
Designer Dan Vickery and A Very Brady Renovation's Maureen McCormick will overhaul homes that are stuck in a design time warp. In each episode, Dan will bring the structure up-to-date, while Maureen sources beautiful decade-specific pieces that will give the home a refreshed look and a wink to its original era.
House in a Hurry (coming Spring 2020)
In each episode, cameras will follow in real-time as a family who needs to relocate spends one whirlwind weekend house hunting in their new town. Working with a real estate agent who they have never met, the couples will hit the ground running to find a home in only 72 hours. Stakes and emotions run high as they face a hard deadline to move their family. They literally have one weekend to find and buy their new dream home in an unfamiliar city.
Build Me Up (coming Summer 2020)
Orlando Soria, a charismatic interior designer, social media influencer and author, works with homeowners embracing a big life change to overhaul their home and create the fresh start they deserve. Through beautiful design, humor and a healthy dose of moral support, Orlando will help his clients transition into their next chapter by infusing their homes with uniquely personalized elements that will change their lives for the better.
Farmhouse Fixer (wt) (Coming Summer 2020)
Renovation expert Jonathan Knight, best known as a member of the Grammy®-nominated boy band New Kids on the Block, will take fans step-by-step when he restores centuries-old New England farmhouses in a new HGTV series, Farmhouse Fixer. The six-episode series will feature Jonathan—who has renovated more than 200 houses over 20 years—as he adds modern layouts and updated design elements while preserving the farmhouses' original craftsmanship and historic charm.
Back with new seasons, here's just a partial list of what's currently in new premieres and/or soon-to-be returning with all-new episodes in 2020:
My Lottery Dream Home: All New Now!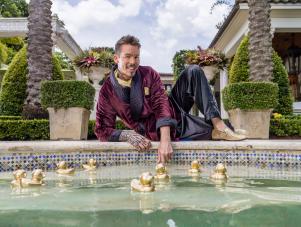 Home Town: Returns w/Season 4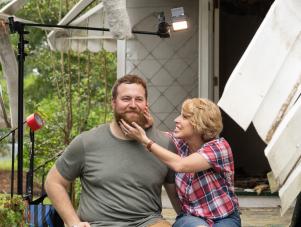 Todd Douglas/ Getty Images