7 Reasons You Won't Want to Miss HGTV's 'Extreme Makeover: Home Edition'
From Jesse Tyler Ferguson hosting to gorgeous (and environmentally friendly!) home renovations, there's a lot to love about HGTV's reboot of Extreme Makeover: Home Edition.
We're less than a week away from the premiere of Extreme Makeover: Home Edition and in case you need any more reasons to get excited for the new season, here are seven of them:
1. The makeovers are extreme but not TOO extreme.
We all want the families to continue to thrive in their new homes after the cameras leave. To ensure this, homes are sized to fit each family's unique needs and an emphasis is placed on function — not just design. In some cases, build partners provide financial assistance to help the families with costs of homeownership or another major financial need in their lives. This helps free up funds for the families to maintain their new or renovated home.
2. Jesse Tyler Ferguson is iconic.
We doubt anyone is surprised by this, but Jesse Tyler Ferguson does an amazing job hosting the show. You'll cry with him, laugh with him and want to yell "move that bus!" with him during every episode.
3. We dare you not to fall in love with the design team.
Breegan Jane, Carrie Locklyn and Darren Keefe are the dream team you didn't know you needed. Each of them bring a unique skill, personality and perspective to the table, resulting in beautiful and creative spaces for the families.
4. The families are seriously deserving.
From firefighters and teachers to refugees and veterans, each episode features a family with a heart-wrenching story to tell. Your heart will break when you first meet them, but we promise you'll be crying only happy tears by the end of every episode.
5. The renovations are jaw-droppingly gorgeous ...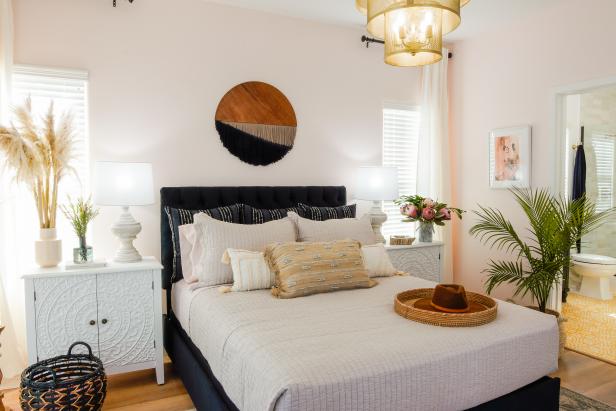 Jessica Mosley no longer has to share a bed with her mother Pamela in her own, classy boho inspired master bedroom. Breegan gave Jessica a restful adult-zone sanctuary for this busy mother of 5 to unwind. Jessica's walls are palest blush paint paired with black velvet headboard, custom fiber art wall hanging and gold lantern chandelier.
From:
Extreme Makeover: Home Edition
Whether it's a renovation of an existing home or an entirely new build from the ground up, the result is always a stunning home. From a rustic mountain lodge and a midcentury modern ranch to a French country-style home and a modern tropical retreat, there's something for everyone on this season of Extreme Makeover: Home Edition.
6. … and some are even eco-friendly.
After all, it's 2020, so why not use the latest energy-saving technology, especially when it helps offset utility costs? For example, two of the families this season receive "net zero" houses, meaning there are no energy costs associated with the homes.
7. Celebs and HGTV stars help out, too!
So are you ready to yell "move that bus"? Because we are! Don't miss the season premiere of Extreme Makeover: Home Edition this Sunday, February 16 at 9|8c.
Designers Breegan Jane, Darren Keefe and Carrie Locklyn are ready to get to work on Extreme Makeover: Home Edition!
The new season of Extreme Makeover: Home Edition is almost here! Take a look at these behind-the-scenes photos from 5 of the 10 upcoming episodes and get ready for the season premiere on February 16 at 9|8c.