The 5 Best DIY Home Security Systems for Every Budget
Get peace of mind by protecting your home without breaking the bank with one of these top-rated kits you can install yourself.
Keep in mind: Price and stock could change after publish date, and we may make money from these affiliate links.
Updated on November 03, 2023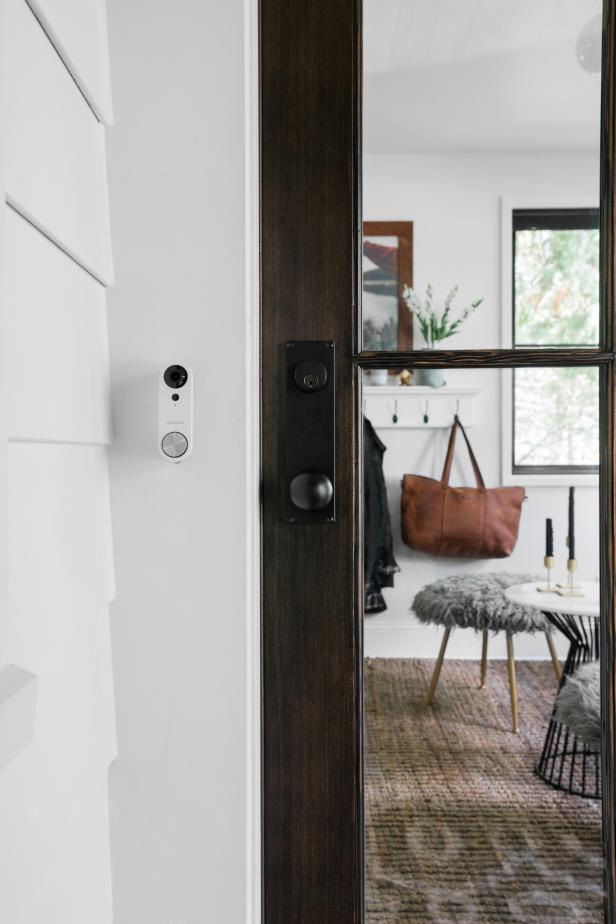 Subtle Security
A home security camera with a small visual footprint is mounted on the exterior and makes it easy to see who's at the front door.
Robert Peterson, Rustic White Photography
Our Top Home Security System Picks
The home security industry has come a long way from those ugly, clunky keypads of the late '80s, but one thing hasn't changed: It's expensive. An alternative is installing a home security system yourself with a digital kit. In the last couple of years, this market has exploded with digital doorbells that monitor porch pirates to camera feeds of your home accessible right from your phone or tablet, but there's a lot to consider when DIYing your own home security. We've rounded up the best kits and brands for every need, home size and budget. Take a look at our top picks below to see which system is right for your home.
Home Security Installation: Pro vs DIY
Professional home security systems, such as ADT, come with hidden fees. It's not just one upfront payment (which can be $500+) for the system. These systems require professional installation (for a fee) and professional monitoring (for a fee). Most professional systems require contracts for monthly monitoring similar to a cell phone bill. Starting from scratch to outfit a mid-sized home can easily exceed $1,000 in the first year. You can save a lot of money by going the DIY home security route because you install these kits yourself and most brands don't require a contract for yearly monitoring. Some offer flexible as-needed monthly monitoring, and others don't have professional monitoring at all. These systems send alerts right to your phone and you can monitor cameras and settings yourself for free via an app.
But at half (or less) the cost as a professional system, are these DIY kits just as good? "A choice between a professional home security system and a DIY home security kit depends on the specific needs of a household," says Adrianus Warmenhoven, cybersecurity expert at NordVPN. "While experienced professionals can help you design and install the most effective security systems, for most households, a DIY home security kit is the most affordable, yet sufficient solution."
What to Consider When Shopping for a Home Security System
There's another big reason professional systems can be expensive, and it's not the hidden fees; it's the safety of the network. Professional home security systems are often run through private networks, but a DIY home security kit is powered by open networks and your Wi-Fi, and that can make you vulnerable to digital hackers. "These vulnerabilities might have consequences for the privacy and security of all members of the household," says Adrianus.
The dark irony is that by installing a digital system to help safeguard your home from physical intruders, you may be making it easier for digital intruders to break into your home. "NordVPN investigated a webpage called Insecam, which streams around 70,000 security camera feeds without their owner's permission," says Adrianus. "It proves that without proper cybersecurity, your security gadgets can become the studio of your own reality show. So, in other words, the DIY home security kit is as good a solution as the user's capabilities to set it up correctly."
The D-I-Y of these kits is more than just the installation. It really comes down to protecting your home's digital footprint. "To avoid your home security kit being hacked, you have to protect your Wi-Fi in the first place," says Adrianus. "You have to change the default router login credentials, constantly update the router's firmware, set a strong Wi-Fi password, disable remote management of the router, enable network firewalls, use MAC address filtering, and so on. What is still rarely used but could improve the cybersecurity of all our IoT (internet of things), including the DIY home security system, is setting up a virtual private network (VPN) service on your router. Once you set up a VPN on your router, all connected devices will be granted the benefits of VPN protection. This means that your activity will be hidden from anyone trying to spy on you, whether it's cyber criminals or data-hoarding corporations."
Accessories are another thing to consider when shopping for the best home security system. These days, it's not just cameras and floodlights. Most at-home security systems have add-ons for digital doorbells with audio and video feeds as well as tiny motion sensors that can be placed both indoors and outside. And some systems don't even need a code anymore. Instead, you can use a handy digital key fob to swipe for entry. But while third-party generics have entered the market and extra, cheaper cameras can be tempting, Adrianus says they pose a security threat. "From a technical and cybersecurity point of view, it is vital that additional add-on accessories would be original and produced by the same manufacturer as the whole system."
If we were to rank one DIY unit as the best overall, it would be SimpliSafe. It's so good because it's intuitive to set up and use. Even if you're not a tech person and you don't have smart accessories in your home, you'll be fine setting up this system thanks to the clear instructions and seamless app. HGTV commerce editor Laura James can attest to the easy setup after trying out other budget brands with buggy apps that would crash mid-setup and finicky sensors that weren't compatible with all door types. We've even used SimpliSafe products in HGTV Smart Homes. While SimpliSafe is not the cheapest possible DIY security system available, it's the best value, and the brand offers some of the most versatile bundles, add-on accessories and monitoring plans. For around $230 regular price (though SimpliSafe often runs promotions), you get both entry and motion sensors in this eight-piece set, and there's no contract required. The brand does offer 24/7 professional monitoring plans for less than $1 a day that you can cancel at any time. If you're looking for a wired or wireless outdoor camera, you may want to upgrade to one of the larger bundles like this 10-piece set that comes with both an indoor and outdoor camera.
When you think of DIY home security systems, you probably think of Ring. The brand, which is now owned by Amazon, is definitely one of the most popular in the home security space, and that's because it's a good value. At less than $200, you get an entry-level five-piece system with a base station, keypad, contact sensor, motion detector, range extender and no contract. Plus, it's compatible with Amazon Alexa. Other brands might seem cheaper with offers on systems priced at $100 or less, but these deals typically require a long-term contract commitment for professional monitoring with a monthly payment. Ring's popularity, however, means it's a target for hacking. Again, no matter which brand you buy, it's important to make sure the password you use is unique and not used as a login for another site.
Best Premium Settings: Canary
If you have a classic professional home security system and you'd like to save money but are reluctant to make the switch, Canary Pro might have enough features to convince you. The largest of the three Canary systems, Canary Pro records in HD and features automatic, high-quality night vision. The 147-degree wide-angle camera lens ensures that even larger spaces such as a living room or basement are completely covered and don't require additional camera angles. Canary also has some of the most advanced motion-sensor settings to differentiate between an intruder or the cat. But what really sets Canary apart from other DIY systems is its bells and whistles — literally. If an emergency happens, you can set off Canary's 90-decibel siren or call local police right from the Canary app. And with the add-on Premium Service, you can save up to 30 days of HD video recording plus use the two-way Canary Talk to chat through the app.

Easiest System for Guests: Google Nest
I once house-sat for a friend and she had a digital home security system. I was given a specific code to use every time I opened and closed the front door. It was so annoying, and I definitely forgot the code. For a code to be good, it needs to be more than just 1234… But for house guests — or even renters — it's hard to remember yet another random password. The Google Nest cuts out the need for long passwords with handy fobs that you just tap for entry. It's so much easier if you're managing an income property or have a guest house or mother-in-law suite. Other brands have similar keychain fobs, but Google Nest includes them in their starter pack as opposed to an add-on purchase. And, as the name suggests, the system is compatible with Google Assistant.
Best System for Smart Homes: Abode
If you enjoy new tech and already have smart devices in every room, you'll love Abode. This company is all about nifty accessories and customization. Unlike other brands, you can build your own system specifically curated to your exact square footage and home type. You can also buy a starter system on Amazon, but you'll want the cool add-ons such as their slim sensor strip that can fit in a door or window gap or a vibration sensor just for breaking glass. Another great thing about Abode is that it plays well with others. It's compatible with Amazon Alexa, Google Home and Apple HomeKit.