Saffron Bundt Cake With Cardamom Glaze
Moist and full of flavor, the saffron adds just a hint of something that will keep most people guessing while the cardamom glaze puts this bundt cake right over the top. Blackberries and almonds round out the sweet-meets-savory flavor profile and create a perfectly balanced texture.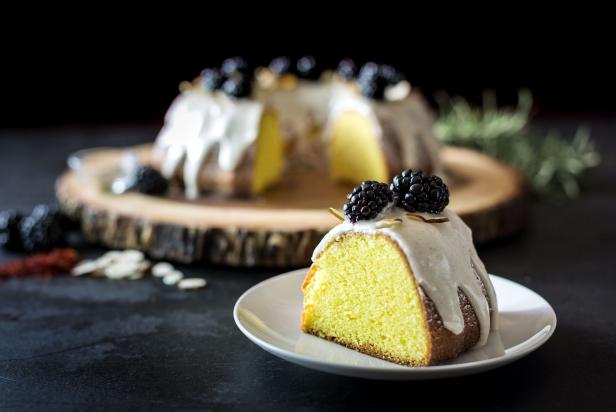 Saffron Bundt Cake with Cardamom Glaze
Learn how to make saffron bundt cake with cardamom glaze.
Bundt pans are great. They produce slices of cake that have a higher crust-to-cake ratio than typical pans and make beautiful displays. However, without the proper steps, the results can be disastrous. Be sure to liberally grease and dust the pan before beginning, even non-stick pans. Note: You can substitute the butterscotch liqueur with something else such as rum or Licor 43. Just be sure to use something with a sugar and/or vanilla base for best results.
1/4 teaspoon saffron
1 teaspoon + 1-1/4 cups sugar
1 tablespoon butterscotch liqueur
3/4 cup + 2 tablespoons unsalted butter
2/3 cup milk
1-2/3 cups flour
2 tablespoons baking powder
1/4 teaspoon salt
2 eggs
2 cups confectioners' sugar
1 tablespoon light corn syrup
1/2 teaspoon ground cardamom
5-6 tablespoons heavy cream
12-15 fresh blackberries
1/3 cup almond slices
Grind saffron threads and 1 teaspoon of sugar together in a pestle and mortar. Add the ground mixture to a small bowl and add the liqueur. Stir to combine and cover with plastic wrap. Allow saffron to rest and dissolve for at least one hour before proceeding. Preheat oven to 350˚F. Liberally grease a bundt pan which can hold at least 4-5 cups of batter. Dust with flour and set aside. Melt butter in a small saucepan over medium heat. Add milk and saffron mixture. Stir to combine and set aside to cool slightly.
Sift together flour, baking powder and salt. Set aside. Add eggs and remaining 1-1/4 cups of sugar to a mixing bowl. Beat on medium-high speed until light and fluffy. Add butter mixture and beat until combined. Add flour and beat until fully combined.
Pour the batter into the prepared bundt pan and tap a few times on the counter to release excess air bubbles. Place the bundt pan on a baking sheet and place in the oven. Bake for 35-40 minutes or until it passes the clean toothpick test. Remove the cake from the oven and cool on a wire rack for 15 minutes before inverting it to release the cake. Allow the cake to cool completely before adding the glaze.
Add the confectioners' sugar, cardamom and corn syrup to a medium bowl. Whisk in the heavy cream, one tablespoon at a time, until a thick, pourable consistency is achieved. Pour the glaze over the cooled cake, coaxing a bit over the sides as necessary to get the desired drips. Top with blackberries and almond slices while the glaze is still wet. Store in an airtight container.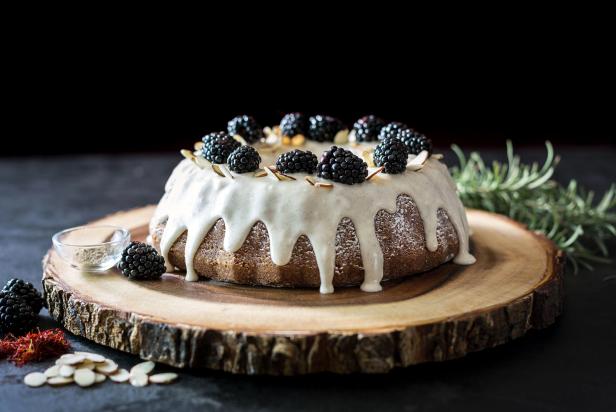 Saffron Bundt Cake with Cardamom Glaze
Learn how to make saffron bundt cake with cardamom glaze.