How to Host a Stellar Solar Eclipse Sip-n-See
Gather the gang for a once-in-a-lifetime "solar-bration."
August 21st plays host to what has been dubbed the celestial event of 2017: a total solar eclipse. This sounds like a solid enough excuse to host a themed party, yes? Here's a breakdown of everything you'll need to host a stellar, celestial shindig for your friends and fam.
Spread the word, and set the tone of your party with cool, custom invites. This illustrated invitation for a solar soiree in Charleston, S.C., is so pretty, I'd want to frame it and stick it on my wall.
A great event starts with great ambiance, right? Add some twinkle to the moody darkness with a string of glowing lights. I challenge you to find a set more perfect than the moon string lights seen here.
Eye protection is paramount for the "see" part of this sip-and-see soiree. Provide guests with eyewear that will allow them to watch the eclipse safely, without the risk of eye injury or blindness. (Talk about a party foul.)
Set the stage for IG posts, galore! This gilded, moon phase garland does just the trick and is sure to get guests all the likes for their inevitable solar party post. Copy this look, and fasten something similar against a white wall or a deep, dark background for contrast.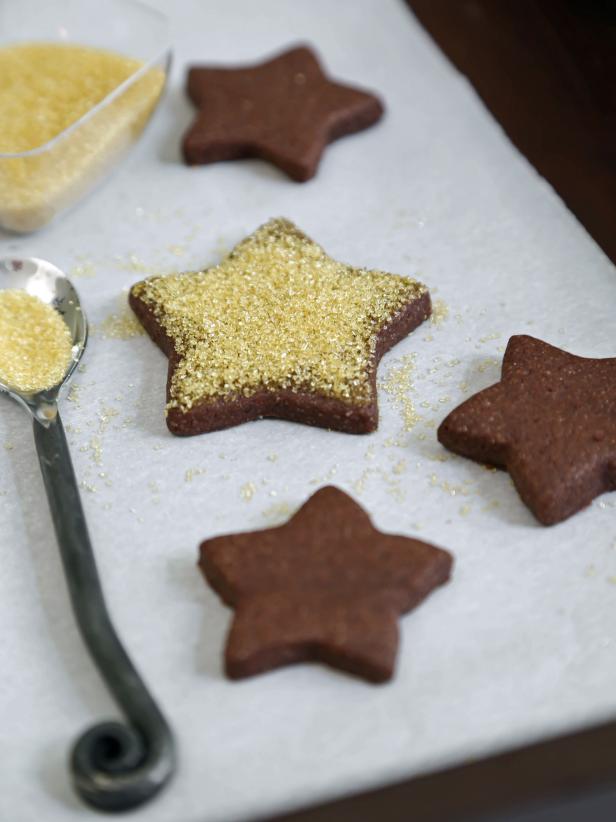 Chocolate Sugar Cookies
Using the same basic sugar cookie recipe, simply replace one cup of all-purpose flour with one cup of unsweetened cocoa powder to create chocolate cookies. Leave these sweet treats as they are or top with frosting and sugar crystals for a delicious finish. Get the recipe.
Bring out the Christmas cookie cutters, and use our recipe to create star-powered sugar cookies. Coat 'em with white and yellow, or go bold with rich blue and purple icing, inspired by the galaxy. Either way, silver and gold sprinkles are a must.
Make the most of those old sneakers sitting in the back of your closet by giving them a star-studded makeover. These could also double as a fun craft for guests!
Nothing quite spells "event of the season" like matching T-shirts, agreed? If you're going that route, take inspiration from the gorgeous hand-lettering seen on these solar shirts. Obsessed.
Shimmer like the stars with this glam, galaxy-inspired cocktail recipe. The moody cobalt color is perfect for the eclipse, but you can use food coloring to create a variety of celestial shades.
Sip and see, or slush and see? We say both! Combine red wine, tequila and blackberry brandy for a frozen concoction that will take you to a totally new dimension.
Play up this celestial situation with loads of lunar decor! This moon phase door hanging is a simple, stylish way to set the tone for the event. Bonus? It's so pretty, you'll want to keep it around after the party, too!
Get creative with lunar-inspired food and drink, like these adorably-clever Moon Pies "eclipsed" by white chocolate.
More Celestial Party Ideas