Citrus and Herb-Roasted Turkey With Gravy Recipe
Thanksgiving's main course should be special. Follow our recipe for a moist and savory bird with a delicious herbal-meets-sweet flavor.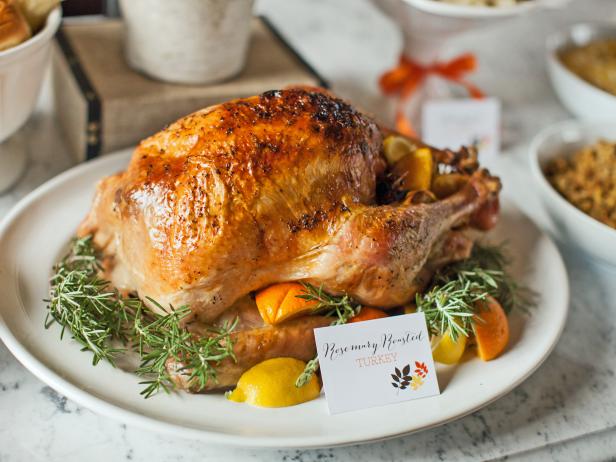 Citrus and Herb-Roasted Turkey and Gravy
With a sweet-meets-tangy citrus flavor plus a healthy helping of herbs, this savory and moist turkey is destined to be the star of your Thanksgiving table.
13-15 lb. turkey
2 oranges, quartered (more for garnish)
1 onion, quartered
2 lemons, quartered (more for garnish)
8 sprigs rosemary, divided (more for garnish)
8 sprigs oregano, divided
8 sprigs sage, divided
8 tablespoons unsalted butter at room temperature, divided
2 tablespoons herbes de Provence
1 tablespoon olive oil
1 1/2 teaspoons salt
1 1/2 teaspoons pepper
7 cups low-sodium chicken broth, divided
1/3 cup all-purpose flour
For Turkey:
1. Heat oven to 400 degrees F.
2. Insert orange, onion, lemon and three sprigs each of rosemary, sage and oregano into the cavity of turkey.
3. Combine 2 tablespoons of butter, herbs de Provence, olive oil, salt and pepper. Spread half of the mixture under turkey's skin and the remainder over the breast.
4. Place in roasting pan and tent for 20 minutes.
5. Add 4 cups of broth and remaining herb sprigs then roast for 40 minutes.
6. Reduce oven to 350 degrees and remove foil.
7. Add 1 cup of broth and return to oven for 2 1/2 to 3 hours until thermometer reads 175 degrees.
8. Remove turkey from pan and let stand.
For Gravy:
1. Strain pan drippings into a 4-cup glass measuring cup.
2. Discard solids and skim fat.
3. Add remaining broth and butter to roasting pan over stovetop.
4. Use a wooden spoon to scrape up browned bits.
5. Add flour while whisking for 1 minute.
6. Whisk in broth mixture and bring to a boil.
7. Reduce heat and simmer for 5 minutes until gravy thickens. Serve with carved turkey.