Sage-Roasted Turkey With Crunchy Maple Crust Recipe
Fresh sage and pure maple syrup give this Thanksgiving turkey a savory-meets-sweet flavor that's a cut above the rest. Friends and family will happily gobble up this moist and flavorful bird.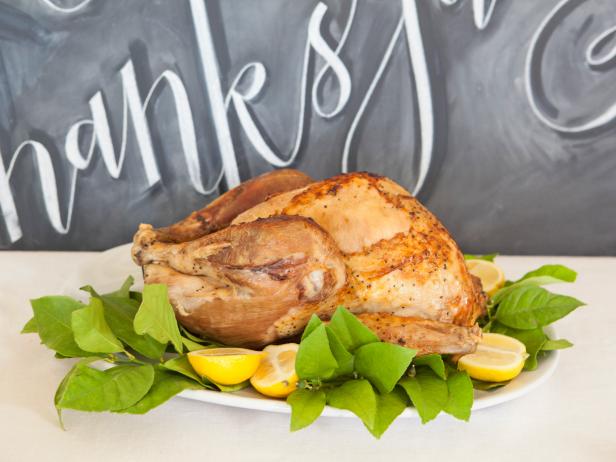 Sage Roasted Turkey With Crunchy Maple Crust
For the star of the Thanksgiving meal, give guests a savory-meets-sweet main course that they won't soon forget. Rather than serving a traditional turkey, mix things up by making this drool-worthy bird. Get the recipe: http://www.hgtv.com/entertaining/sage-roasted-turkey-with-crunchy-maple-crust-recipe/index.html
whole fresh turkey (18 - 20 pounds), neck and giblets removed
bunch fresh sage
lemon, quartered
kosher salt and freshly ground black pepper
1/2 cup (1 stick) unsalted butter
1 cup chicken broth
2 cups pure maple syrup
lemon halves and fresh sage, for garnish
Preheat oven to 425 degrees F with rack in the lower third. Rinse turkey inside and out then pat dry. Transfer to a large roasting pan fitted with a roasting rack and let stand at room temperature for 1 hour. Tuck wings under turkey and stuff cavity with lemon quarters and sage, then season cavity generously with salt and pepper. Fold neck flap under. Season outside of turkey with kosher salt and freshly ground black pepper and rub seasonings into turkey. Tie legs together with kitchen twine.
In a small saucepan heat melted butter and chicken broth over medium heat until butter is melted. Let cool. Meanwhile, in another saucepan, bring maple syrup to a boil over medium heat. Reduce heat and simmer until syrup is reduced by half. Cover and set aside.
Brush turkey all over with butter mixture. Place in oven and roast for 30 minutes. Baste turkey with butter mixture and reduce temperature to 350 degrees F. Roast turkey, continuing to baste every half hour, until thermometer inserted into the thickest part of the thigh registers 175 degrees (about 4 hours total). During the last hour of cooking, baste turkey with reduced maple syrup instead of butter mixture.
Remove turkey from oven, brush with reduced maple syrup, and let stand for 30 minutes. Transfer to a platter, and reserve pan juices for making gravy, if desired. Carve turkey, garnish with sage and lemon halves and serve.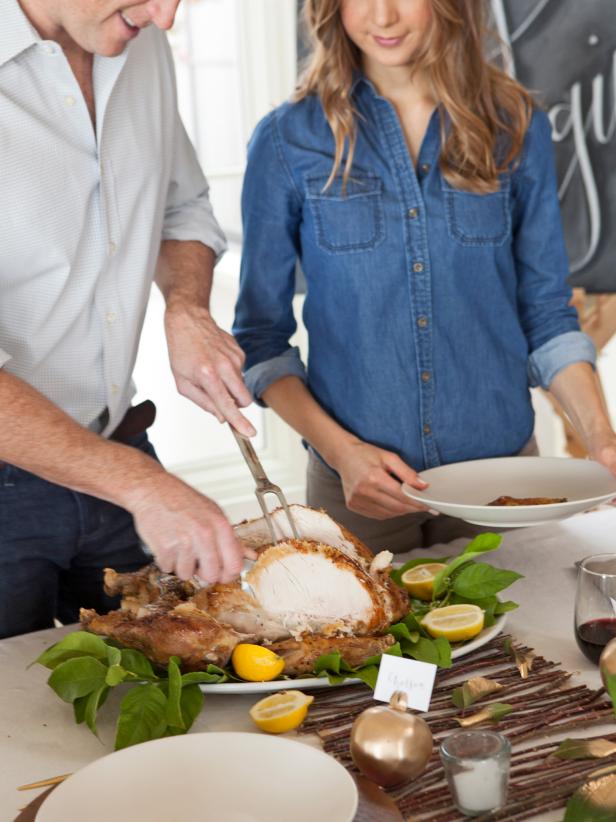 Carve the Thanksgiving Turkey Like a Pro
Your first time carving a turkey can be a pressure-packed moment. To properly do the job, you'll need a chef's knife or carving knife, a carving fork and a boning knife. First, separate the legs and wings from the body. Then to carve the breast, find the breastbone and carve down one side, peeling the breast away from the bone as you go. Serve all pieces on a large platter for guests to choose.