Pumpkin Cheesecake Tiramisu Recipe
We've updated the Italian classic with fall flavors for a fresh take on a pumpkin dessert that's sure to be a new favorite. The addition of espresso and spice makes this the perfect end to your holiday gathering.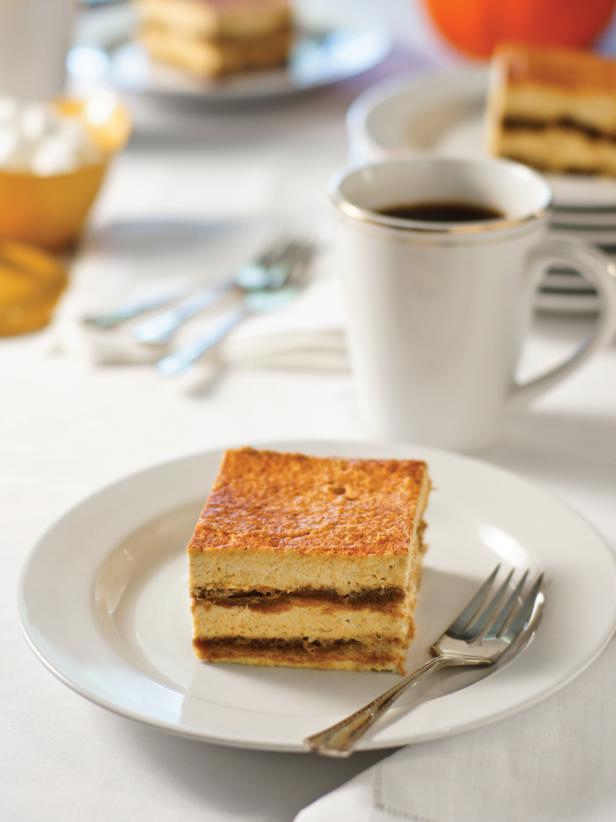 Pumpkin Cheesecake Tiramisu
Classic tiramisu is given a twist with an all-time fall favorite, pumpkin. A touch of espresso makes this dessert the perfect pairing with a cup of joe. Get the recipe.
Tips:
* Be sure to let the mascarpone soften at room temperature.
* The ladyfingers are incredibly absorbent; they only need a few passes through the espresso syrup to be sufficiently soaked.
* If you don't have the means to make espresso, fresh-brewed strong coffee is a good substitute.
Espresso syrup for soaking:
2 cups espresso
1/3 cup sugar
3 tablespoons Licor43 or vanilla liqueur
For the Tiramisu:
2 cups heavy whipping cream
1 1/2 cups mascarpone cheese
1 cup pumpkin puree
1 1/2 teaspoons pumpkin pie spice
1/3 cup sugar
1 teaspoon vanilla
3 tablespoons Kahlua or coffee-flavored liqueur
30 ladyfingers or savoiardi
1 tablespoon pumpkin pie spice
3 tablespoons confectioners' sugar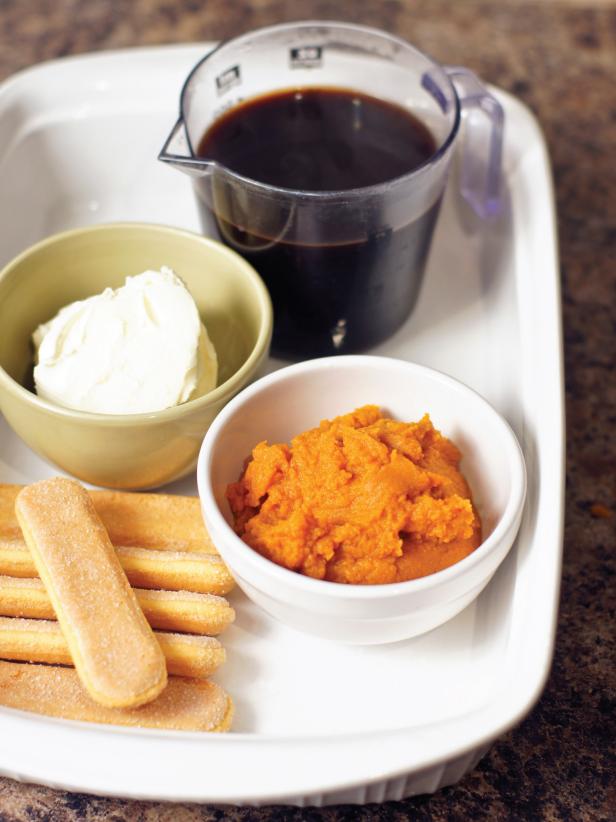 Pumpkin Cheesecake Tiramisu Ingredients
Begin by gathering the ingredients you will need for your Titamisu including ladyfinger cookies, mascarpone cheese, pumpkin puree and espresso coffee.
1. Prepare the espresso and pour into a baking dish.
2. Add 1/3 cup sugar to the warm espresso and stir to dissolve.
3. When the espresso cools, add the Licor43.
4. Put softened mascarpone cheese, pumpkin puree and 1 1/2 teaspoons of pumpkin pie spice in a bowl. Mix until well combined (Image 1).
5. Put whipping cream, vanilla, Kahlua and 1/3 cup sugar in a mixing bowl.
6. Mix on high speed until soft peaks form.
7. Gently fold whipped cream mixture into mascarpone and pumpkin.
8. Spread a thin layer of the cream/mascarpone filling in the bottom of a lined 9x9 square baking dish.
9. Dip ladyfingers in the espresso syrup (Image 2).
10. Place one layer of the espresso-soaked cookies on the cream.
11. Add another layer of cream/mascarpone filling then another layer of each to fill the pan (Image 3).
12. Mix 1 tablespoon pumpkin pie spice with confectioners' sugar. Top off the dessert by dusting with the spiced confectioners' sugar (Image 4).
14. Refrigerate for at least 8 hours or overnight before serving.