Pineapple Tartlette Recipe
Bring your Thanksgiving guests to their knees with this delightful end to your holiday meal. The savory taste of ginger and rosemary add an unexpected fall flavor while the nut crust is the perfect backdrop to the smooth pastry cream.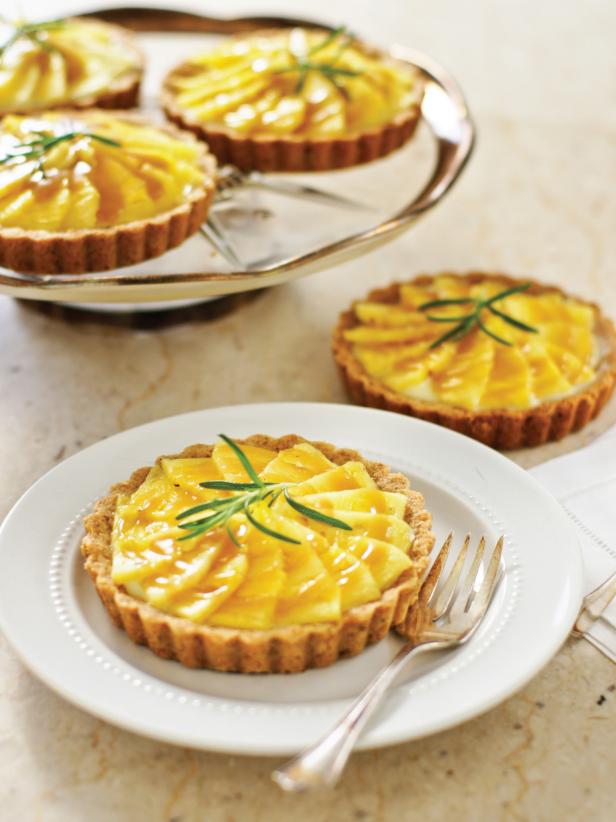 Pineapple Tart With Nut Crust
Fill a homemade nut crust with smooth, ginger-infused pastry cream finished with a layer of carmelized pineapple for an unforgettable treat. Get the recipe: http://www.hgtv.com/entertaining/pineapple-tartlette-recipe/index.html
The crust can be made a day ahead and stored in an airtight container at room temperature. The pastry cream can be made a day ahead and stored in the refrigerator with plastic wrap on the surface.
Nut Crust: (Image 1)
1 1/2 cups all-purpose flour
1/2 cup pecans, finely chopped
1/3 cup sugar
1 1/2 teaspoons fresh rosemary, finely chopped
1/4 teaspoon salt
10 tablespoons unsalted butter, cut into small pieces and chilled
1 egg yolk
Pastry Cream: (Image 2)
1 cup milk
5 tablespoons sugar
2 egg yolks
2 1/2 tablespoons all-purpose flour
1 tablespoon unsalted butter
1 1/2 teaspoons freshly grated ginger
1/2 teaspoon vanilla
pinch of salt
Topping:
1 medium pineapple, peeled, cored and cut into thin pieces
fresh rosemary sprigs
brown sugar glaze (ingredients and instructions below)
1. Add flour, nuts, sugar, rosemary and salt to a food processor. Pulse a few times to mix well. Add cold pieces of butter and pulse until you get a pea-sized consistency (Image 1).
2. Add egg yolk and pulse a few more times until fully combined.
3. Pour dough into center of a piece of plastic wrap on a flat surface. Bring together the sides and form a disc. Cover the dough completely with the wrap and place in the refrigerator for at least 30 minutes.
4. Heat oven to 400 degrees F.
5. Roll dough out on flat surface lightly dusted with flour to just less than 1/4-inch thickness (Image 2).
6. Using a mini tart pan as your guide, cut out a dough circle an inch wider than the pan.
7. Place the circle inside the ungreased pan and press it into the sides. Use a knife to remove any dough that sticks up beyond the edge. Repeat for all pans.
8. Prick holes in the bottom of the crusts and bake for 12-15 minutes.
9. Place milk and 3 tablespoons of sugar in a medium saucepan. Bring to a boil over medium heat. Remove from the heat.
10. Whisk together egg yolks and two tablespoons of sugar (Image 3). Add flour and whisk until smooth.
11. Add about a 1/4 cup of the hot milk mixture to the egg yolks while whisking to temper the eggs.
12. Add the egg yolk mixture back to the pan with the milk mixture while whisking. Place the pan back on the heat and bring to a boil. Reduce heat and simmer for 2 minutes, whisking continuously.
13. Remove from the heat and add butter, vanilla, salt and ginger. Stir to fully combine.
14. Strain the mixture through a fine mesh strainer over a bowl. Cover the pastry cream by placing plastic wrap directly on the surface of the cream and chill in the refrigerator for at least 3 hours.
15. Spoon the pastry cream into the cooled tart crusts to about 1/4 inch from the top.
16. Layer pineapple slices in a circular fashion around the tart overlapping each edge.
17. Drizzle with brown sugar glaze and top with fresh rosemary (Image 4). Serve immediately.
Ingredients
1/2 cup light brown sugar, packed
1/4 cup unsalted butter
2 tablespoons heavy cream
3/4 teaspoon vanilla
1/2 teaspoon salt
Instructions
1. Place sugar and butter in a small saucepan. Cook over medium heat until sugar is dissolved, stirring frequently.
2. Add remaining ingredients and bring to a boil, whisking continuously.
3. Remove from heat and allow cooling and thickening for 2 minutes before using.