Pumpkin Tiramisu Layer Cake Recipe
Top moist pumpkin-and-spice cake layers with rich mascarpone cream and crunchy amaretti cookies for a seasonal dessert your Thanksgiving guests won't soon forget.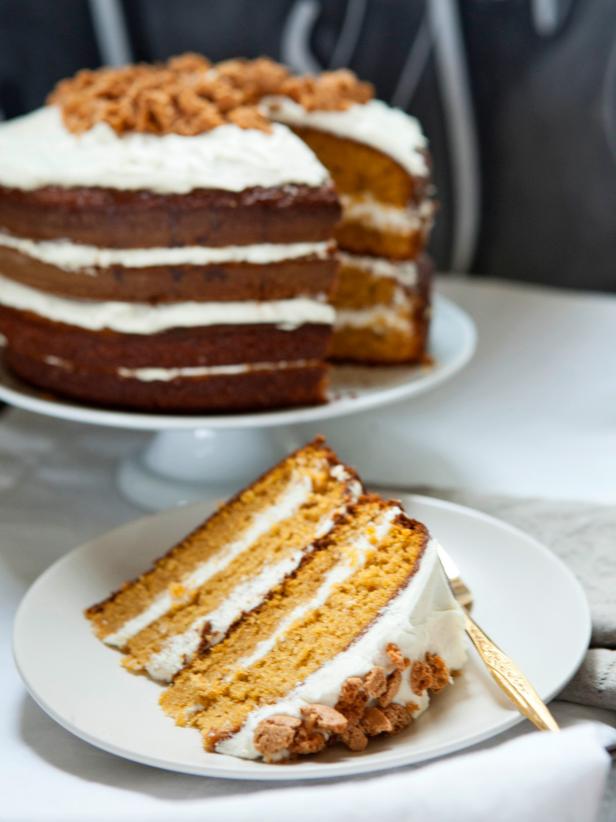 Pumpkin Tiramisu Layer Cake
Amaretti cookies give this moist pumpkin spike layered cake the crunch it needs. For extra sweetness, drizzle syrup on the cookies. Get the recipe.
Cake:
3 cups all-purpose flour
2 teaspoons baking powder
1 teaspoon baking soda
1 teaspoon salt
1 cup sugar
1 cup (packed) golden brown sugar
1 cup canola oil
4 large eggs, room temperature
1 15-ounce can pumpkin pie filling (includes all the spices)
1 tablespoon vanilla extract
1 tablespoon grated orange peel
Almond Syrup:
1 cup water
1 cup sugar
1/4 cup amaretto
Filling:
2 cups heavy whipping cream
3 tablespoons powdered sugar
pinch of cream of tartar
2 cups mascarpone
2 vanilla beans, seeds only, pods reserved for another use
2 tablespoons amaretto liqueur
1 bag of amaretti cookies, crushed (found at many grocery stores or at any Italian market)
For Cake:
Position rack in center of oven and preheat to 350 degrees F. Butter two 9-inch cake pans. Spray with cooking spray, then line bottom of pans with parchment paper; spray again, and dust pans with flour. Sift flour and next three ingredients into a bowl. In the bowl of an electric mixer, beat both sugars and oil in large bowl until combined. Add eggs one at a time, beating until well blended after each addition. Add pumpkin pie filling, vanilla and orange peel; beat until well blended. Add flour mixture; beat on low just until incorporated. Divide batter between prepared pans and smooth tops.
Bake cakes until tester inserted into center comes out clean, 45 minutes to 1 hour. Cool cakes completely in pans on rack. Run knife around cakes to loosen. Invert cakes onto racks; remove parchment paper. Turn cakes over, rounded-side up. Using serrated knife, trim rounded tops of cakes to level, then divide cakes in half horizontally to make 4 thin layers.
For Syrup:
In a saucepan combine water and sugar. Bring mixture to a boil and continue boiling for 5 minutes. Strain into a sealable container, allow to cool, then cover and store in refrigerator.
When ready to use, mix in amaretto.
For Filling:
In the bowl of an electric mixer, beat whipping cream until soft peaks form. Add powdered sugar and cream of tartar, then beat until stiff peaks form.
Meanwhile, combine mascarpone, vanilla beans and amaretto in a small bowl. Beat with a whisk to combine, then fold into whipped cream.
To Assemble:
Brush a couple spoonfuls of amaretto syrup onto the cut side of each cake layer.
Put the first layer, uncut-side down, on a cake stand and spoon a generous layer of mascarpone filling over the top. Sprinkle a layer of crushed amaretti cookies over the filling. Repeat this process until all cake layers are used, ending with a thick topping of mascarpone filling and a generous sprinkle of amaretti cookies. Drizzle a little extra syrup over the top of the cookies and serve.
Store in the refrigerator — it's great the next day!