Mini Roasted Vegetable Quiche With Fried Leeks
Try re-using savory roasted ingredients in this easy-to-whip-up quiche topped with crunchy quick-fried leek strings.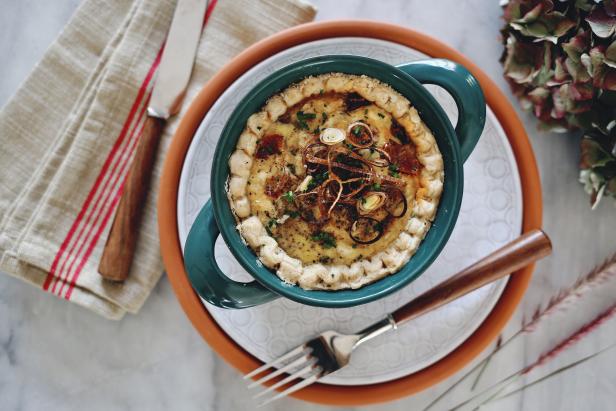 Mini Roasted Vegetable Quiche
If your idea of breakfast always includes an egg, this delightful vegetable quiche is just the cure to satiate those morning cravings. Top with crunchy fried leeks for an explosion of flavor.
The feast is over and all the hard work is done, so it's time to make the holidays continue with a breakfast that can be done in a pinch!
1 frozen pie crust, thawed
1/2 - 3/4 cup roasted vegetables
fresh herbs (based on and complementary to your holiday roast)
3 eggs, beaten
3 Tbs. milk
1/4 cup grated cheese
1 leek, thinly sliced into wheels
chives, for garnish
Preheat oven to 350 degrees. In a bowl, whisk eggs and milk and season with salt and pepper. In a small six-inch baking dish, arrange your pie crust around the container making sure there are no cracks or missing edges. Add chopped roasted vegetables, additional herbs if needed (depending on your holiday roast sage, thyme and rosemary work well), and pour in egg mixture. Bake for 20-30 minutes until a knife cleanly cuts through the center.
In a small pan, heat vegetable oil until a sprinkle of water pops on the surface (approximately five minutes). Add leeks to the oil and allow to fry for 10-20 seconds until golden. Remove and let dry on a cooling rack lined with paper towels.
Before serving, top with fresh chives and leeks.