Holiday Leftover Breakfast Sandwich
Turn last night's ham dinner into this morning's meal with this tasty recipe for a savory breakfast sandwich. 
A simple English muffin will soon be towering with a thick cut of smoky ham, fried egg and tender slow-cooked greens drizzled in hollandaise — major flavor in minimal time!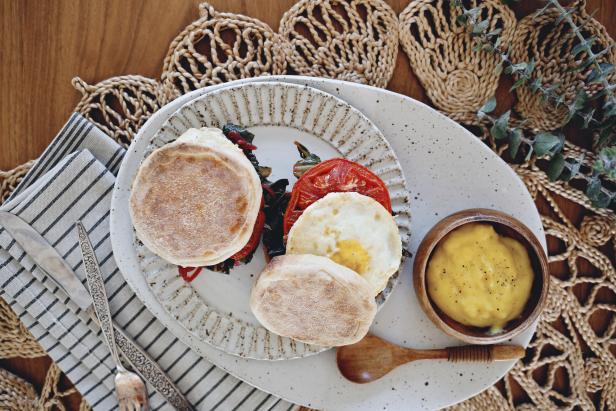 Ham and Egg Breakfast Sandwich
4 English muffins, split and toasted
4 slices thick-cut ham
1/2 - 3/4 cup greens (collards, spinach, chard)
4 eggs, fried
4 slices of tomato
1 egg
1/4 cup butter, melted
salt and pepper to taste
Preheat oven to 350 degrees and bake four thick cut slices of a large heirloom tomato drizzled in olive oil and pepper for 10-15 minutes until soft and roasted.
Toast the English Muffins + Fry the Eggs
Using a toaster oven (or broiler) slightly toast all side of the English muffins. In a non-stick pan, fry eggs and set aside to cool.
To make hollandaise, whisk egg in a bowl and prepare a small pot of simmering water on the stove. Place glass or stainless steel bowl over the simmering water and slowly whisk in melted butter, continuing to whisk over heat until thickened (approximately five to seven minutes).
Layer your breakfast sandwich stack alternating with slices of ham, fried egg, sautéed greens and tomato. Top with hollandaise.