Brussels Sprout Hash With Poached Egg
Don't let your leftover Brussels sprouts go to waste. Make a delicious breakfast hash full of goodness and protein.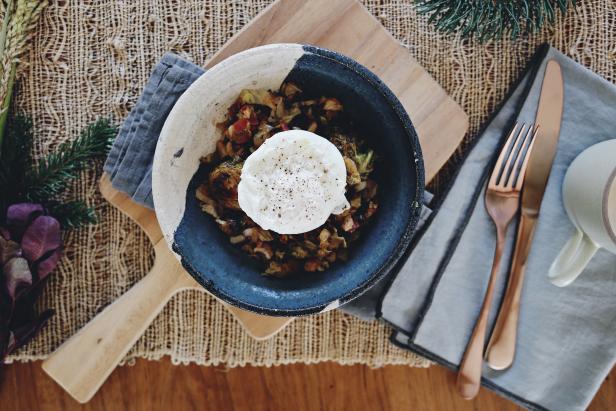 Brussel Sprout Hash
Give Brussels sprouts new life when you add a few cloves of garlic, smoked bacon and a sautéed shallot. Top it all off with a poached egg, and you have yourself a filling breakfast on a dime.
4 cloves garlic, finely chopped
1 shallot
2 pieces of smoked bacon, chopped
1 - 2 cups leftover roasted Brussels sprouts, chopped
4 eggs
salt and pepper
Place a pot over medium heat and bring water to a simmer. Crack egg into water bath and create a gentle whirlpool with spoon to help the egg white wrap around the yolk. With a slotted spoon, maneuver egg to continue to cook on all sides. Remove with a slotted spoon after approximately three minutes. Cut off any wispy edges with a spoon or knife. Set aside.
In a skillet over medium heat, sauté shallot and garlic until soft. Add bacon and sauté until golden. Add leftover Brussels sprouts and fold until mixed well. Scoop into individual bowls and top with poached egg. Salt and pepper to taste.