Leek and Mashed Potato Pancakes With Cranberry Sauce
Mashed potatoes will never feel flat again, especially when reimagined the day after holiday dinner as a fluffy pancake topped with tart cranberry sauce and sour cream!
Fresh leeks add an unexpected earthy crunch that will allow your leftovers to sing in a brand new way.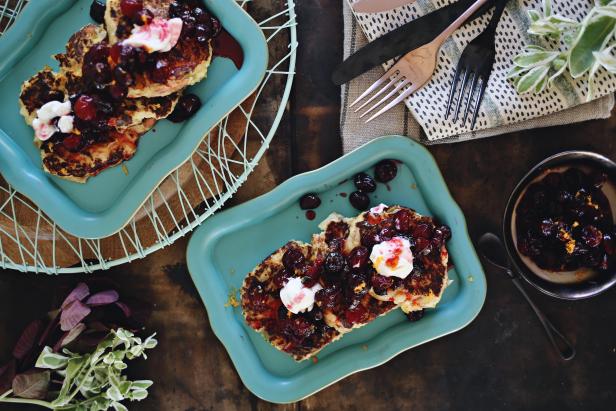 Leek and Mashed Potato Pancakes
After just one taste of these sweet, earthy pancakes topped with cranberry sauce, you'll never think of potatoes the same way again! See the recipe.
2 leeks, chopped
4 cloves garlic, chopped
1 - 2 cups leftover mashed potatoes (preferably from a sour cream/cream cheese mash recipe)
1 egg, beaten
1 Tbs. flour
1/3 cup leftover cranberry sauce
sour cream and orange zest, for garnish
In a skillet drizzled with olive oil, add leek and garlic, sautéing until soft and golden. Fold in mashed potatoes and allow to cool. In a separate bowl, add cooled potato mixture, flour and egg. Fold in well until fully mixed.
Heat a nonstick skillet on medium/high and portion out small ping pong ball sizes of potato mix. Place potato ball onto skillet and press with spatula. Flip over once golden, approximately 10 minutes. Repeat on second side and set aside to cool.
Top with cranberry sauce, fresh orange zest and a dollop of sour cream.