DIY Lemonade Stands for Kids + Adults-Only Sips for You
When life hands you lemons, start a lucrative lemonade business.
Today's youth are smart, savvy and spirited. Look at Moziah Bridges, the 15-year-old CEO of Mo's Bows and 12-year-old Cory Nieves, the CEO and head of distribution for Mr. Cory's Cookies. Why save a good idea for adulthood when you can do it now?
So, what does this have to do with lemonade, you may be wondering? Everything. August 20 is Lemonade Day, a day devoted to teaching kids the power of entrepreneurship. According to the official Lemonade Day website, "[it's] a fun, experiential program that teaches youth how to start, own and operate their very own business — a lemonade stand [...] Our mission is to help today's youth to become the business leaders, social advocates, community volunteers and forward-thinking citizens of tomorrow." Find your city and set up shop.
INSPIRING DIY LEMONADE STANDS
Build a Folding Lemonade Stand
05:43
Deek Diedricksen shows how to build a folding lemonade stand.
5 LEMON-Y ADULTS-ONLY DRINKS
You only need four ingredients for this creamy, fizzy lemon concoction.
Frozen Pink Lemonade Shandy
Fresh strawberries, citrus and summer shandy create a nice, frozen refresher.
Boozy Berry Patch Lemonade
Blackberries, strawberries, whiskey and tart lemonade blend for a sweet summer sip.
3 1/4 cups gin (we used NOLET's Silver Gin)
2 1/4 liters lemonade
3/4 cup elderflower liqueur
2 bags frozen peaches
Mix all ingredients in an infusion jar and stir. Serve over ice in a highball glass. Garnish with a lemon wedge.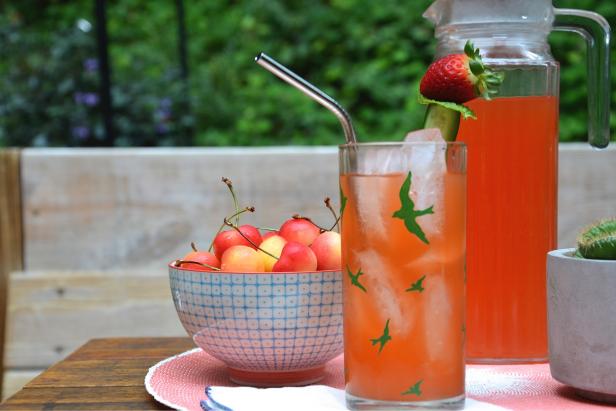 The Magic Hat Cocktail
Learn how to make this refreshing summer cocktail that mixes gin, aperol, fruits and lemonade over ice.
Combine all the right flavors for a sweet and fruity taste with the perfect bitter note.