Simple Tips + Must-Have Organizers for a Clutter-Free Closet
Assess what you have and eliminate what you don't need to get your closet ready for a transformation.
Keep in mind: Price and stock could change after publish date, and we may make money from these affiliate links.
First, start by clearing out. No matter what kind of closet you're planning, take the time to think ahead and really consider what you need to store and where you want to store it. Taking a hard look at what you have will help you understand the kind of storage you need.

Designate a staging area and empty your closet out. You can use your bed or a cleared-out corner of the room. This important first step requires you to remove everything: clothes, hangers, boxes, folded blankets or piles of old magazines.
Use a collapsible clothing rack to hang clothes so you can clearly see and sort exactly what you have. The rack is a nice addition to your laundry room once the closet project is over. Take your time with this process. Play some of your favorite music and ask a friend or family member to help if heavy items need to be moved.
Buy It
Organize items into specific categories and take inventory. You can place like items in cardboard boxes, plastic containers or in piles, and use labels to help keep track of each group of items. Some organizers suggest starting with "keep," "toss" and "donate" piles, while others prefer their clients to start with broad categories (clothes, shoes and linens) and then divide everything into smaller subcategories (sweaters, winter boots and sheets).
Buy It
During this stage, take the time to group small items like batteries or toys together in bags or jars, so they don't end up lost among the boxes or piles of larger items.
Buy It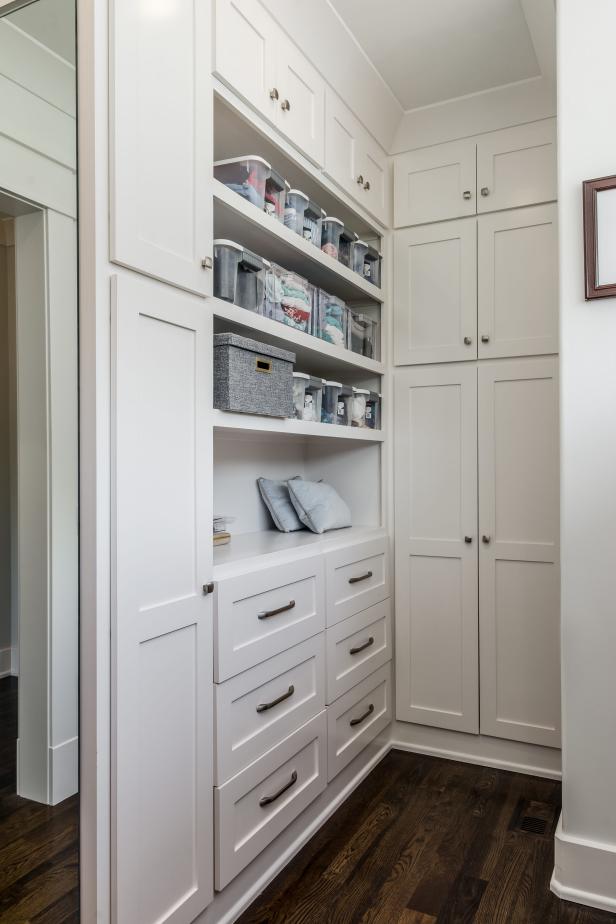 White Walk-In Closet With Clear Bins
Drawers, shelves and see-through bins make this closet a master at solving the what-to-wear daily dilemma.
Garett + Carrie Buell of Studiobuell
Make Sure Everything Has a Place
Eliminate items that don't belong. Disorganization causes major clutter problems. Over time, the temptation to stuff a box of appetizer plates in a bedroom closet or extra towels in the entry closet can cause you to make some bad storage decisions. This is the time to return out-of-place items to their rightful home. But try to stay focused on planning one closet at a time. You can turn your attention to other closets at a later date.
This might be the most difficult part of the closet planning process. It helps to establish some basic rules up front, like anything with holes or pairs of shoes or socks missing their partner must go. Ask yourself some questions:

Have I worn this shirt or skirt in the last year?

Does this jacket still fit?

Do I really need 12 baskets that look exactly the same?

The answer to many of the questions will likely be "no", and then you can decide if you want to donate items to charity, try selling them online, hold a garage sale or take unwanted items to a local consignment store.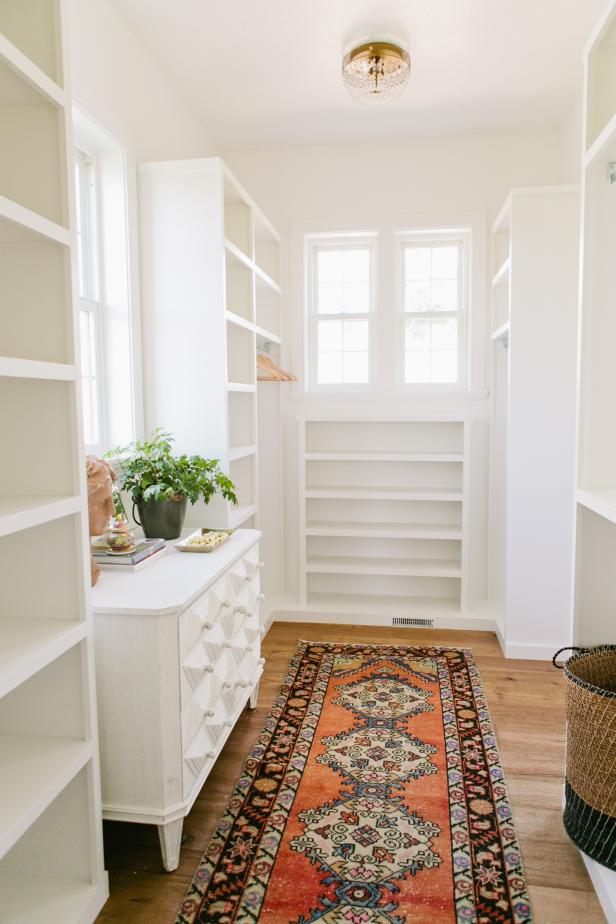 Walk-In Closet in Master Suite
Built-in white shelves provide ample space to organize clothes, shoes and accessories in this master walk-in closet. A small white dresser with several drawers keeps jewelry and other small accessories neatly stowed away. A graphic, multicolor floor runner adds a punch of color to the design.
While you might think an empty closet is clean, now is the time to wipe down the closet walls and vacuum or mop the floor. Once items are removed, you will probably find stray clothing tags, store receipts or dust bunnies. If the walls need painting, choose a paint that is specifically formulated to be mold and mildew-resistant. If you find your closet walls have mildew or mold after you remove items, have a professional examine your walls and properly clean and paint them.
More Ways to Stay Organized