Spark Joy in Your Closet With These Editor-Approved Organizers Under $40
Tame and tidy your closet with these organizing essentials that'll create order and spark joy a la Marie Kondo's KonMari Method.
Keep in mind: Price and stock could change after publish date, and we may make money from these affiliate links.
If being home has inspired you to pull everything out of your closet and do a heavy purge, the right organizers and storage containers can make all the difference for your end result, especially if you're tight on space or simply don't want to commit to a new closet system. From products that help maximize vertical space to hanging items that utilize as much of your precious hanging rack as possible, tackle your closet cleanup with our editor-approved storage solutions.
Photo By: Sarah Busby
If you're trying to fit more hanging clothes into a small closet or hanging rack, velvet hangers are the best ones to use. Slim velvet hangers take up less space than plastic and wood hangers, and they also prevent garments from slipping. Professional organizers also recommend using one uniform hanger style to help the closet look less cluttered visually, but buying all new hangers at once can add up, especially if you opt for wood. This best-selling pack from Amazon Basics comes with 30 hangers and more than 184,000 five-star reviews, so you can replace all of the hangers in your closet fairly inexpensively with just a few packs.
Buy It
Photo By: Sarah Busby
If you have limited shelf space in your closet, these wire baskets are perfect for utilizing the wasted space below a shelf. These baskets slide onto the shelves and are perfect for storing additional folded clothes or accessories. Plus, there are no tools or hardware required to install, meaning rearranging your closet or moving to your next place if you're a renter couldn't be easier. These baskets also come in handy for storage in pantries, linen closets, offices and more.
Buy It
At 13 inches in height, these shelf dividers attach easily to closet shelves to organize sweaters, linens and even the heaviest books in your closet. They take up little space and make organizing a breeze.
Buy It
Best Stackable Shoe Shelf
Photo By: Sarah Busby
Anyone who's ever had to dig through a bottomless pit of shoes in search of a matching pair knows the importance of a good storage system for shoes. In a small closet, it's crucial to utilize vertical space. Use the empty space below your hanging clothes for a shoe rack — or two! We love the look of bamboo shoe shelves like this one, and you can stack multiple on top of one another to store as many pairs as possible. This two-tier bamboo shelf can fit up to five pairs on each level, depending on the type of shoe. If you still need more shoe storage, an over-the-door shoe rack is another great way to utilize vertical space, especially for shoes you may not reach for as often as the ones on display.
Buy It
Photo By: Sarah Busby
If you don't have a designated vanity or dresser top, finding a spot for jewelry and accessory storage in your closet is a great option. If you have a spare shelf, use clear stackable containers like these to corral jewelry, sunglasses, hair accessories and more so that everything is visible and accessible — no need to dig through a box of tangled jewelry to find your favorite earrings.
Buy It
Shop More Clear Closet Organizers
Photo By: Sarah Busby
If you don't have a dresser or you need additional storage for non-hanging clothes, fabric storage bins in a variety of sizes let you customize shelves. Keep lingerie, undergarments, hosiery, socks, folded clothes and more organized, visible, accessible with fabric storage bins like these.
Buy It
Photo By: Sarah Busby
Fit more scarves on one hanger without taking up additional space with this 23-loop organizer. This hanger makes it much easier to see and access all of your scarf options quickly without the need to dig through the bottom of a box or storage bin.
Buy It
We're sorry, there seems to be an issue playing this video. Please refresh the page or try again in a moment. If you continue to have issues, please contact us here.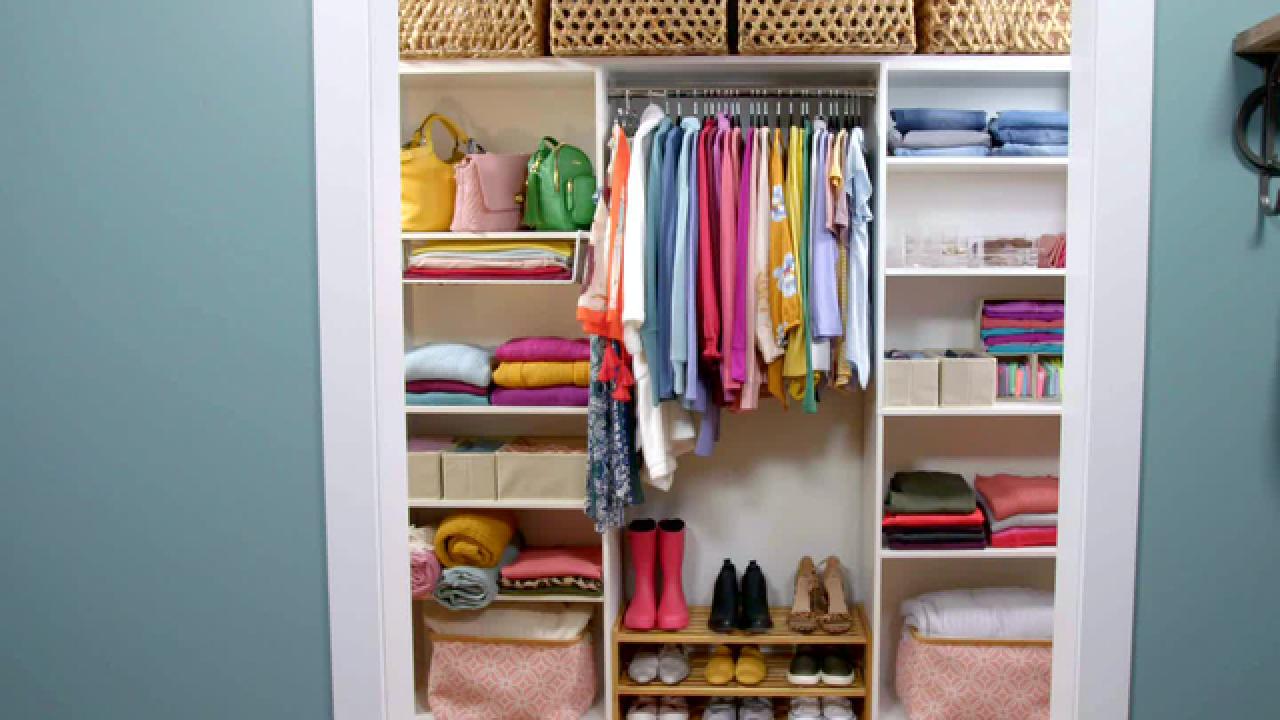 More Closet Organization Ideas to Try