Get creative with the kitchen countertop (or a limited budget) by using natural stone or ceramic tiles to achieve a surface that's both high-quality and long-lasting.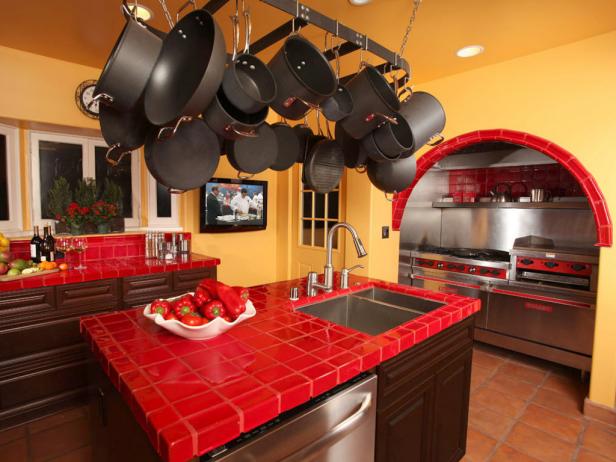 Tile-Kitchen-Countertops_s4x3
Tile countertops are a great choice if you want an inexpensive material that's easy to maintain. It's simple to coordinate with or mix and match with different design styles. Designer Christopher J. Grubb incorporated the countertop tiles in the backsplash and archway edging to continue the bold, colorful look.
Do-it-yourselfers and budget-conscious consumers alike wax poetic about the high-quality beauty and bang-for-your-buck cost of installing tile countertops in the kitchen.
Kitchen Countertops
Set the tone of your kitchen design with the right countertop.
Thinner, natural stone tiles offer similar aesthetics and durability—but for a fraction of the cost, when compared to a solid granite or marble slab. And, in the case of granite tile countertops, grout lines may be practically invisible thanks to the material's straight edges. (And, in general, using larger tiles equates to fewer grout lines and larger squares to work on.)
Ceramic tile countertops offer similar benefits, though the man-made material makes it easy (and fun) to get creative with color and pattern. Think mosaics, mismatched, recycled or hand-painted tiles that are versatile enough to go from the counter to the backsplash—or even an entire wall.
One caveat: the smaller the tile, the more grout lines you'll see, which can equate to more cleaning for you.
More Kitchen Countertop Ideas
More Kitchen Countertop Ideas