Ceramic Tile Bathroom Countertops
Get all the info you'll need on ceramic tile bathroom countertops, and get ready to install a beautiful and durable countertop in your bath space.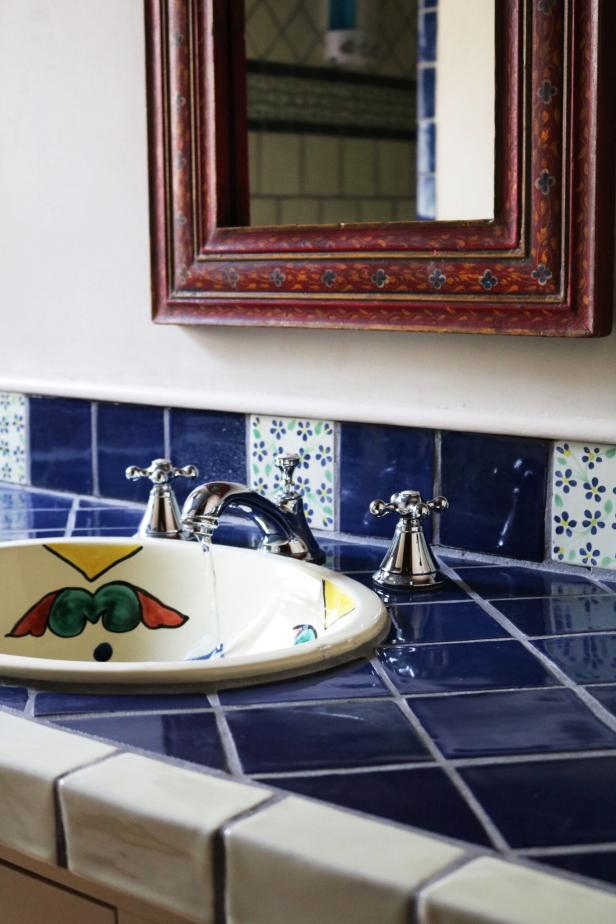 Southwestern Bathroom With Blue Tiles
This bathroom is full of beautiful colors and patterns: painted and glazed tiles make up the backsplash and countertop. The sink is painted ceramic and the mirror has a delicate painted pattern as well.
French & French Interiors
Ceramic tile bathroom countertops can be an attractive and unique option for your bath space. In particular, this countertop option works well if your bathroom is on the small side—that's because the one major downside of ceramic tile bathroom countertops is cleaning the grout between tiles.
The clear advantage of ceramic bathroom tile countertops is cost. Ceramic tiles are among the most economical home design features, at a fraction of the cost of alternatives like granite, manufactured quartz, marble or even solid-surface countertops. Additionally, the myriad style options available for ceramic tile countertops mean that you shouldn't have any trouble matching your existing bathroom design with the appropriate tiles.
In terms of maintenance, ceramic tile bathroom countertops may require a bit more elbow grease than more low-maintenance options without seams or grout. However, if you keep the tile countertop surface area relatively small, this shouldn't be too much of an issue.
Other Bathroom Countertop Material Options
More Bathroom Countertop Ideas