Developing a Functional Kitchen Floor Plan
Creating a user-friendly kitchen calls for a personalized space plan. Here are expert tips on how to create one.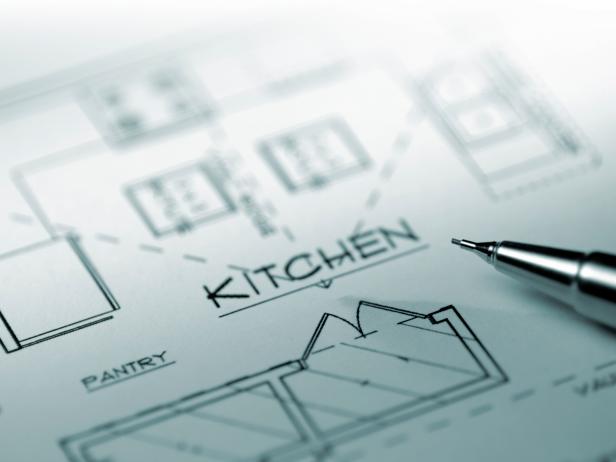 Kitchen Blueprint
If you're doing more than just painting the cabinets or replacing the countertops during your kitchen remodel, don't try to save money out of the gate by not hiring a professional to create a design plan. "Hiring a designer saves you time and money in the long run, so you don't make expensive errors," says south Florida-based designer Meredith Marlow.
©iStockphoto.com/Pali Rao
A kitchen might have the most beautiful cabinets, technologically advanced appliances and high-end finishes, but if the layout doesn't meet the needs of a homeowner's lifestyle, the rest doesn't matter. Here's how to plan an effective layout to meet your needs and fit your space.
When planning a kitchen remodel, it's important to give careful consideration to how the space will be used.
"We'll talk about [a client's] cooking style and the appliances that they are going to want," says Sara Ann Busby, owner of Sara Busby Designs, Elk Rapids, Mich. "We'll talk about [whether] they want people in the kitchen with them, or do they want people sitting on the other side of the bar, talking while they cook, that kind of thing."
How a kitchen should function is an extremely personal matter, and a floor plan needs to be customized to reflect that.
Think beyond the basic work triangle, kitchens come in all shapes — from the space-saving galley to wraparound U- or L-shaped kitchens to cook spaces that are curvy, pentagonal, wedge-shaped or completely outside the box.
While no two kitchens are alike, there are state and local codes that apply to every kitchen design. The National Kitchen & Bath Association (NKBA) also provides guiding principles that result in a more functional space. For example, if a kitchen has only one sink, NKBA recommends that it be located adjacent to or across from the cooking surface and refrigerator. The sink should be surrounded by a 24-inch-wide landing area to one side and at least an 18-inch-wide landing area on the other side. When it comes to dishwasher placement, the nearest edge of the appliance should be located within 36 inches of the nearest edge of a clean-up/prep sink to ensure maximum convenience.
For NKBA's complete kitchen design guidelines, visit their website.
Traditionally, the stove, sink and refrigerator are placed at points of a triangle for efficient movement in the kitchen.
"We've certainly added appliances to the mix," Busby says. "We've added more cooks in the kitchen, so [the triangle] isn't quite as relevant."
While the tried-and-true triangle still works for smaller kitchens with one cook, there's a better design for bigger, busier kitchens: work stations. With this approach, each standard task station (prep, cooking, storage and cleanup areas), as well as the more specialized ones (baking and canning, for example), is centered around a major appliance and its landing area of at least 15 inches of adjacent countertop.
Islands, which continue to be popular, are a great way to add informal seating, as well as extra prep space and storage, to a kitchen. Rather than a flat expanse of countertop, today's islands often feature different levels and customized details like prep sinks, second dishwashers and warming drawers. Islands offer a good place for open shelving for cookbooks, built-in wine storage and lit display areas. Any kitchen design that includes an island must allow for at least 42 inches of space around it.
In order for a kitchen to function properly it must be well lit; that means layering and blending four different types of light: task, ambient, accent and decorative, says Randall Whitehead, a nationally known lighting designer and author on the subject of residential lighting. "No single light source can provide all the necessary light for a kitchen."