Get tips on painting kitchen tables.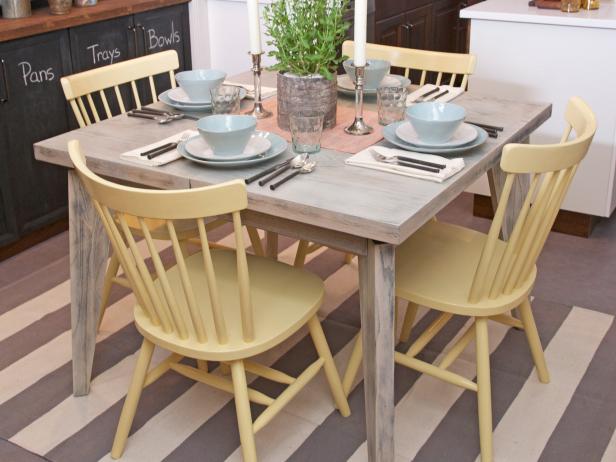 painting-kitchen-tables_4x3
In the premiere episode of Shop This Room, host Danielle Colding - winner of HGTV Design Star season 7 - meets David and Rebecca Levitsky in Huntington, NY. They have a bland and dysfunctional kitchen that desperately needs help. Danielle will tackle the kitchen, opening up the space and providing a new layout with a nautical theme inspired by a white vase and beach painting she finds while shopping that captures the homeowners' personality. Shown in this photo is a detail shot of the DIY refinished dining table and DIY painted chairs from the new kitchen as seen on HGTV's Shop This Room.
Anders Krusberg, 2012, HGTV/Scripps Networks, LLC. All Rights Reserved.
Paint can bring new life to a room, but painting kitchen tables is an easy and affordable way to update your kitchen furniture, too.
Kitchens in Color: Ideas for Brightening the Kitchen with Color
See All Photos
If you're tired of your kitchen table, you don't need to get rid of it and start from scratch; a few coats of paint can easily turn it into a beautiful new piece. Or if you found a beaten-up kitchen table at a flea market or garage sale, you can create the table of your dreams with just a few coats of paint.
If you're not sure what color to paint your kitchen table, scroll through Pinterest to find ideas. White tables with brightly colored chairs look nice in kitchens, while more striking colors can really make a statement. Decide on the vibe you're going for in your kitchen and then select a color that helps you achieve that look. Some shades to consider include yellow, red, turquoise and navy blue.
Dipped furniture is a popular home design trend that works well with kitchen tables and chairs. To try it, paint the bottom half of the legs of your table. Or, try the reverse: Paint most of the table but let the wood peek out on the bottom half of the legs. The dipped look is a great way to introduce a strong color without completely committing to a shade. If you want to get really creative, consider using chalkboard paint on the top of your table. Kids will love having a canvas to scribble on while they wait to eat, and adults will also have fun scribbling messages or reminders on the table too.
To paint your kitchen table, you'll want to first prepare the surface by sanding it. This will help create a surface that paint can adhere to. An orbital sander can come in really handy here and will help get your table smooth in no time.
After you've finished sanding, you'll want to cover the table with a primer. If you're repainting a really old table, try to find a primer that blocks wood stains as well. For added protection, add two coats of primer to the top of the table. Let the primer dry for a full day and then use a medium grit sanding wedge to smooth out any rough patches. For areas that are hard to reach with a roller or paintbrush, try a spray-on primer.
When it's time to paint, make sure to select a high-quality water-based enamel paint, which will give you a hard finish that's similar to an oil paint. Kitchen tables take a beating, and you'll need a paint that can withstand plates, cups and all sorts of other objects banging it every single day. Paint on a few coats and make sure to let each one dry fully. Once you've finished painting, apply a coat of a water-based polyurethane or furniture wax to protect your table and then enjoy your updated piece of furniture.
More Kitchen Painting Options
Kitchen Paint Color Inspiration