Wrought Iron Kitchen Chairs
Bring strength and artistry to your kitchen with wrought iron chairs.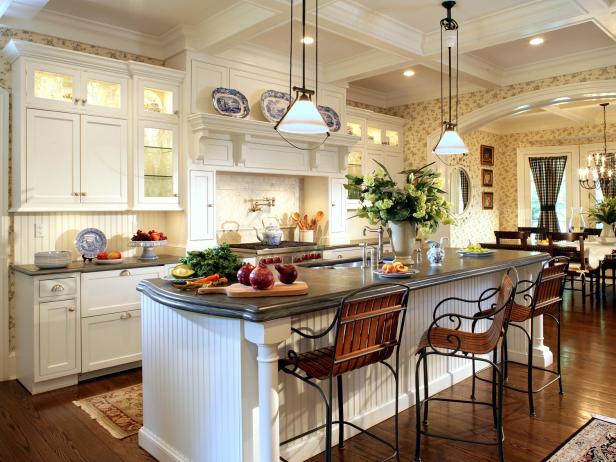 Captivating Cottage Style Kitchen
Full of abundant detail, this cottage style kitchen offers a little of it all. Peek-a-boo cabinets with lighting draw the eye upwards to the captivating tray ceiling. From there, the black pendant lights brings you back down to the dark gray marble countertops that sit atop white detailed cabinets. The blue and white plate detail and homey patterened wallpaper makes this cottage vibe come to life.
Wrought iron kitchen chairs can add a touch of style using one of the most durable materials available. Wrought iron can be made into a wide range of chair designs from French country with curved filigree swirls to more straight contemporary lines.
A chair may be made fully of wrought iron, mostly of wrought iron with a cushioned seat, or made of wood or other material with wrought iron accents in the arms or back. Wrought iron is usually black, but it can also be painted in white or another favorite color. You can find wrought iron chairs with the metal "distressed" for a vintage or "shabby chic" look.
As one of furniture's toughest materials, wrought iron can be a good choice if you have active children in the house. It's not likely to be damaged by everyday use, and the metal is easy to clean. To add comfort to a wrought iron chair with a metal or wooden seat, add a cushion in a pretty pattern or solid color that complements your kitchen's decor. You can find cushions for both the seat and the back of a chair and change them out with the seasons, the holidays, or your mood.
Wrought iron furniture can look like it belongs outdoors, which is not necessarily a bad thing if you like a garden look. Set up your wrought iron dining set in a sunny corner of your eat-in kitchen to bring a bit of the outdoors inside. You can also incorporate an eclectic look by sliding your wrought iron chairs under a table made of a different material, such as a glass-top table with legs that may be of wrought iron or wood. Choose painted wrought iron chairs (or paint them yourself in a favorite color) and slip them under a wooden table to provide a whimsical color pop to a country kitchen. For a more traditional look, chairs with a mix of wood and wrought iron are a good choice. You'll want your table to either match or complement the chairs.
You can find wrought iron kitchen chairs in a range of prices. These chairs can be found at discount stores and home improvement centers at reasonable prices. If you have a kitchen island or breakfast bar, you can also find bar stools made of wrought iron. If your budget allows it, you can also find custom-designed chairs with unique designs crafted by a metalsmith.
More Kitchen Bar Stool and Chair Options
Other Kitchen Furniture Ideas