Smart Thermostats That Save
Learn why programmable thermostats are a smart way to save on your heating and cooling costs.
Take a look at the thermostats in your house. Are they of the old, mechanical variety with a simple dial or slider? If that's the case, you can save energy and money very easily by installing a newer programmable thermostat.
If you already have a programmable thermostat, open it to the settings to see if you have it programmed. A vast majority of programmable thermostats aren't even programmed. This is money you may be throwing away unnecessarily. According to the EPA's Energy Star program, you can save about $180 a year by properly setting a programmable thermostat and maintaining those settings.
Many programmable thermostats allow you to set different temperatures for different times of the day and weekend. So you can turn back the heating or cooling system while you're at work and no one is home, then ramp it back up when you expect to arrive home. If you have an older programmable thermostat that is difficult to program, consider swapping it out for a newer model, which can easily be set to your likings in a minute or two.
Just setting a thermostat back 1 or 2 degrees can result in 1 to 3 percent in energy savings, and those little amounts add up over time, especially if you have air conditioning or heat running most of the day. Set thermostats back 10 to 15 degrees for 8 hours while you're at work, and you'll save about 10 percent on your heating and cooling, according to the U.S. Department of Energy.
There are different kinds of programmable thermostats, from basic ones used only for heat to those that can operate HVAC systems and humidity. Look for programmable thermostats that allow you to program different set points at various times of day and that have different settings for weekdays and weekends, as you may use your home or certain parts of it quite differently on a weekend.
7-day models are best to set different programs for different days, usually with four possible temperature periods per day.
5+2-day models use the same schedule every weekday and another for weekends.
5-1-1 models are best if you tend to keep one schedule Monday through Friday and different schedules on Saturdays and Sundays.
Some programmable thermostats come with a list of features:
Digital backlit displays
Touchpad screens.
Voice and phone programming.
Vacation setting features.
Indicators that tell you when it's time to change air filters
Alerts of malfunctioning heating and cooling systems.
Smart recovery features that sense the amount of time it will take to reach the next temperature set-point
Wirelessly communicating thermostats are available through home connectivity and energy management packages offered by big service providers like ADT, Comcast, Verizon and others. Many subscribers to these services use their iPhones or other smartphones to operate their thermostats remotely.
Look at Your Wiring First
Before purchasing a programmable thermostat, take a look at your wiring. Turn your HVAC system off and remove the front of your thermostat to see how many wires are connected. If there are only two wires, look for a programmable thermostat that is compatible, as many require three or more wires for operation.
We're sorry, there seems to be an issue playing this video. Please refresh the page or try again in a moment. If you continue to have issues, please contact us here.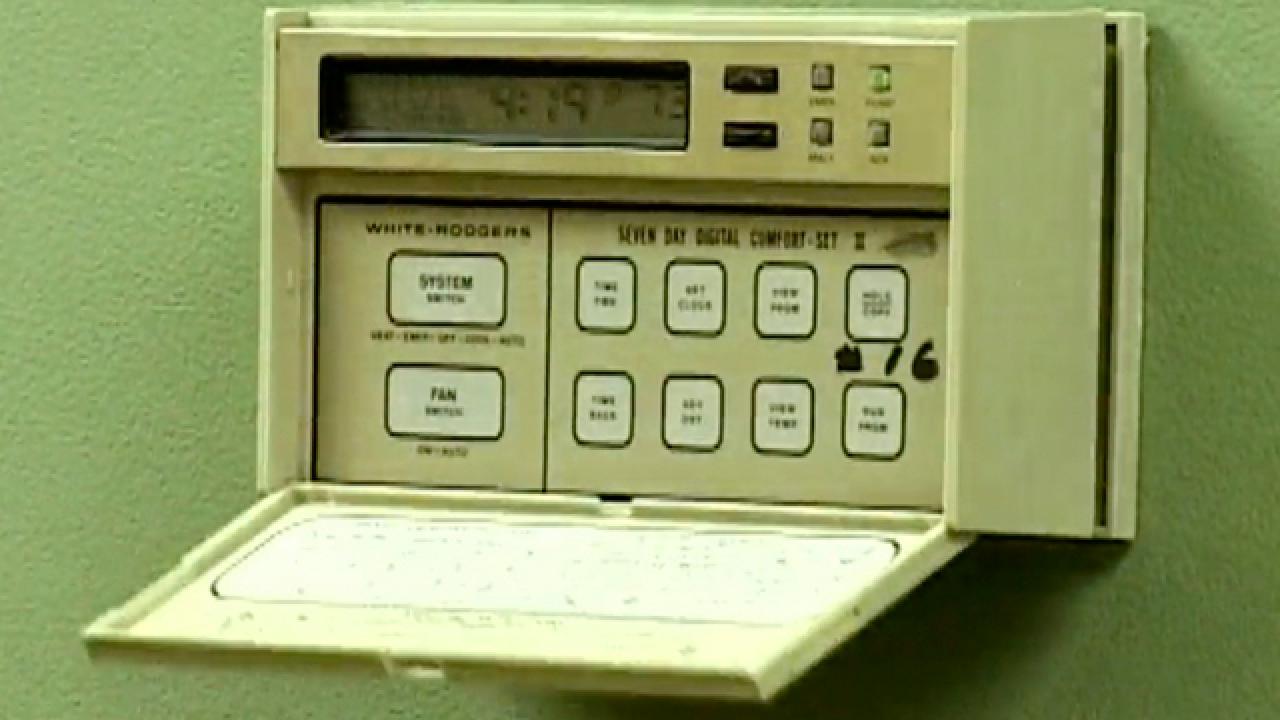 Thermostats aren't just mundane tools anymore. Today there are two-way communicating, smart and learning thermostats that can learn your behaviors and automatically set money-saving schedules. There are even advanced thermostats available with proximity sensors that can activate a heating or cooling system when you're a certain distance from home.
Web-based software works with certain thermostats to sense the effectiveness of your home's insulated envelope and HVAC system, then automatically makes many micro-adjustments to the temperature to save you money, all while keeping you comfortable.