Explore your options for wood kitchen cabinets, from rare high-end woods to custom and semi-custom construction, and begin designing the kitchen you've always wanted.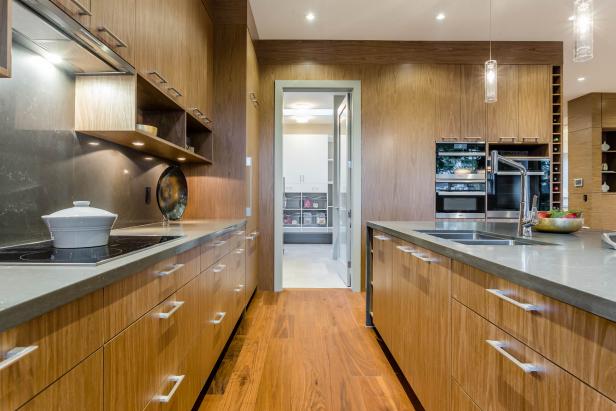 Wood Paneled Kitchen and Pantry
Wood paneling and cabinetry goes floor to ceiling in this sleek kitchen, that also includes a dreamy walk-in pantry and full wok kitchen.
Macdonald Realty Ltd., a member of Luxury Portfolio International
If you're redesigning your kitchen or installing a brand-new one, you'll have many options when it comes to cabinets, and you'll definitely want to investigate wood kitchen cabinets. Wood is the most commonly used material for kitchen cabinets, a popular choice due to the wide range of styles, qualities and finishes available, as well as the ability to create truly custom designs.
If you've settled on wood kitchen cabinets, your next choice will be to determine which species of wood to use. Maple is extremely popular due to its intricate, attractive grain; it's a tough wood that is resistant to scratching or cracking. Cherry has a rich tone and will darken over time with exposure to light, and it's also softer than maple, making it easier to create custom designs from cherry. Oak is a popular choice as it's abundant and inexpensive; it has a unique grain and strong composition. Lastly, birch rates highly as a choice for kitchen cabinets because of its smooth texture and its ability to hold stain.
Once you've settled on the wood you'd like to use for your cabinets, your next choice will be whether you want stock, semi-stock or custom wood cabinets. Stock cabinets can be purchased fully pre-fabricated and are the least expensive option. Semi-stock cabinets have a basic design that can be slightly customized by the homeowner or customized by the retailer and then installed—these are slightly more expensive and take longer to produce. Finally, custom cabinets are the most expensive option, but they offer total freedom in terms of design choices.
More Kitchen Cabinet Materials
More Kitchen Cabinet Ideas