Kitchen Cabinet Materials
Get the info you need on kitchen cabinet materials, and explore your options for pre-fabricated or custom kitchen cabinets.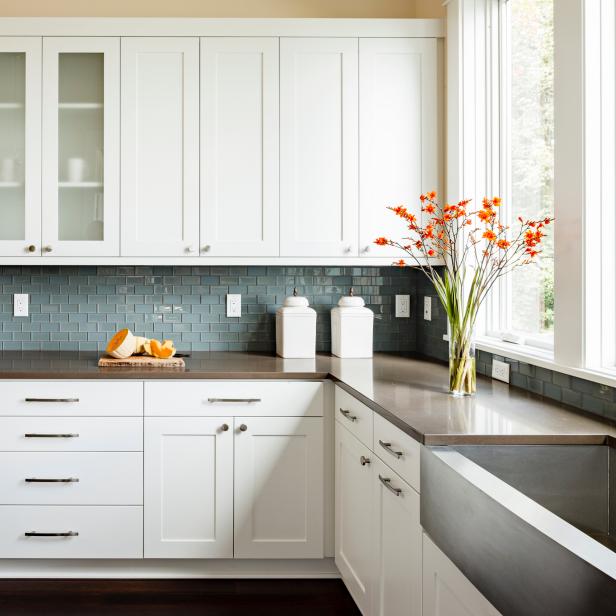 Concrete Farmhouse Sink & Shaker Cabinets
Shaker-style cabinets and a concrete farmhouse sink strike a polished note with their clean, structured lines.
If you're contemplating a kitchen makeover or installing a new kitchen, one of your first tasks will be to explore the full range of kitchen cabinet materials available. There's a surprising diversity of materials on the market, from budget to high-end, and you should have no problem finding the right material for your kitchen with a little research.
Cabinets play an important role in both your kitchen's appearance and functionality. From cleverly concealed appliances to unique cabinetry hues, explore the latest trends and styles for your kitchen.
By far the most common cabinet material is wood, and there are several species that top the list of cabinet woods: red oak, white oak, hickory, cherry, hard maple, birch, ash and pine. Each species offers advantages and disadvantages, from durability to appearance to cost. Two key features to consider when deciding on a wood type are grain and color—some woods have significant grain variation, while others are primarily uniform. In terms of color, most woods can be stained to modify color, but some are more stain-friendly than others. As you explore different species, make sure to investigate whether your choice can ultimately reflect the precise appearance you're looking for in terms of grain and color. Expect to pay $80 - $150 per linear foot for wood cabinets.
Not all cabinets are made of wood—laminate and Thermofoil are two materials commonly used for cabinets. High-pressure-treated laminate cabinets are extremely durable but may be heavier than wood, while their low-pressure-treated cousins are lighter but less impact-resistant. Thermofoil is a good choice if you're looking to replicate the look of wood—it's a vinyl film applied to a substrate (generally particleboard or plywood) that can mimic wood detailing more closely than laminate. Laminate and Thermofoil cabinetry will run you around $50 - $75 per linear foot.
More Kitchen Cabinet Materials
More Kitchen Cabinet Ideas