Explore your options for mudroom shelves, a mudroom storage must-have.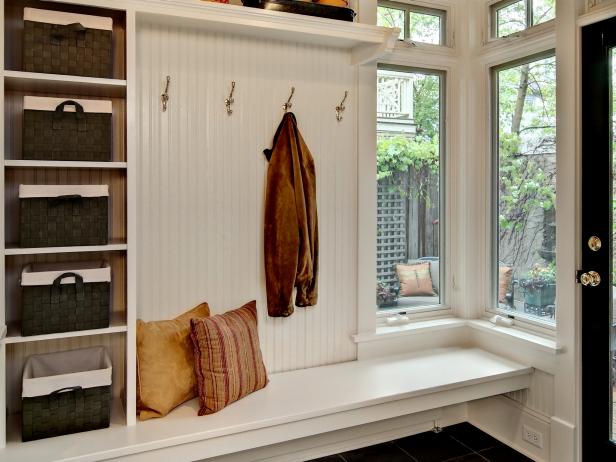 CI_Crystal-Kitchen-Center-traditional-mudroom-entryway_4x3
"Mudrooms are typically small in square footage, so make the most of the space by going vertical," JoLynn Johnson says. "Add shelves where bins and baskets can be placed for easy access. Smaller items like hats, gloves and scarves can be stored in the bins." This traditional mudroom offers all the storage amenities of a spacious room compacted into one unit. Storage shelves, baskets, hooks, bench seating and convenient floor storage all help keep mudroom contents tidy and within reach.
Installing shelves in your mudroom will allow you to maximize space in an area that is typically small. Using vertical space will help ensure you are able to keep clutter at bay and provide a storage space that will meet everyone's needs.
Mudroom shelves can take many forms. For maximum shelf storage space, it's difficult to beat a built-in unit that takes up an entire wall. You can store shoes on open shelves and hide other items in pretty baskets or colorful crates. Label baskets or crates to keep track of what's in them and place little-used items on the highest shelves. Tuck a folding stepladder in a corner to use when needed, or take a cue from old libraries by installing a track ladder if your wall area is large.
If you're going with a traditional hall tree in your mudroom, you can choose a piece that has shelves built in. For a custom-built unit, don't forget that shelves can be built into a side wall to create a perfect space to hold gloves, sunscreen or a charging station. Shelves can also be built above locker spaces, and below the sitting bench, to provide plenty of room for shoes. You could also have two sets of tall shelves flanking either side of a long bench. This configuration would work particularly well in a mudroom that is also a laundry space. Designate a different wall for shelves to store laundry soap and other items.
As another option, you can enclose a few of your mudroom shelves with doors to create cabinets that will keep things out of sight, an appealing option if your mudroom is part of an entry area that is used by guests, or if you just want to keep the room looking tidy.
If your budget is limited, you can repurpose bookshelves from another area of the house in your mudroom to store shoes, sunglasses and other items. Paint the shelves for a coordinated look and use pretty baskets to hold gloves, keys and other small items.
For an economical DIY project, simply mount shelves at varying heights on one or more walls of your mudroom. If you can, vary the heights based on your storage needs and use two walls in a corner to create a storage nook. Place two benches in an "L" shape in the corner (don't forget, those benches can provide shelf space too) to maximize your storage space. You can also do this project with wooden storage crates purchased at a craft or home improvement store. Paint the crates, or leave their natural wood exposed.
Other Mudroom Furniture and Storage Ideas