Choose from an array of mudroom hooks to keep things off your mudroom floor.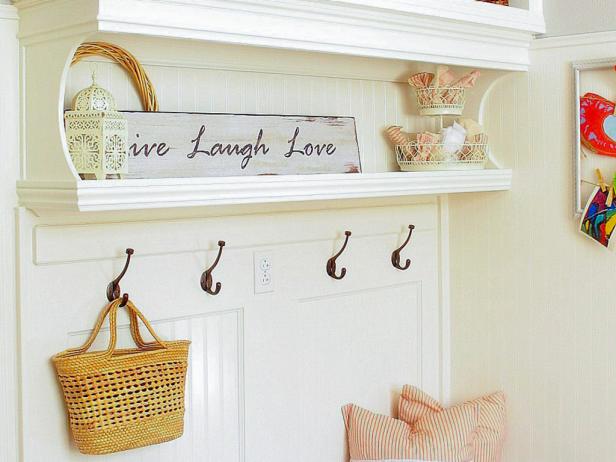 original-Kristin-Salazar_shabby-chic-cottage-mudroom-built-in-shelves_4x3
Don't be afraid to integrate your home's style and personality into your mudroom design. Design blogger Kristin Salazar designs her mudroom as a direct reflection of her home's shabby chic charm, while still using it as a functional entry storage spot. Rather than wasting wall space, Kristin adds a small shelf to house charming decorative accents.
Mudrooms are a place where you'll want to have multiple types of storage, including hooks for jackets, backpacks, umbrellas—even sports equipment. Maximize your storage capacity while adding style to your mudroom by choosing from a wide range of hooks.
The typical mudroom organizing system includes a bench with shelves and a few hooks, often fastened inside a hall tree. But if you think outside the box, there are many ways to be creative with hooks and add a decorative element to your space. Consider the decorating style you are using. Peruse the Internet and home improvement stores to find hooks in a wide range of styles, from traditional iron work to modern chrome.
Are you using a nautical theme? Choose hooks in the shape of anchors and whale tails, or try using boat cleats. Leaves and flower petals are also popular looks. Hooks are available in plastic, in a wide range of bright colors, and even in unique shapes (a saucepan, for example). Other whimsical designs include brightly colored plastic dogs' tails and metal hooks with round ceramic tips painted in bright floral designs. If you have multiple children who will be vying for storage space, purchase a hook with the first letter of each child's name. To create a space where hooks can be moved depending on the space needed, hang a towel rack on one wall and slip S-hooks over the rod.
You can also choose a rack made of wood or other material that has a row of hooks. Some designs are interactive, allowing you to pull out one of several pegs and choose from among several rows of holes where you want to hang your coat. A pub mirror with hooks is also a good choice.
To keep your remodeling project budget-friendly, repurpose other items to serve as hooks. Simple furniture knobs are an economic choice, and you can paint them a favorite color or leave the natural wood showing. Choose varying sizes to add interest and flexibility, and be sure to screw them into studs for added strength.
For a rustic look, attach sturdy branches from trees to studs in your wall as a place to hang relatively lightweight items, such as jackets, umbrellas and hats. If you want to add an industrial touch, choose a rack with a row of welded C-clamps.
If you have the space, your mudroom can be a space to hang not only jackets and backpacks but also bicycles. Mount hooks in the ceiling or high on a wall to keep bikes from taking up floor space.
Other Mudroom Furniture and Storage Ideas