Plan your space to create a family hub.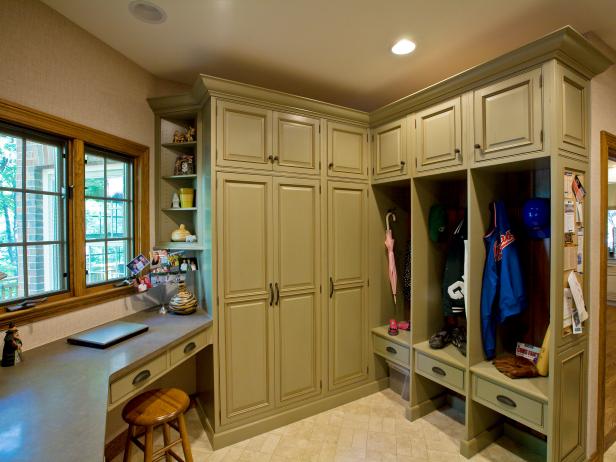 Neutral Mudroom With Cubbies And Desk
Olive green cabinetry in this mudroom boasts ample storage for a busy family. Cubbies keep jackets and bags neatly tucked away, yet accessible. A built-in desk provides a quiet study or work space with drawers for mail and office accessories.
More than just a place to drop muddy boots, today's mudrooms are often the main entrance to a home, not just for its occupants but also for company. Mudrooms are a great place to marry beauty and functionality, and you have many options in designing your space.
Mudrooms are often a place where plants are potted and herbs and vegetables from the garden are washed and prepped for the kitchen. You can have the utility of a garden shed with the comforts of climate control. If you're designing a mudroom from scratch, you'll want to have a sink for these tasks, as well as a countertop or table. You'll also want some way to store your garden tools, either in cabinets or on shelves, or hanging on the walls via a rack or pegboard with hooks.
The best place for a mudroom is near the kitchen, particularly if you plan to use some of the mudroom space as a pantry for canned and dry goods. Designate one wall, or part of a wall, for shelves or cabinets so you will have space to stock up when you find grocery specials, or store your own garden's bounty for the winter if you are into canning.
Using the mudroom as an entrance for your family will keep backpacks, coats and sports equipment from piling up in the living room or entryway, and it will help keep the floors in those more public spaces clean for when guests come over. You can also designate space in your mudroom for a system to help everyone in the family keep their frequently carried items organized. For example, install a hall tree, repurposed dresser and rack with hooks to create a "launch pad" for each family member to keep everything in place so they aren't stuck searching for car keys or a baseball mitt at the last minute. Cabinets or cubbies overhead can store seasonal items such as hats, scarves and gloves. A combination mudroom/laundry room will allow the athletes in your family to drop dirty jerseys, socks and other clothing directly into a hamper before they walk through the house on your clean floors.
A mudroom can even become a family hub. Tuck a writing desk, computer and a place for bills and other mail, and you can take care of family business in a central location, or provide a space where kids can surf the Internet in view of parental eyes.
Other Mudroom Design Ideas