Best Bets for Basement Lighting
Don't let your downstairs become a black hole. Learn what you need to brighten up your basement.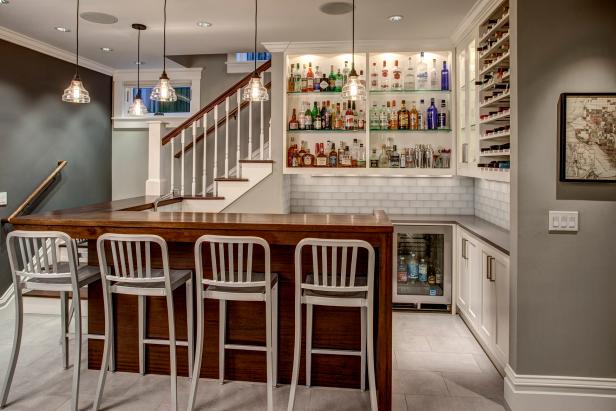 Transitional Basement Bar With Built-In Wine Storage
The basement bar uses space that would otherwise be empty square footage. A custom bar aligns with the stair treads and is the same wood and finish as the steps. A dark charcoal wall is a complementary accent to the light gray paint. Glass subway tile adds a simple pattern to the space and open shelving keeps bottles organized and accessible.
John G. Wilbanks Photography
Unless your property's topography permitted your basement to be designed as a walk-out space with big windows and a door or two, your lower level may have access to little natural light.
As you plan its redo for regular use — whether as an office, gym or crafts center, bring on board a designer or architect well versed in lighting options, or hire an expert affiliated with the American Lighting Association, the industry's main trade group. Its web site offers an online directory of names by area. We talked with lighting expert Joseph A. Rey-Barreau, AIA, consulting director of education for the association and an associate professor at the University of Kentucky about do's and don'ts to light a basement well.
How do you best light a basement?
Plan before you begin construction, so you have sufficient outlets installed prior to closing up walls and ceilings to paint or wallpaper. Focus first on general, all-over lighting, which typically is best achieved through recessed ceiling cans as long as the ceiling height is at least 7'6" or preferably 8' high—or higher. You'll want to space cans 8' to 10' apart in most rooms, depending on size and function. The goal is even lighting throughout rather than have some areas brighter and others darker. Go with reflector bulbs with a flood beam spread for broad light distribution.
What sort of bulb is best?
Today, compact fluorescent lights, CFLs, or light emitting diodes, LEDs, are smart to install overhead. Both produce a lot of light but consume less energy and give off less heat than traditional incandescent, which is important for gyms where you sweat and wine cellars that you want maintained at the proper temperature. Generally, the energy savings for CFLs and LEDs is about one-quarter the amount. You can also now better match the warm color quality of an incandescent with these new bulbs.
What specific wattage should I consider?
More good news. The right bulb is easier to select today because the Federal Trade Commission (FTC) now requires that light bulb packages be labeled with essential "Lighting Facts" as incandescent bulbs are slowly phased out. Here are key considerations:
Wattage is almost passé in choosing, as the FTC tries to get consumers away from thinking in 60-watt and 75-watt numbers since the measurement is less efficient than others.
Lumens are more preferable to know, which refers to light output or brightness measurement. A 100-watt incandescent bulb produces about 1750 lumens; a 32-watt fluorescent produces about 2800 lumens; a 25-watt CFL produces 1,600 lumens, and a 15-watt LED yields 1100 lumens, to cite a few examples.
Color appearance is also key, going from warm to cool, or vice versa, and is also listed on the label. The term used along with a number is "Kelvin," so a warm, white light LED might have a 2700 Kelvin while a cooler, blue one might be 4100 Kelvin.
Estimated yearly energy costs are based on three hours of use daily for a year. A 13-watt CFL might cost $1.57 a year while an 18-watt CFL might run $2.17 a year for the same daily amount of light. But dollars will vary by your area's cost to run electricity and amount of use—kids leaving on lights all day will up the dollars! You'll also find out from the label how long the bulb should last—a typical LED might last 50,000 hours while a CFL might last 10,000, and a 60-watt incandescent 1,000 hours.
Mercury content is also important since it poses a risk, and different states have different rules regarding disposal of fluorescents that may contain mercury. Not all states permit discarding them in your trash or a landfill. Check locally for regulations.
What about the price of CFLs and LEDs?
They're pricier, but costs are coming down. Right now many LED bulbs cost $15 a piece while two years ago they might have been $30, depending on where you purchased them. But remember the LEDs and CFLs last far longer than incandescents.
What about lighting other areas than the ceiling?
You'll want to illuminate tasks—counters where you cut a lemon or lime--or architectural features or furnishings—perhaps, a wine cellar's racks. A pendant or two over a bar is a great idea, or lights on a wall can tastefully highlight artwork or a decorative element like a column. If you have adjustable fixtures—perhaps, on a monorail suspended from a ceiling, you can aim the light beam at different features, which also makes a room seem bigger.
For these applications, CFLs aren't as good for directing light. There's a great new product for illuminating cabinets and countertops—LED tape, which is a narrow ¼", easy to conceal, and only costs about $7 to $10 a foot. Any home theater will require lights for the screen, seating, steps, and anything on the wall such as posters of favorite movies or stars.
Yes, put light choices you can on a dimmer so you can adjust the amount of light and change moods. Not all CFLs can be dimmed, but the package label will tell you.